Rising oil prices boost markets
Thursday, August 9,2018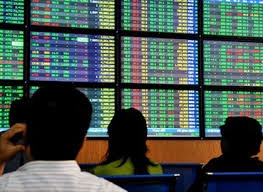 AsemconnectVietnam - Vietnamese shares rose firmly on Wednesday, driven by higher oil prices that boosted energy stocks and by positive news from energy firms.
The benchmark VN Index advanced nearly 1 per cent to close at 966.27 points. It fell 0.36 per cent on Tuesday.
The HNX Index on the Ha Noi Stock Exchange gained 1.85 per cent to end at 107.67 points, totalling a two-day increase of 1.96 per cent.

More than 200.6 million shares were traded on the two bourses, worth VND4.27 trillion (US$190 million).
Wednesday's trading volume was up 1.3 per cent but trading value fell one-fifth compared to the previous session.

The Vietnamese stock market was boosted by the energy sector, which benefited from the increase of crude prices.
Brent crude inched up 0.15 per cent to trade at $74.76 a barrel. It has gone up by a total of 3.3 per cent in the last week after the US sanctions put on Iran were expected to cause supply shortages.

PetroVietnam Gas (GAS) jumped 4.3 per cent. Others such as PetroVietnam Coating Corp (PVB), PetroVietnam Drilling and Well Services (PVD) and PetroVietnam Technical Services (PVS) soared between 6.5 per cent and 9.2 per cent.

Those energy stocks boosted the energy sector index up 6 per cent, data on vietstock.vn showed.
Among those firms, PetroVietnam Gas Corp has decided to make its first advance dividend payout for 2018 at the rate of 20 per cent, equal to VND2,000 per share.

The firm is expected to spend more than VND3.8 trillion on the first advance dividend payout. Payment is planned in September or October.

The decision was made after PetroVietnam Gas had recorded a yearly 12 per cent increase in its revenue and an annual 30 per cent growth in post-tax profit for the first six months of the year. Its first-half revenue and post-tax profit reached VND37 trillion and VND5.32 trillion, respectively.

Among other energy firms, PetroVietnam Technical Services (PVS) is forecast to have positive performances in the next three years after the firm starts construction on large-scale oil field projects next year, according to HCM City Securities Corp (HSC).

In the first six months of 2018, PVS earned VND7.63 trillion in revenue, down 1 per cent year on year, and VND322 billion in post-tax profit, down 43 per cent yearly.
HSC forecast the energy services firm would post VND14.7 trillion in total revenue and VND736 trillion in total post-tax profit for 2018, down 12 per cent and 8 per cent year on year.

HSC also expected PVS would record higher earnings in 2019 with VND19.8 trillion in total revenue and VND1.28 trillion in post-tax profit, driven by higher oil prices and the increase of demand for oil services.
Other sectors that also helped lift the stock market on Wednesday included finance-banking, food and beverage, retail and construction.
Source: VNS