2017- A good year for paper industry
Sunday, December 31,2017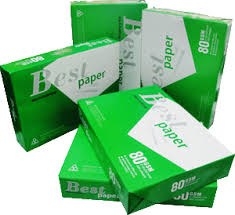 AsemconnectVietnam - 2017 has been a good year for the paper sector which has seen production capacity grow at a rate of 50% and exports increase by 14.5%.
The sector is forecast to maintain its growth pattern in 2018 despite the presence of numerous difficulties ahead as China - a major paper importer has lowered the current 1.5% impurity level to 0.5%.

Despite Vietnamese paper and paper products having been exported to more than 17 countries and territories around the world, the number of major consumers of Vietnamese paper is still quite modest compared to other export sectors.

According to statistics provided by the General Department of Vietnam Customs, there has been an estimated US$59 million worth of paper exports in December, which brings this year's total export value for to US$732 million, a year-on-year rise of 14.5%, driven mainly by demand from the three major importers of China, the US, and Japan.

The geographic proximity and favourable transport conditions have facilitated China surpassing Japan this year to become the top consumer of Vietnamese paper with the 11-month exports to the Chinese market increasing dramatically by more than 27.5 times the amount for the same period last year to US$105.7 million.

However, the two other major importers – the US and Japan – suffered declines of 0.51% and 2.42% to US$80.6 million and US$79.9 million, respectively.

Exports to Taiwan (China), the fourth largest market, surged by 4.68% to US$78.5 million, Indonesia up 108.46% to US$28.9 million and Thailand up 105.19% to US$12.4 million.

The sector will be getting for major realignments next year by using advanced technologies, incentivising businesses to adhere to the strict requirements of environmentally friendly and green products.

While the sector is experiencing strong growth, it is faced with many challenges, such as the fierce competition between domestic and foreign businesses in local and export markets, and falling paper demand in response to the robust development of communications technology and the prevalence of social networks which has resulted in a drop in consumption of print media.

Paper businesses have set their sights on establishing connections with new markets and partners through participation in the 7th Vietnam International Exhibition on Pulp and Paper Industry (Paper Vietnam 2018) scheduled to be held from June 13-15 at the Saigon Exhibition and Convention Centre.
Source: VNS