Vietnamese tuna exports hit by Japan's import tariff
Tuesday, March 21,2017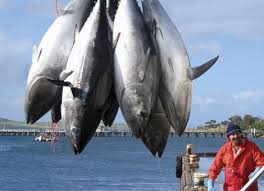 AsemconnectVietnam - Vietnam's tuna exports to Japan have dropped for four consecutive years since 2013 partly due to high import tariff at 6.4-7.2 per cent.
After peaking to reach $54 million in 2012, Vietnam's tuna exports to Japan moved down to below $20 million in 2016. From being the third largest importer of Vietnamese tuna, Japan dropped to sixth place the same year.
Japan's high import tariff reduces Vietnam's tuna competitiveness against products from other regional countries such as Thailand and the Philippines, which enjoy zero per cent tariff in the Japanese market.
Tuna exports showed positive signs in 2016 when export value rose 9.3 per cent year-on-year to over $500 million, but shipments to Japan accounted for only four per cent of the total figure.
The Vietnam Association of Seafood Exporters and Producers (VASEP) has urged the Ministry of Industry and Trade to add tuna to the list of products subject to tariff cut during negotiations on the Vietnam-Japan Economic Partnership Agreement (VJEPA).
Preliminary statistics from Vietnam Customs showed that the country's tuna export turnover in January 2017 reached nearly $34 million.
Shipments to Japan unexpectedly surged in the month, making Japan-Vietnam's fourth largest tuna market after the United States, European Union and Asean, with a year-on-year surge of 113 per cent.
However, it will be difficult for the Southeast Asian country to maintain this export level if the Japanese government continues with the current import tax rates.
Currently, Vietnamese tuna accounts for a small proportion of the Japanese market, with 0.5 per cent of fresh and frozen tuna market share and two percent of canned tuna.
To help tuna exporters gain a competitive edge, the Ministry of Industry and Trade has pledged to discuss the issue with the Japanese side when the two countries review the VJEPA in the future.
Source: Intellasia.net