Vietnam seafood market update: Opportunity for Vietnam's seafood exports to "turn the table"
Sunday, October 1,2023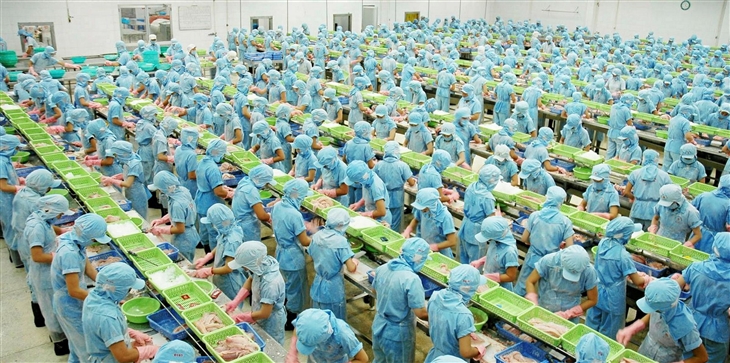 AsemconnectVietnam - The market's gradual recovery along with China's ban on seafood imports from Japan create an opportunity for Vietnam's seafood exports to "turn around" at the end of this year.
After the very gloomy first half of 2023, the Vietnam Association of Seafood Exporters and Producers (VASEP) said that there have been the clearest signs of recovery in the Chinese market.Particularly, in July, seafood exports to this market have increased by 45% over the same period last year, with sales reaching nearly 180 million USD.
In addition, the inflation situation in the US is also gradually cooling down, consumer demand is improving, and the amount of inventory is also gradually decreasing, so it will be necessary to increase imports to serve the year-end holidays.
VASEP expects that seafood exports to the US market at the end of the year will increase by 40 - 50% compared to the same period last year.
Ms. Le Hang, Communications Director of VASEP, highlighted three pivotal factors contributing to an optimistic export scenario for the second half of this year. Firstly, major markets are anticipated to experience positive economic developments during this period. Secondly, countries such as the US and China are witnessing a resurgence in import demand, driven by diminishing inventories and increasing orders for year-end festivals like Christmas and New Year's Eve.
Mekong Delta provinces step up efforts to combat illegal fishing
Mekong Delta provinces have intensified their efforts to prevent illegal, unreported and unregulated (IUU) fishing in a bid to have the European Commission (EC)'s "yellow card" warning against Vietnamese seafood lifted.
Kien Giang province reported no fishing boats violating foreign waters in recent months, according to the provincial steering board for IUU fishing prevention and control.
The result was attributed to the local authorities' application of drastic and synchronous measures against IUU fishing, with a wide range of inspections and enhanced communications work to raise local fishermen's awareness of current regulations on IUU fishing prevention put in place, said Deputy Director of the provincial Department of Agriculture and Rural Development Quang Trong Thao, who is also deputy head of the steering board.
To date, the vessel monitoring system (VMS) has been installed on 3,652 fishing boats out of 3,707 vessels with a length of 15 metres or longer. Meanwhile, the remaining ships are being listed for monitoring, with all of them out of operation.
Binh Thuan strictly deals IUU fishing-related violations
The south-central coastal province of Binh Thuan recently imposed administrative fines on two fishing boat owners for their violation of the recommendations by the European Commission (EC) regarding the prevention of illegal, unreported, and unregulated (IUU) fishing.
During the first seven months of this year, provincial authorities issued fines on 183 cases, collecting 2 billion VND (over 82,440 USD), for their violations related to non-registration and non-declaration for the port entry and exit of fishing vessels, and their engagement in activities different from occupations specified in fishing licenses.
Authorities have vigorously and concertedly implemented tasks and solutions, and closely adhered to the EC's recommendations to have its "yellow card' warning on Vietnamese seafood removed in accordance with the directives of the Party Central Committee's Secretariat, the Prime Minister, and the National Steering Committee for IUU Fishing Prevention and Control.
US's anti-dumping duty review on Vietnam's tra fish shows positive results
The Vietnam Association of Seafood Exporters and Producers (VASEP) said that it has received preliminary results of the US Federal Register's 19th anti-dumping duty review (POR19) on Vietnam's frozen fish fillet in the period from August 1, 2021, to July 31, 2022, with positive features.
Accordingly, the US authority determines that two Vietnamese companies, Vinh Hoan Corporation and Can Tho Import Export Seafood Joint Stock Company (Caseamex), which were selected for individual examination as mandatory respondents, will enjoy a tax rate of 0 USD per kilo and 0.14 USD per kilo, respectively.
A rate of 0.14 USD per kilo will be applied on other companies including Cafatex Corporation, International Development and Investment Corporation, Loc Kim Chi Seafood Joint Stock Company, and Hung Vuong Corporation.
The preliminary tax rate given at the POR19 has decreased from the final results of the previous review.
Mekong Delta provinces making progress in curbing IUU fishing
Coastal localities in the Mekong Delta continue making efforts to better prevent and control illegal, unreported and unregulated (IUU) fishing ahead of the fourth fact-finding trip by a European Commission (EC) delegation this October.
The EC issued a "yellow card" warning for Vietnam in terms of IUU fishing in 2017. It will be followed by a "green card" if the problem is resolved. Meanwhile, a "red card" may lead to a ban on aquatic exports to the EU.
Kien Giang province has the largest fishing fleet in the country with 9,845 fishing boats with the length of six metres or more, including nearly 4,000 offshore-fishing vessels with the length of at least 15 metres.
From the beginning of the 2020 - 2025 term, the Kien Giang provincial Party Committee issued a resolution to strengthen leadership in IUU prevention and control. As a result, after half a term implementing the resolution, the number of fishing vessels violating the law has gradually decreased.
T.Huong
Source: VNA