Vietnam's aquatic products exports fetch $1.11b in two months
Tuesday, March 12,2019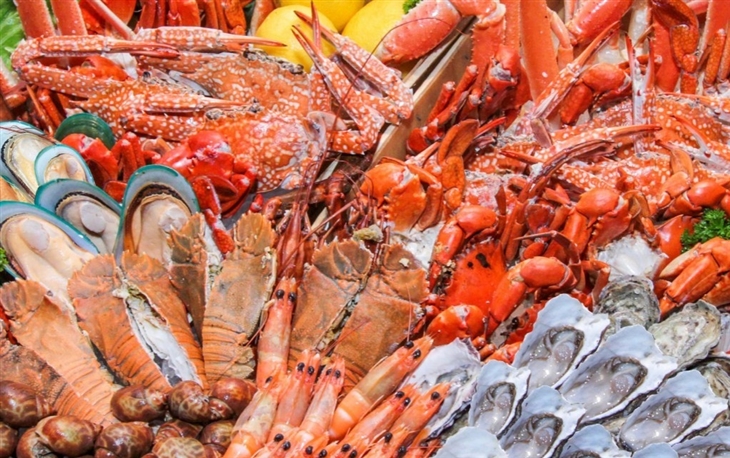 AsemconnectVietnam - The country's export turnover of aquatic products reached $1.11 billion in the first two months of 2019, up 4.4 percent from a year ago, according to the Department of Farm Product Processing and Market Development under the Ministry of Agriculture and Rural Development.
The top four importers of Vietnam's aquatic products in the period were Japan, the US, China and Republic of Korea, which accounted for 53 percent of the total export value.
Strong growth was recorded in shipments to Mexico (32.4 percent), Canada (27.8 percent), the US (24.9 percent) and Japan (17.7 percent).
Meanwhile, the country imported 247 million USD worth of aquatic products in January-February, down 9.3 percent from the same period last year.
The department forecast that Vietnamese pangasius exporters will face strong competition from Myanmar on the Chinese market in the time ahead, as Myanmar will soon complete a complex of pangasius breeding farms in Ayeyawady to serve export.
However, there is good news for shrimp exporters as they will benefit from favourable tariffs under the Comprehensive and Progressive Agreement for Trans-Pacific Partnership (CPTPP) which took effect for Vietnam on January 14 this year.
The department envisioned two-digit growth for shrimp shipments to Japan in 2019 while advising the exporters to renew their approach to the Japanese market, enhance promotion of products and continue to improve product quality.
The export of aquatic products is expected to rise by 17 percent to 3.5 billion USD this year despite likely hurdles, according to the Vietnam Association of Seafood Exporters and Producers (VASEP).
Export of marine products to hit 3.5 billion USD this year
The export of marine products is expected to rise by 17 percent to 3.5 billion USD this year despite likely hurdles, according to the Vietnam Association of Seafood Exporters and Producers (VASEP).
According to Nguyen Thi Thu Sac, Vice Chairwoman of VASEP and head of its marine products committee, tuna exports still have room to grow thanks to imported raw fish and Vietnam's trade agreements with a number of countries.
Tuna exports are forecast to top 1 billion USD this year, 350 million USD higher than last year, she said.Exports of other fish, squid, octopus and other seafood products are likely to be steady or increase slightly, she said.
Referring to markets, she said shipments to Japan are expected to jump by 27 percent to 900 million USD, with exporters focusing on marine fish, surimi and value-added products.
Exports to the Republic of Korea are also expected to rise by 27 percent to 600 million USD as exporters take advantage of the free trade agreement with the country to boost shipments of all kinds of products, especially squid, octopus and crab, she said.
Firms would boost exports of tuna and other fish as well as squid, octopus and crab to the US by an expected 10 percent to 480 million USD, she said.
Last year, exports to the EU fell by 4-20 percent, except for tuna, whose shipments increased by 11.5 percent, but even that growth halved from 2017 due to the impact of the yellow card, she said.The sector is working to get the yellow card warning lifted this year, she added.Exports to Southeast Asia are expected to reach 480 million USD, up 18 percent, with a focus on exports of tuna, octopus and other species, the association said.
The association called on exporters to more actively to expand their markets, especially those having free trade agreements with Vietnam, and enhance the value of exports with value-added products.
They also need to enhance cooperation with fishermen for improving the quality of products, it said.Due to insufficient raw material supply in the domestic market, enterprises import from other countries for processing for export, she said.
Last year, imports were worth 1.25 billion USD, 34 percent higher than in 2017 and accounting for 73 percent of total seafood imports.
Seafood businesses advised to boost official exports to China
Domestic seafood enterprises, especially those from southern localities, will have excellent opportunities to boost official exports to China in 2019 thanks to the country's reduction of tariff and aquaculture output due to environmental and production cost issues, heard a workshop in the Mekong Delta province of An Giang on March 5.
Speaking at the event that seeks ways to boost Vietnam's agro-fishery official exports to China, Secretary-General of the Vietnam Association of Seafood Exporters and Producers (VASEP) Truong Dinh Hoe suggested businesses manage the quality of products before exporting to China.
This solution aims to protect the brand of Vietnamese seafood in the Chinese market, he said.
Vice Chairman of the Vietnam Pangasius Association Vo Hung Dung said seafood businesses must improve the quality of products to meet strict requirements from China.Businesses proposed relevant departments urge Chinese authorised agencies to add Vietnamese products to the "list of products approved for import into China."
According to the VASEP, China has become a major seafood importer of Vietnam since 2013, and Vietnam's exports to the country achieved a growth more stable than that of other markets.
In 2018, Vietnam exported over 1.2 billion USD worth of seafood to China, 70 percent of which were official.
Source:Vitic