Vietnamese, Israeli folk programme thrills audiences in Lao Cai
Friday, August 30,2019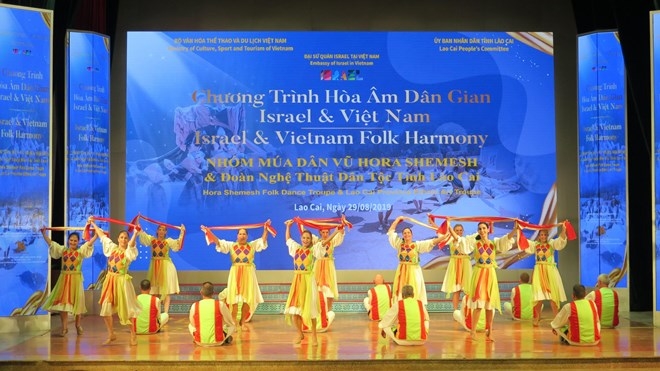 AsemconnectVietnam - The Israel & Vietnam Folk Harmony programme took place in the northern mountainous province of Lao Cai on August 29, the second show after the first in Hanoi four days earlier.
The event, organised by the Israeli Embassy in Vietnam and the Vietnamese Ministry of Culture, Sports and Tourism, formed part of Israel's annual cultural and art exchange programme in Vietnam.
It featured 12 performances of Israel's folk dancing troupe Hora Shemesh and the Lao Cai troupe of folk music.

A performance by Hora Shemesh (Photo: VNA)
Established 25 years ago, Hora Shemesh, a large dance troupe, is renowned for their colourful costumes and uplifting music. Through their art, they paint an interesting picture of Israeli culture and life.
The main themes in the troupe's performances are family love, characters of the Bible and humour.

A performance by the Lao Cai troupe (Photo: VNA)
The Lao Cai troupe, meanwhile, staged traditional dances and songs imbued with the northwestern region's culture.

Speaking at the event, Israeli Ambassador Nadav Eshcar highlighted the importance of the Vietnam-Israel diplomatic relations, adding that cultural exchange events and art performances have enhanced bilateral relations and mutual understanding.

Source:VNA