Vietnamese athletes aim to achieve 2-5 golds at ASIAD 19
Wednesday, September 20,2023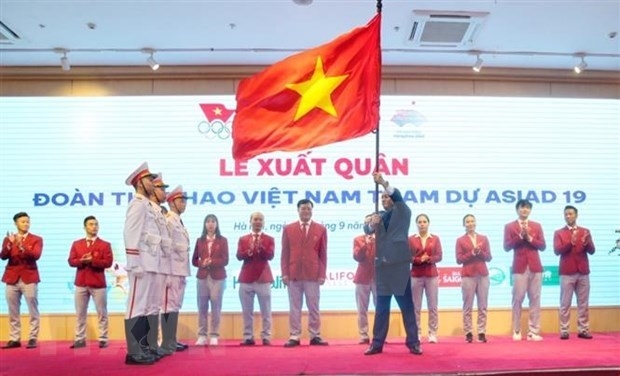 AsemconnectVietnam - Vietnam athletes aim to achieve from 2-5 gold medals at the upcoming 19th Asian Games (ASIAD 19) in Hangzhou, China, said Director of the Vietnam Sports Administration Dang Ha Viet, who is also head of the Vietnamese sports delegation.
Viet said after a period of active and serious preparations, the Vietnamese delegation is confident and ready to attend ASIAD 19 with the highest determination.
Since the beginning of the year, the administration has coordinated with relevant authorised units to soon select athletes to join the national teams. Among them, there are athletes who competed successfully and obtained high achievements at the recent SEA Games 32, especially in Olympic and ASIAD sports groups, according to the official.
The results at SEA Games 32 are an important foundation, creating a driving force to help athletes continue to maintain and further promote their professional skills in this continental arena. The sector has sent excellent athletes to train abroad and compete in domestic and international tournaments to improve professional skills.
Each member of the delegation attending ASIAD 19 has the desire to achieve the best results and efforts to contribute to strengthen solidarity, friendship, cooperation and development with countries in the continent, he added.
Viet said that the Vietnamese athletes will have to compete with strong opponents from leading countries in the continent such as Japan, the Republic of Korea or the host China at the Games. Vietnam has just achieved good results and affirmed its position in Southeast Asia, however there are still gaps in Olympic sport groups at ASIAD.
In addition to key sports, Vietnam will also compete in new sports such as E-Sports, Soft tennis and Breaking, among others. The athletes hope to contribute to Asian sports, thereby promoting other
Vietnam
ese sports like Vovinam, he said.
It can be said that ASIAD 18, held in Indonesia in 2018, has been the most successful Games of Vietnamese sports to date with five gold medals in women's rowing, athletics, women's long jump, men's pencak silat, and women's 400m hurdles. But most of these sports will not be included in ASIAD 19.
Regarding to anti-doping work, Viet said that it is the most important issue that the sector has always paid special attention to. Training courses on anti-doping for athletes have been opened in 63 provinces and cities.
According to the regulations of the 19th ASIAD Organising Committee, all athletes must have an ADEL (anti-doping education and learning platform) certificate issued by the World Anti-Doping Agency (WADA) to attend the Games. This is the latest regulation and will be applied not only from ASIAD 19 but also at all multi-sport events at continental and world levels in the future./.