Saigontourist Group Food and Culture Festival 2023 opens
Friday, April 21,2023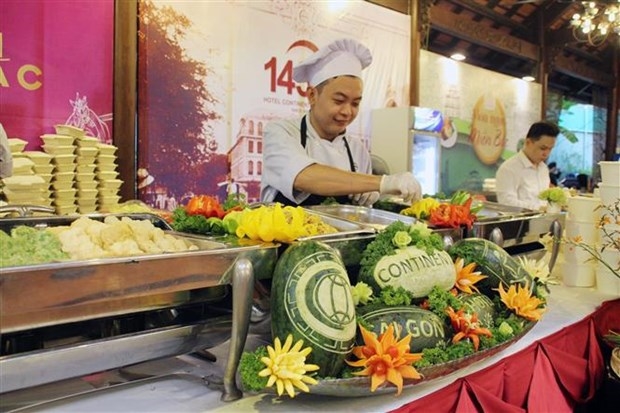 AsemconnectVietnam - The Saigontourist Group Food and Culture Festival 2023 hosted by Saigontourist Group and some other units opened on April 20 at Van Thanh Tourist Site in Ho Chi Minh City's Binh Thanh district.
The four-day festival introduces more than 350 local dishes from provinces and cities in all the northern, central, and southern regions of Vietnam.
Along with 40 booths with experienced chefs from the Saigontourist Group and its subordinate hotels, restaurants and resorts, the event will be attended by representatives from Vietnam Airlines and other units in Ben Tre and Tay Ninh provinces. Moreover, it will also showcase traditional handicrafts associated with cuisine, unique traditional art performances, and folk games.

With a vast collection of dishes and drinks, culinary experts from the Saigontourist Group have temporarily classified them into several main categories. Guests attending the festival can enhance their culinary experiences by choosing the one they are most interested in exploring.

The four-day festival introduces more than 350 local dishes from provinces and cities across Vietnam. (Photo: VNA)
The festival also includes performances of traditional music, such as UNESCO-recognised Quan ho (love duet singing), Don ca tai tu (Southern amateur music), Hat Then (Then singing), Hue traditional singing, cai luong (reformed opera), and circus.

Truong Duc Hung, Deputy General Director of the Saigontourist Group, said that with the success of the first festival "Saigontourist Food and Culture Festival 2022" which was crowned "Asia's Best Culinary Festival 2022" by the World Culinary Awards, the group is organising the second edition this year.
The festival is among the key of the group's activities to promote Vietnamese food and
Ho Chi Minh City
as a destination to explore food and cultural events./.