Vietnamese cuisine making a name for itself with int'l friends
Monday, March 13,2023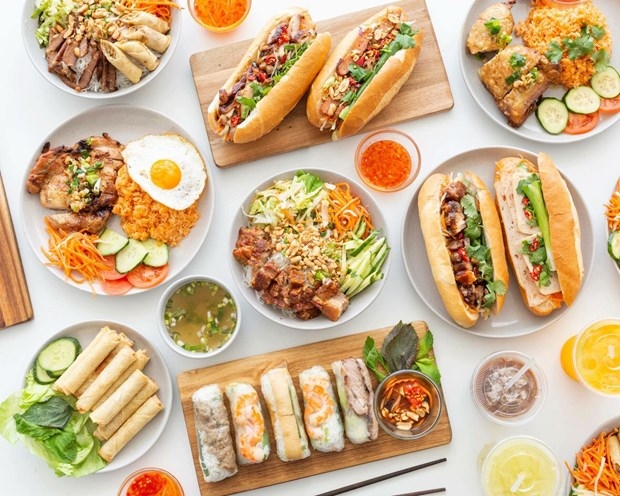 AsemconnectVietnam - The diverse and attractive cuisine of Vietnam is increasingly becoming known to international friends, with not only pho and spring rolls but also many other dishes catching the attention of food connoisseurs around the world.
In late 2022, the
World Culinary Awards
listed Vietnam as the "Best Culinary Destination in Asia in 2022", surpassing other well-known names in the region such as China, Malaysia, Singapore, the Republic of Korea and Thailand. As part of the World Travel Awards, this prestigious annual award aims to honour and reward excellence in the culinary industry.
Moreover, many famous travel and culinary magazines have published articles praising Vietnamese cuisine and its culinary destinations.
Most recently in late January 2023, the US travel magazine
Travel and Leisure
named Vietnam as the top culinary destination in Asia in their Bucket List Places in Asia 2023, especially for street food. The magazine also suggested the best places for tourists to explore Vietnamese cuisine, including Hanoi, Da Nang, and Ho Chi Minh City. Must-try dishes include pho, banh mi (baguette), and banh cuon (steamed rice rolls). It stated that if there is any culinary culture with an irresistible, rich and flavorful taste, it is definitely Vietnamese cuisine. In addition to the beautiful natural landscapes, historical and cultural sites, Vietnam is also known for its unique, appealing and delicious cuisine.
The famous Canadian travel magazine, The Travel, also announced the top 10 countries globally with the most appealing culinary cultures, in which Vietnam placed fifth in the reader's choice. Apart from pho, it also recommended other dishes such as nem ran (fried spring rolls), banh mi, com rang (fried rice), and com tam (broken rice) for tourists to try.

Steamed rice rolls (Photo: tuoitre.vn)
The Australian travel magazine, Traveller, has proposed that banh cuon of Vietnam is one of the top 10 delicious dishes that tourists should enjoy in 2023. It described how each layer of banh cuon is made from rice flour, thinly spread, steamed, and rolled with various fillings, commonly with wood ear mushrooms and minced meat. Banh cuon is served with fragrant dried shallots, various herbs, and a dipping sauce distinctive for each region. The magazine affirmed that the Vietnamese cuisine is truly amazing, from pho, noodles to grilled meats, salads, and crispy golden pancakes.
TasteAtlas, a famous world cuisine website, announced the 2023 culinary awards and the rankings of Asian cuisines, in which Vietnam ranked sixth. The website also listed the top five typical dishes of Vietnam, including banh mi, pho, cha gio (spring rolls), bo kho (beef stew), and bun bo Hue (Hue-styled beef noodles), as well as the top five signature culinary products, including iced coffee, Phu Quoc fish sauce, Vietnamese coffee, egg coffee, and cha lua (pork roll). Earlier in December 2022, TasteAtlas announced that the Vietnamese cuisine ranked 20th among the top 100 in the world.
Among the three Vietnamese common words that were included in the Oxford English Dictionary, two of them are related to food. They are "pho" and "banh mi." This not only makes the Vietnamese people proud but also popularises Vietnamese culture, especially its cuisine to the world.
Many heads of state from around the world chose Vietnamese cuisine as a highlight of their visits to Vietnam. Former US President Barack Obama chose to try "bun cha" (rice noodles with Vietnamese grilled pork) during his 2016 visit. Canadian Prime Minister Justin Trudeau enjoyed Vietnamese street coffee when he visited Ho Chi Minh City in 2017. Former Australian Prime Minister Malcolm Turnbull tasted banh mi from a street vendor in Da Nang during the APEC Summit in 2017.
Nguyen Trung Khanh, General Director of the Ministry of Culture, Sports and Tourism's
Vietnam National Administration of Tourism
(VNAT), believes that the Vietnamese cuisine is gradually making a name for itself on the world culinary map. This is a great potential to attract tourists, especially foreigners.
According to the VNAT, it is not by chance that Vietnamese cuisine is considered the quintessence of the nation's culture and highly praised by international friends. This is because Vietnamese cuisine is diverse in ingredients and delicate in preparation. Each region has its own unique flavour, and trying them once will make visitors remember forever.
Vietnamese culinary culture is rich, diverse, and sophisticated, so it is not surprising that the Vietnamese dishes are highly regarded by international diners. Among them, pho is considered the "culinary ambassador", contributing to honouring Vietnamese culture among international friends.
Recently, pho - considered the quintessence of Vietnamese cuisine - was included in the list of 100 delicious and famous dishes in the world by the famous food website TasteAtlas./.