Vietjet launches three new routes to Japan
Thursday, October 11,2018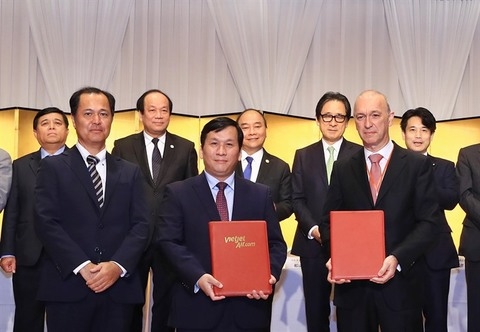 AsemconnectVietnam - Vietjet on Wednesday announced three new international routes linking Viet Nam with Japan, in a move accelerating the growth of tourism and trade between the two countries and across the region.
The event was witnessed by Viet Nam's Prime Minister Nguyen Xuan Phuc as part of his official visit to Japan and several high-ranking Japanese and Vietnamese dignitaries.
In his speech, PM Nguyen Xuan Phuc said the launch of Vietjet's routes from Viet Nam to the Kansai region of Japan marked a step in rebuilding Kansai's economy and tourism after it was devastated by a storm in early September, as well as contribute to tourism, trade and integration between the two countries and the region.
Hiroshi Tabata, commissioner of the Japan Tourism Agency, agreed. He said these newly launched flights to Kansai International Airport will be a huge boost for tourism in the Kansai area and thereby contribute to the recovery of the local economy which has been left reeling from the damage caused by typhoon Jebi.
"I believe that these new routes will also contribute to an increase in the number of Vietnamese visitors coming to Japan," he said.
The three routes will be launched in the coming three months. The Osaka-Ha Noi route will commence operations on November 8, 2018, the Osaka-HCM City route on December 14, 2018, and the Tokyo-Ha Noi route on January 11, 2019. All routes are operated with a daily return flight each.
Earlier, Vietjet worked with Japanese partners to organise several flights from Viet Nam to airports in Osaka, Narita, Sendai, Nagoya, Komatsu, Ibaraki and Fukushima. These flights were very well received by Japanese passengers.
Vietjet inks $1.2 billion deals
On the same day in Tokyo, Vietjet signed an aircraft financing agreement with Mitsubishi UFJ Lease & Finance Company Limited (MUL) and the banking group BNP Paribas (France).
The agreement paves the way for MUL, a member of Japan's leading finance group Mitsubishi UFJ Financial Group (MUFG), and BNP Paribas to finance Vietjet's acquisition of up to five brand new aircraft, worth US$614 million, the airline said in a statement.
Also, Vietjet, France-based banking group Natixis and some Japanese equity underwriters inked a Memorandum of Understanding valued at $625 million to facilitate its financing for five additional aircraft.
These deals have been made under a financing plan for Vietjet's future ownership of the aircraft. All aircraft financed on Wednesday will be delivered to Vietjet in the last quarter of 2018 or early 2019, the airline said.
"The critical financing agreements signed today once again confirms the confidence of leading Japanese financiers in Vietjet as the airline prepares to launch new routes to Japan soon," Vietjet's vice president Dinh Viet Phuong said.
Phuong said these deals will also greatly contribute to Vietjet's plan for fleet expansion and network growth, thus helping to better connect the two nations.
Under the terms of the agreement, Vietjet and all financing partners will also work together to share best practices for the operation and management of the airline, boosting efficiency and encouraging sustainable growth.
Vietjet currently operates the latest generation narrow-body aircraft fleet, which has helped the airline achieve an impressive operation performance rating of 99.66 per cent for technical reliability.
The airline's flight safety performance and ground operation indicators are also amongst the top in the region while operating costs are among the lowest in the world.
Vietjet has been recently listed by Airfinance Journal as one of the world's 50 best airlines for healthy financing and operations, achieving a better ranking than many of the world's most prestigious airlines.
Source: Bizhub.vn