Amazon launches websites supporting Vietnamese ecommerce sellers
Monday, October 1,2018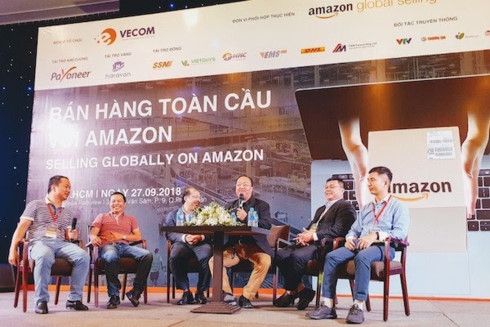 AsemconnectVietnam - Amazon, a U.S.-based multinational ecommerce platform, has launched shopping websites in Vietnamese, enabling local shop owners to run their online businesses on the platform more easily, heard attendees at a recent event in HCMC.
The event, titled "Selling Globally on Amazon," was jointly held by the Vietnam Ecommerce Association and Amazon Global Selling, with the participation of 1,000 ecommerce operators and sellers. The two organizers reportedly joined forces for the first time to counsel the sellers on ecommerce solutions that work on amazon.com.
At the event, Amazon introduced the website Amazon Global Selling, at services.amazon.vn, and an official Facebook fan page, both displayed in Vietnamese. The two sites are expected to help remove language barriers and support local individuals and small-scale firms in joining the Amazon platform.
Joonmo Park, head of Amazon Global Selling in the Republic of Korea and Southeast Asia, said that whether they are individuals, small- or large-scale enterprises, all sellers on Amazon will have the opportunity to approach the platform's 300 million customers.
The regional head added that Amazon has seen rapid growth in the number of Vietnamese online sellers trading on the Amazon Global Selling website, including manufacturers, brand owners and retailers. He expressed hope that new solutions would encourage more Vietnamese sellers to add their impressive locally made products to the platform, where they can access more customers around the world.
Addressing the event, Nguyen Ky Minh, director of EcomViet, under the Ministry of Industry and Trade, said sellers should make careful preparations for conducting their online business globally, such as arranging delivery services and payment channels, adding that they need to stay updated on the latest trends to meet customer demands.
Minh cited data from a foreign market research company saying that the ecommerce sector in Southeast Asia has posted revenue of some US$5.5 billion since 2015 and is forecast to hit an estimated US$88 billion by 2025, which will likely outstrip that of other sectors such as online travel agencies or ride-hailing services.
Source: Vov.vn