Dien Quang Lamp partners with US Qualcomm
Friday, August 10,2018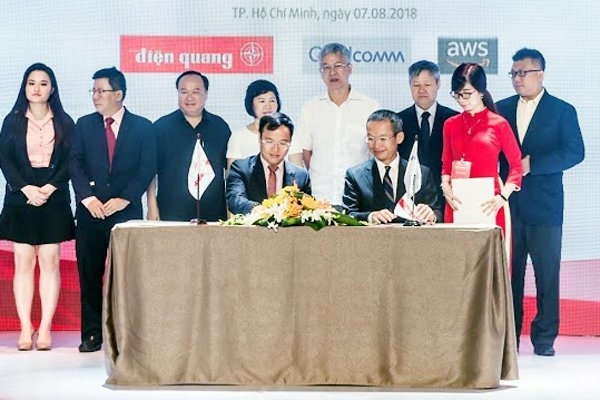 AsemconnectVietnam - Dien Quang Lamp JSC on August 7 inked a strategic cooperation agreement with American multinational semiconductor and telecommunications equipment company Qualcomm to provide the local market with lighting solutions and equipment through their smartphone application.
Under the deal, Qualcomm acts as a strategic consulting firm that will transfer its technology to Dien Quang and is also a provider of processors, modules and new software, in line with the production orientation of the Vietnamese firm.
The two companies will work together to research and produce a central controller for the DQHome solution of Dien Quang.
The controller will be equipped with the most advanced processors and modules. It can integrate new technologies such as voice control, image analysis and electronic device adjustment, aligned with users' habits and environmental conditions.
The development of DQHome is based on the needs and habits of the Vietnamese. This solution enables users to connect with and manage their home environment at any time and place through their smartphones, according to Dien Quang.
DQHome helps them to control household devices such as lighting systems, TVs, air conditioners and water heaters, individually, in groups or under setup scenarios.
Besides this, Dien Quang will employ Qualcomm's latest technologies, such as Bluetooth 5.0, Mesh Network and Chipset to develop the Dien Quang Apollo solution for smart lighting.
This solution helps users to connect with, control and change the colors of their lighting clusters using their smartphones, creating new experiences for context-sensitive and family atmosphere lighting.
At the event, Dien Quang also struck an agreement with Amazon Web Services, a subsidiary of Amazon.com that provides on-demand cloud computing platforms on a paid subscription basis. However, they did not disclose the details of the deal.
Source: thesaigontimes.vn