Vedan Vietnam: 27 years of accompanying economic development of Vietnam
Saturday, June 30,2018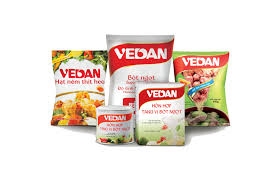 AsemconnectVietnam - Formally set up in 1991, Vedan Vietnam Enterprise Corporation Limited has 27 years of accompanying Vietnam's economic development. With relentless efforts, the company has achieved extraordinary deeds when it turned a wasteland into a modern biological food industrial zone with advanced science and technology, and start-of-the-art equipment. The company is confident to affirm its name and importance in Vietnam's transforming economy.
After 27 years of operation, Vedan Vietnam has not only actually succeeded in realising the goal of "Deep-rooting in Vietnam - Doing long-term business," but is also known as a leading manufacturer in Asia which always pioneers in using advanced biotechnology and fermentation technology to produce amino acids, food flavour enhancers and starches with high utility value and high quality to meet market needs. In particular, the company has successfully produced many different kinds of modified starches for wide application in various industries.
Vedan Vietnam has continuously invested for developing and expanding its branches across the country and opened a series of agents and distribution channels nationwide to bring its products to consumers. After securing its dominance in the domestic market, Vietnam Vedan has also confirmed its business position in Asia by promoting exports to food suppliers and international trade companies in China, Japan, Taiwan, ASEAN and the European Union (EU).
Vedan Vietnam has made significant contributions to the State Budget, invested in building material areas, purchased agricultural products from farmers, and generated stably-paid jobs for thousands of Vietnamese farmers. Every year, Vedan Vietnam funds nearly VND4 billion for charitable activities like financing the Study Encouragement Fund, granting scholarships to poor students without outstanding study records, presenting New Year gifts to the poor, building charitable houses, and providing free medical cares. These humanity activities have left deep Vedan impressions in the society and enhanced the image of sociable and friendly Vedan family in Vietnam.
With its expansive production scale, Vedan Vietnam thus has to seek new raw material supply sources and coordinate closely with the State in investment policies in remote areas. In 1997, Vedan Vietnam decided to invest US$20 million to build a tapioca starch processing plant on an 82.5-ha site in Phuoc Long district, Binh Phuoc province. The tapioca starch processing plant in Phuoc Long not only brings economic benefits for Vedan Vietnam, but also importantly contributes to providing jobs for local people. The company's purchase of cassava in remote areas helps eradicate poverty, increase incomes for labourers and improve living conditions for farmers. After 20 years of production and business in the province of Binh Phuoc, not only taking care of its employees' material and spiritual life, Vedan Vietnam always fulfils its tax obligations to the State, protects the environment according to the law, and actively takes part in social activities.
Vedan Vietnam always takes domestic agricultural products as its primary raw materials for production. To develop a stable material zones and ensure favourable for material procurement, in addition to cooperating with agricultural entities to invest in research and development plans, the company actively applies various methods such as strengthening connectivity with farmers, ensuring stable buying prices of cassava products, developing high-yield cassava varieties, supplying fertilisers and seeds to farmers.
However, the cassava area in Binh Phuoc province and in Vietnam is shrinking because of industrial and economic development. Mr Yang Kun Hsiang, General Director of Vedan Vietnam, recommended, "In the current context, to restore and develop material zones in Binh Phuoc provinces in particular and in Vietnam in general, according to our experience, Vietnam needs to focus on improving production techniques and added value of products. If production techniques are raised, we can take expenses saved to invest for farmers, encourage them to grow cassava and raise added value of products, thus ensuring similar economic effects."
While improving production techniques, it is important to focus on developing crops to raise productivity in an area unit as well as expanding farming acreage. Mr Yang Kun Hsiang explained, "The current cassava output per hectare in Thailand is much higher than that in Vietnam. If we can study cassava varieties suitable with soil properties, our cassava productivity will be surely increased. Indeed, Vietnamese farmers are using rudimentary techniques for small cultivation areas and harvesting crops at the same time, thus adding pressures on the company. If farming techniques are increased and combined with production progress and machine/equipment operation efficiency of factories, both farmers and the company will gain."
Source: Vccinews.vn