Dorufoam improving high quality for customer's interests
Saturday, June 30,2018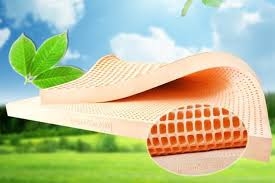 AsemconnectVietnam - Only five years working in the consumer market, the Dorufoam brand of Dong Phu Technical Rubber JSC has quickly become a well-known name amongst consumers, with products such as foam, pillows and mattresses made from 100 percent natural rubber using modern technology and controlled by the quality management system standard ISO 9001: 2008. Verified quality has gained for Dorufoam products consumers' trust and appreciation. The company's distribution network is now present in all provinces and cities nationwide; The average growth rate is over 20 percent/year.
Identifying its own path is to "compete on price and quality", Dorufoam regularly invests and innovates technologies to create new high-end products that are a cut above similar products in the country, and even those in other more developed countries; thereby empowering the competitive edge of the Dorufoam brand in the market. In addition to high-quality raw materials, the company's products are produced on modern machinery from Germany, by manufacturing technology of Malaysia and supervised closely to ensure quality.
Dorufoam strictly controls every stage of production, from raw material input to processing, and also tests finished products for consumer safety. This strict system has gained Dorufoam the quality certificates by LGM - the Malaysia Rubber Board and RRIMCORP - the Rubber Research Institute of Malaysia, verifying the quality up to standard MS679: 1999 (quality standard for rubber pillows and mattresses); by G-CERTI Centers verifying production are under quality management system ISO 9001:2008; Environmental Management System ISO 14001: 2004;
Dorufoam products do not use chemical additives, after vulcanization products are passed through centrifugal cleaning system at 500 rev/min speed to completely eliminate the unpleasant smell of rubber, which make them completely safe for consumer use. Besides, the modern foam technology helps increase porosity and elasticity, which brings an unparalleled softness to rubber cushions and mattresses of the company. Following the motto "Customer's interests come first", the company continued to invest, increase the application of modern technology in production to overcome the drawbacks of natural rubber, which are weak ageing resistance (light, ozone, temperature,...), and enable the company to expand products warranty period from seven to ten years, a huge benefits to consumers.
So far, the constantly expanding Dorufoam sales network has six major branches nationwide (Hanoi, Da Nang, Bien Hoa, HCMC, Can Tho City, Binh Phuoc); linking seven veteran rubber mattress distributors and over 300 dealers throughout the country. Priding itself as a quality Vietnamese brand, Dorufoam has reached out and successfully conquered many potential markets such as China, Korea, Laos and Cambodia.
From the perspective of an expert with many years of experience in the business, Mr Dam Duy Thao, Director of Dong Phu Technical Rubber JSC, to take to the big stage and succeed in international integration, businesses first must conquer the domestic market, because foreign partners when choosing suppliers from Vietnam study carefully the production capacity and development capacity of suppliers in the domestic market.
The uniform determination of the staff combined with sound development strategy of the management has helped Dorufoam over the last few years efficiently utilize existing strengths such as rich and stable material sources; closed production process; young, dynamic and skilful team of technicians; and new technology, modern machinery and equipment. This is one of the core values, the solid foundation to build up a strong Dorufoam brand that is competitive and pervasive in the market.
The policy of the Vietnam Rubber Group to encourage the production of rubber-made consumer goods in order to limit the export of raw natural rubber has really given the domestic rubber industry a timely boost to exploit untapped potential. Seizing this opportunity, for the coming time, Dorufoam will focus on improving capacity to be able to operate at full capacity of the current production systems; constantly diversifying products and improving quality to provide the market with products of superior quality, gradually improving competitiveness in the market. Hand in hand with efforts to assert the brand's standing in the domestic market, the company is determined to become a strong brand in the international playground. Dorufoam will boost the campaign of penetrating and conquering foreign markets, aiming to increase export volume, create jobs and generate stable incomes for workers.
After more than 9 years of operation, tireless efforts in diversifying and improving product quality have brought Dorufoam the honour of being recipient of a series of prestigious quality awards: Top 100 gold products in 2012; Top 10 Vietnamese brands - prominent Vietnamese goods in 2013; Top 100 Vietnamese Brands of 2014 voted by consumers, the Silver Award for National Quality in 2013 and 2014; Prestigious Brand of 2012, Quality Supplier 2012 (voting organized by the NQA organization, United Kingdom); Silver National Quality Award (2013, 2014); and Sustainable Development Business in 2014.
Source: Vccinews.vn