PV Power's profit up 37% in first quarter of 2018
Thursday, May 10,2018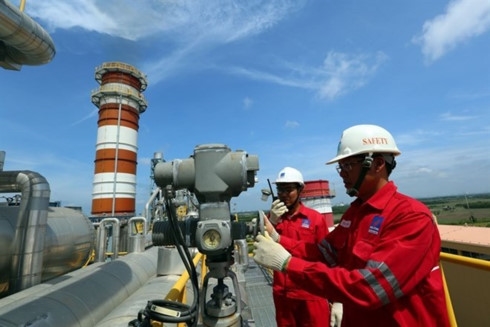 AsemconnectVietnam - PetroVietnam Power Corporation (PV Power) recorded a consolidated net profit of VND780 billion (US$34.2 million) in the first quarter, a growth of 30.6% against the same period of last year.
Of this, the post-tax profit earned by the parent company was over VND675 billion, up by 37% year-on-year.

PV Power reported consolidated revenue of VND8.4 trillion during the period, up by 12% against last year, most of which came from sales of electricity worth VND8.1 trillion, up by over VND1 trillion compared to the first quarter of 2017 and accounting for 97% of the total revenue.

The cost of goods sold in the first quarter was VND7 trillion, bringing the gross profit of the company to VND1.35 trillion, corresponding to a gross profit margin of 16.1%, which was significantly higher than 2017's figure of 14.8%.
During the period, PV Power conducted capital transfers generating profits of VND3.9 billion and paid dividends of VND10.7 billion. The interest income paid by lender PVCombank was VND287 million. However, its financial income still fell by 13% year-on-year to VND68 billion due to the difference in exchange rate and lower deposit interest rates.

Other expenses, such as selling expenses and corporate management expenses, saw little change compared to the same period last year, reaching VND4.1 billion and VND110.4 billion, respectively.

At the end of the first quarter, PV Power's total assets reached VND63.4 trillion, while its liabilities were VND34.9 trillion.

According to Viet Capital Securities (VCSC), rising electricity demand in the south will ensure high capacity of 65-70% for PV Power. At present, all of PV Power's gas-powered plants are in the south, which is suffering from a severe power shortage.

Electricity consumption in Dong Nai province and Mekong Delta is expected to grow by 11.5% and 13.8% per year, respectively, during 2016-20. Electricity consumption in the north-central region, where the Vung Tau 1 coal plant is located, is also expected to grow by 11.1-14.8% per year.

At the end of April, the Prime Minister approved PV Power to invest in the Nhon Trach 3 and Nhon Trach 4 thermal power plants, which will increase its total capacity by 1.5GW. If PV Power is approved to build Kien Giang 1 and 2 plants, it will increase its capacity by 71% by 2023. Other power plants, such as Son My and Mien Trung, will also help increase PV Power's capacity by 52%, and these new plants will provide an additional growth momentum for PV Power in future.

VCSC predicts that PV Power's after-tax profit in 2018 will grow by nearly 13% due to the strong recovery of Nhon Trach 1 and Nhon Trach 2 power plants after reparation and the 19% hike in pre-tax profit of Ca Mau Power Plant after maintenance.

PV Power's shares (with code POW) are being traded around VND14,400 (US$63 cents) per share on the Unlisted Public Company Market.
Source: Vov.vn