Sao Mai Group Starts Giant Project
Thursday, December 28,2017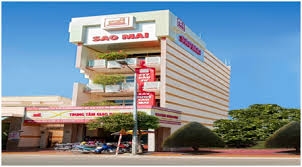 AsemconnectVietnam - After more than two years of construction, Sao Mai fish feed processing plant was inaugurated in the unrestrained joy of engineers and workers who had built this great work for a sustainable future of Vietnamese fishery industry.
Standard fish feed factory
In the pangasius value chain, feeds make up 60 - 65 per cent of the value. Therefore, Sao Mai Group decided to invest more than VND800 billion to build the largest fish feed factory in Vietnam with an annual output capacity of 360,000 tonnes.
Sao Mai Group expects to turn out high-quality, cost-competitive fish feeds free from antibiotics and other prohibited substances listed by the Ministry of Agriculture and Rural Development. In this facility, inputs are strictly controlled according to 10 TCN 864: 2006 and 10 TCN 984: 2006 quality standards.
In the first stage, the facility will turn out feeds, meeting TCVN 10300: 2014 national quality standards, for pangasius and tilapia. Sao Mai Super Feed with low FCR ratio will bring a higher profitability to pangasius farming areas and pangasius will meet quality standards when it is brought to processing plants.
Advised by top-notch professors and doctors in Vietnam, powered by cutting edge technology and equipment imported from Europe and the United States and operated by highly levelled and devoted engineers and workers, the plant will meet all quality standards like HACCP, ISO, GLOBAL GAP, ASC and BAP. These standards together with other standards at farming areas and two export aquatic processing plants will satisfy all quality criteria imposed by demanding markets like the European Union (EU) and the United States.
Devoted investor
The Sao Mai fish feed plant is situated in a prime location, looking to the intersection of two big rivers running through four provinces of An Giang, Dong Thap, Can Tho and Kien Giang. This place converges valuable assets of the Mekong Delta.
Relying on potent resources, Sao Mai fish feed processing plant will revitalise thousands of farmers. Sao Mai Super Feed - the product of the factory is crystallised by the essence of the Mekong Delta - will become a trusted, loyal companion which integrates sustainability and common interests of the Vietnamese entire pangasius industry.
After nearly 20 years, from an unpopular indigenous catfish to the Mekong Delta, pangasius has developed and become a strategic product of Vietnam as it is exported to 150 countries and territories across the globe. Pangasius output has increased more than 50 times to exceed 1 million tonnes a year and its export value has risen 65 times and contributed nearly 2 per cent to the country's gross domestic product (GDP). Pangasius has an important position in the country's fishery development strategy because it requires a small farming area (about 6,000 ha of water surface, equal to one per cent of shrimp farming area) but it has a very strong competitive force in the world and creates jobs for dozens of thousands of workers and fishermen. This fish also helps restructure the Mekong Delta economy.
According to leading experts, the future of Vietnam's pangasius industry will be threatened if it has no proper investment for research and development (R&D). Among issues of concerns, R&D needs to be focused as soon as possible, particularly reproductive research, genetic improvement, nutritional research and feed research.
Sao Mai Group has a right judgement of customers' needs - controlled quality and easy traceability. Therefore, the group quickly invested a lot in the pangasius value chain, which comprises farms, two export processing plants with a daily capacity of 600 tonnes, a by-product processing plant with a daily capacity of 300 tonnes, a refined fish oil production plant with a daily processing capacity of 200 tonnes. Sao Mai Group's 3F model (Feed - Farm - Food) is adapted from 3H criteria of Japan (Health, Hi-Quality, Hi-Technology). This will be also a general trend of modern agriculture in the world that Sao Mai Group has grasped for years.
N.Nga
Source: Vccinews.vn