530 SOEs equitized in the last five years
Monday, December 25,2017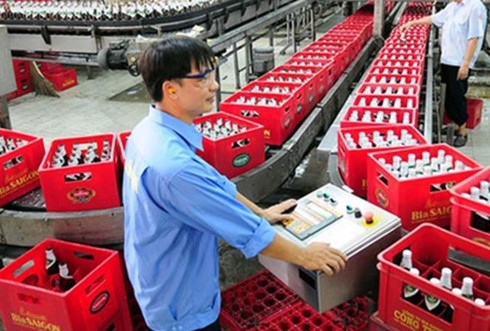 AsemconnectVietnam - The list of SOEs (state owned enterprises ) subject to equitization is long with many well-known names.
Deputy Prime Minister Vuong Dinh Hue recently signed a decision approving the equitization plan of a number of PetroVietnam's subsidiaries, including PV Power.

PV Power is the second largest electricity supplier in Vietnam with charter capital of VND21.774 trillion and stockholder equity of VND33.55 trillion.

Under the approved equitization plan, PetroVietnam, after divestment, will hold 51 percent of charter capital in PV Power, while 29 percent of shares will be sold to strategic investors.

The plan has new changes compared with the plan made public in April 2017, under which PV Power would sell a 4 percent stake to the public and workers and 45 percent to strategic investors. It was expected to collect $600-700 million.
The long-awaited sale of stake of Sabeco, the largest Vietnamese brewer, is slated for December 18. The number of shares for sale is high, 343 million, and if they are sold, the State will be able to collect VND110 trillion.

"The annual profit made by Sabeco is VND4 trillion. The amount of money investors have to pay to acquire a Sabeco stake will be very large, so they will have to think carefully about the deal," said Truong Thanh Hoai, head of the Industry Department.

Government urged to amend Decree 91

Tony Foster from Freshfields Bruckhaus Deringer said at a workshop on SOE equitization held by the NA's Economics Committee recently that it is necessary to fix existing problems to be able to speed up equitization.

He said many big brands such as MobiFone, PV Oil, Vinachem, Binh Son Petrochemical, Vietcombank, Habeco and VInamilk had to struggle to sell a stake in their companies.

Foster said the problem lies in the differences in governance.

He said in most cases, strategic investors hope they can acquire a large stake to have a decisive voice in enterprises in which they invest. However, Decree 91 sets provisions on restrictions on stake transfers.

Tran Dinh Thien from the Vietnam Economics Institute said that the number of 530 equitized enterprises in the last five years does not fully reflect the impact of economic restructuring.

"With the holding rate of 8 percent of equitized enterprises, private investors won't have the right to join the enterprises' management board. This explains why few private businesses are interested in an equitized stake," Thien commented.
Source: Vov.vn