SAIGON NEWPORT CORPORATION – THE STRATEGIC PARTNER IN THE LOGISTICS FIELD AT VSIP INDUSTRIAL PARK
Monday, September 11,2023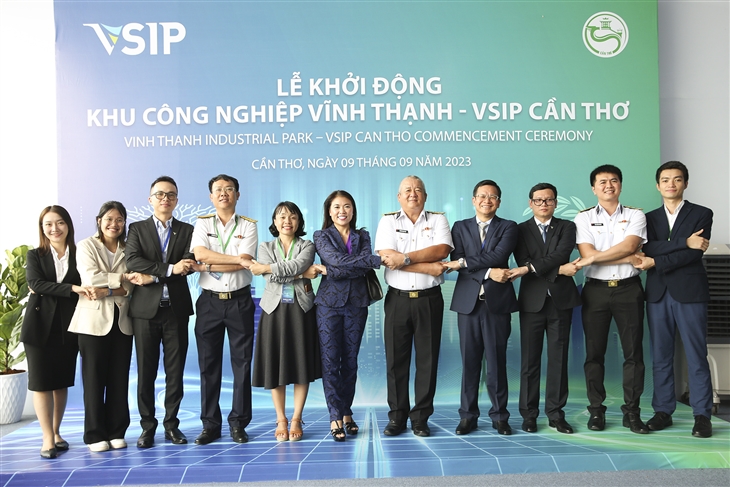 AsemconnectVietnam - On September 9, 2023, in Can Tho City, within the framework of the Launching Ceremony of the Vinh Thanh Industrial Park - VSIP Can Tho, Saigon Newport Corporation (SNP) and the Vietnam-Singapore Industrial Park Joint Venture Company Limited (VSIP) signed a memorandum of understanding on strategic cooperation in the field of Logistics. This collaboration aims to provide optimal and efficient logistics solutions for businesses operating in VSIP's key industrial parks
The year 2023 marks the 50th anniversary of bilateral relations between Vietnam and Singapore and the 10th anniversary of the establishment of their strategic partnership. Following the significant event of the official visit of Singaporean Prime Minister Lee Hsien Loong to Vietnam on August 28, Saigon Newport Corporation (SNP) and VSIP jointly committed to collaborate and work towards a common goal of providing top-notch logistics solutions for customers in VSIP's industrial parks nationwide.
This event took place within the framework of the Launching Ceremony of the Vinh Thanh Industrial Park - VSIP Can Tho, under the witness of government, local authorities, businesses, investors, and partners of VSIP.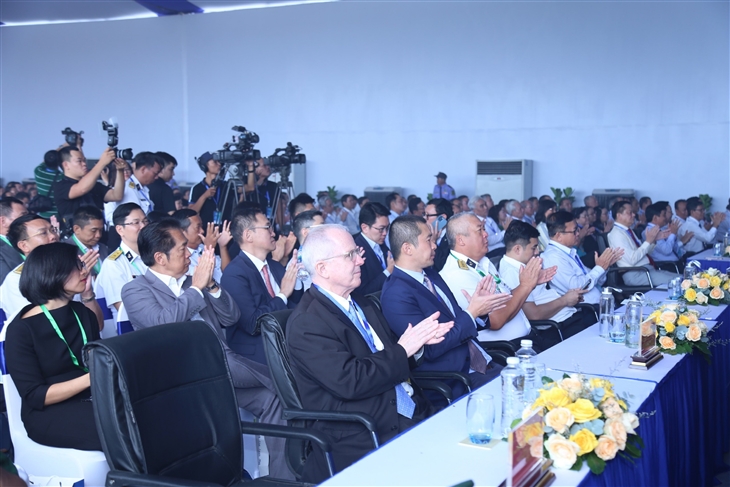 With the aim of advancing digital and green economy development, the memorandum of understanding between SNP and VSIP signifies a sustainable collaboration between two pioneering industry leaders in port-logistics operations and industrial park development. This partnership seeks to optimize the capabilities and business ecosystems of both entities to provide comprehensive and efficient logistics solutions. These solutions are built upon the following pillars: Enhancing the efficiency and quality of end-to-end logistics services with a focus on cost optimization; Increasing competitiveness for enterprises operating within VSIP's industrial parks; Collaborating on investment in Depot development within industrial parks, particularly in the Can Tho region.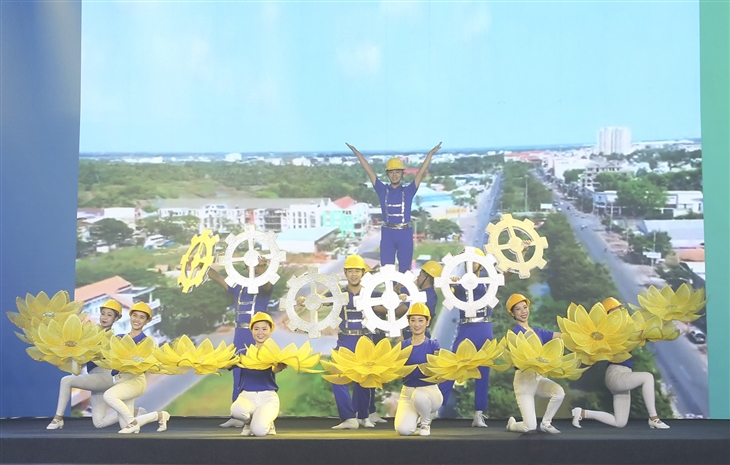 Can Tho, recognized as the gateway city and economic hub of the Mekong Delta region, plays a pivotal role in both domestic and international transportation networks. Positioned advantageously with a natural geographical location and an extensive waterway system connected through the Quan Chanh Bo channel, Can Tho is strategically poised to become a key logistics center in the Mekong Delta region. It will serve as a vital link for cargo transportation from the Can Tho port cluster to the Ho Chi Minh City and Cai Mep port clusters, facilitating international trade routes within the Indo-Asia region. Therefore, the construction of a logistics system in the Mekong Delta region is extremely necessary, helping to further develop the import and export industry and create competitiveness for manufacturing and exporting enterprises in the Mekong Delta region.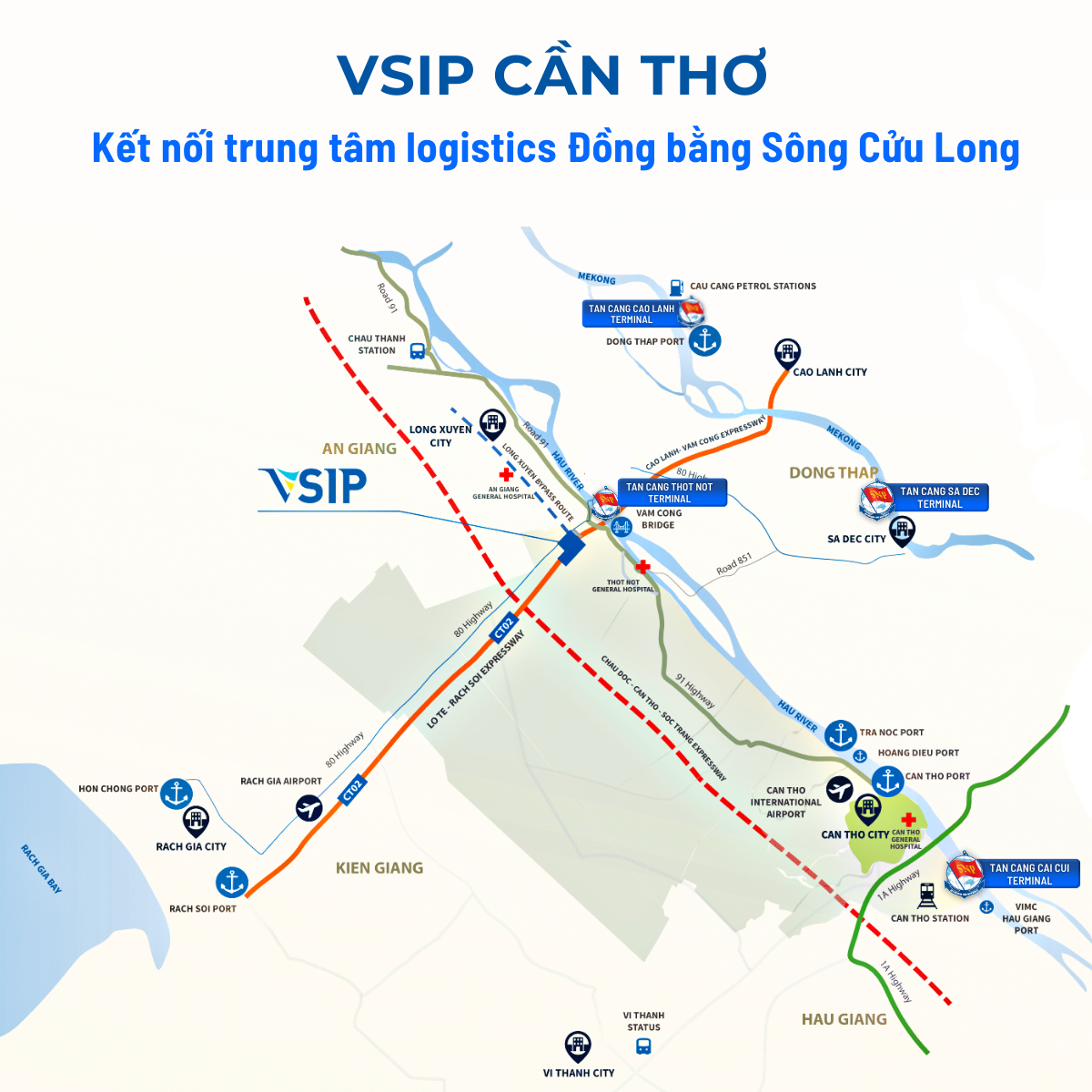 With that potential, Saigon Newport Corporation owns a port-logistics ecosystem in the Mekong Delta region with 5 ports, including: Tan Cang - Cai Cui Port, Tan Cang - Thot Not Port, Tan Cang - Sa Dec Port, Tan Cang - Cao Lanh Port, and Tan Cang - Giao Long Port, accounting for nearly 70% of the total container throughput through ports in the Mekong Delta region; optimizing green logistics solutions with a fleet of over 120 self-propelled barges stretching from North to South, facilitating the smooth flow of cargo via inland waterways (capturing approximately 70% of the market share in the Mekong Delta region and 50% of the barge transportation market share to Cambodia).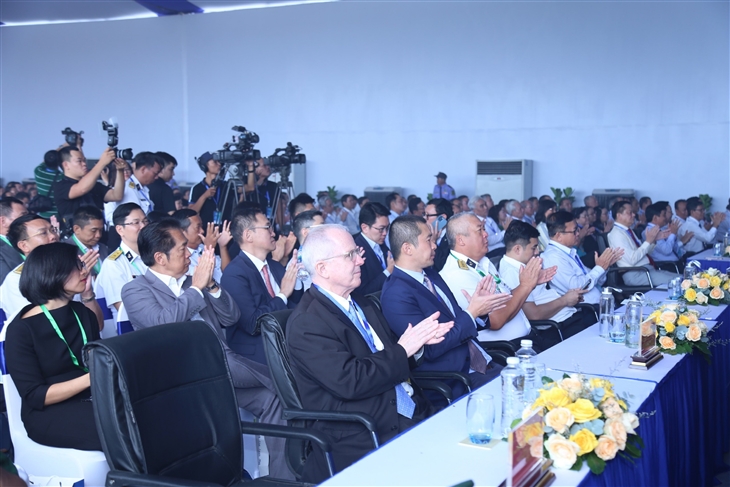 In the Can Tho region, with its strategic location just approximately 5km away from the Vinh Thanh Industrial Park - VSIP Can Tho, Tan Cang - Thot Not Port (TCTN) provides significant advantages in terms of time and cost-efficient logistics for businesses in the area. With infrastructure that includes a 165m long berth, a total storage area for containers and general cargo of up to 1.1 hectares, as well as substantial investments in equipment, including 5 forklifts and 35 tractor trucks, TCTN plays a crucial role as a hub for collecting, consolidating, and handling containerized and general cargo for key industries like rice, seafood, livestock feed, and more. This cargo comes from Can Tho City and nearby provinces such as An Giang, Kien Giang, Dong Thap, and others. Furthermore, TCTN plays a vital role in the broader logistics network of the Mekong Delta. It offers comprehensive "door-to-door" water and land logistics services, connecting the Mekong Delta with Ho Chi Minh City, the Cai Mep port cluster, and international interregional transport routes, including Can Tho - Phnom Penh, Sihanoukville in Cambodia, and in the near future, it will connect to international destinations within the Intra-Asia region.
The comprehensive collaboration between Saigon Newport Corporation (SNP) and VSIP holds great promise for delivering significant benefits to the business community, particularly in the Mekong Delta region:
● Providing end-to-end logistics solutions encompassing transportation services, customs services, inspection and verification services, as well as assistance with licensing procedures for businesses.
● Offering advanced, environmentally friendly green logistics solutions through waterway transport using barges.
● Achieving cost savings in logistics of approximately 30% - 40% compared to current road transportation methods.
● Reducing infrastructure costs for barge transportation by 50% compared to road transportation.
● Gaining a competitive advantage in transporting heavy cargo, project cargo, oversized loads, and pre-planned shipments.
With the outstanding advantages of SNP's logistics solutions, it will enhance efficiency and reduce logistics costs, contributing to the sustainable development of businesses in VSIP's industrial park in Can Tho and nationwide as a whole.
Giới thiệu - Introduction
● Saigon Newport Corporation (SNP): is dedicated to sustainable business development across three pillars: Port Operations, Logistics Services, and Shipping and Sea Services. SNP is a pioneering enterprise in Vietnam, leading the way as a port operator. It is also a state-owned enterprise at the forefront of investing in modern equipment, extensive IT application, digital transformation in port management and operation. SNP ranks among the top 20 container port clusters in the world by throughput volume and is among the top 10 most reputable logistics companies in Vietnam in 2022. With its mission to facilitate the flow of goods, develop the maritime economy, and enhance the national brand, SNP efficiently operates 16 port facilities in key economic regions of Vietnam, along with a network of 7 Inland Container Depots (ICDs) that support connectivity. The company is committed to delivering comprehensive logistics solutions and digital ecosystem services, along with various support services for maritime economic activities.
● Vietnam-Singapore Industrial Park Joint Venture Company Limited (VSIP): is a pioneering enterprise in the development of Industrial Parks, Townships, and Integrated Services. With 14 projects spanning across Vietnam, operating in more than 10 provinces and cities, covering a total industrial area of over 11,000 hectares, VSIP encourages investors to utilize clean energy, renewable resources, and advanced technologies in alignment with sustainable development goals.
Nguồn : Tân Cảng Sài Gòn