Kien A: A 25-year journey to build long-lasting values
Saturday, October 19,2019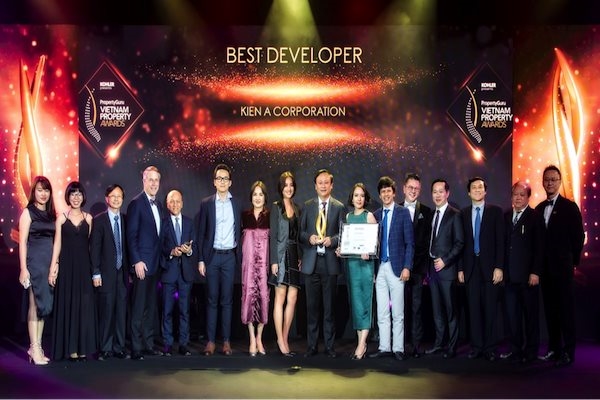 AsemconnectVietnam - KIEN A Group turns 25 this year and has been honored as the Best Developer at the PropertyGuru Vietnam Property Awards. Customer-centric strateg.
"The prize-winning projects of KIEN A Group have asserted product quality and the right development orientation of the group, focusing on customers and contributing the best values to the community," said Dr. Huynh Ba Lan, Board Chairman of KIEN A Group, at the 2019 award ceremony of the PropertyGuru Vietnam Property Awards. Dr. Lan was honored as Real Estate Personality of the Year of the year 2018.
This explains why KIEN A Group has succeeded in developing Cat Lai Urban Area in District 2, with the CITI apartments for young urbanites. The group's CITIALTO, CITIESTO, and CITISOHO products also adopt modern architectural styles and ideal living space, surrounded by vast greenery and hi-end facilities. In addition, KIEN A'S CITIBELLA and LAVILA NAM SAIGON products have created outstanding hi-end designs and sustainable landscape and quality for well-off homeowners.
LAVILA DE RIO riverside villas are developed by Kien A in the south of HCMC.
Besides the honor of Best Developer at the PropertyGuru Vietnam Property Awards 2019 (CapitaLand won in 2018), KIEN A Group also won other titles, including Best Mixed-Use Developer, Best Township Development, and Best Affordable Condo Development.
Such prizes are just a reflection of KIEN A Group's values and commitment to excellence. Beyond the 25-year landmark, KIEN A will continue to proudly enter a new era, looking to penetrate the international market. Equipped with confidence and enthusiasm for the youth, the group has continuously developed its projects from HCMC to Binh Duong, Dong Nai, Binh Thuan, Khanh Hoa, and Phu Yen. KIEN A Group has also expanded operations to other sectors, such as finance, commerce, clean agriculture, wind power, energy, etc.
The group has always been keen on the pursuit of brand building over the years to become a sustainable, urban developer that puts communities at the center and makes projects in harmony with nature and continuous innovation. "For sustainable development, everything should be done from the heart," said Bui Tuong Thuy, general director of KIEN A Group. "In spite of difficulties, KIEN A Group has remained ever faithful to this motto."
Strong will for education
KIEN A Group is also known as an education developer, whose starting point is the "Heart" of a teacher. Dr. Huynh Ba Lan is motivated to training a bright future generation for the country.
Duy Tan School in Phu Yen Province, the HCMC University of Economics & Finance (UEF) and the Saigon Information Technology College (SITEC) bear the mark of KIEN A Group. The HCMC University of Management and Technology (UMT), which is being developed, will be a university of international quality, with unique architecture and the best educational values.
Kien A Chairman Huynh Ba Lan and teachers of Duy Tan School in Phu Yen pose for a photo at the opening ceremony for the 2019-2020 school year.
Reviewing the past 25 years, Dr. Huynh Ba Lan said, "Time passes by, but the values created over the past 25 years are the success that we are striving continuously to achieve. As Albert Einstein once said, 'Try not to become a man of success, but rather try to become a man of value.' That is what KIEN A is looking forward to!
Source: thesaigontimes.vn