VinTech launches first overseas branch office
Sunday, March 10,2019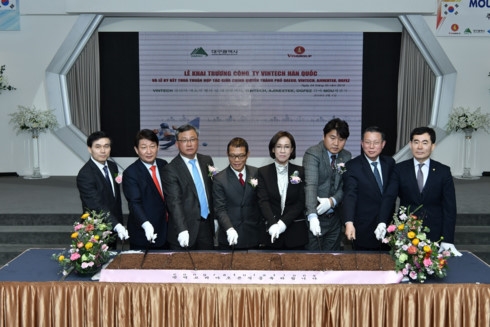 AsemconnectVietnam - Vingroup has debuted its branch office VinTech Korea (VKR) in the Republic of Korea, dedicated to researching applied Internet of Things (IoT) technologies, artificial intelligence, robotics, smart manufacturing as well as developing products and solutions for vehicles and transportation.
This is one of the Vingroup facilities specializing in carrying out technology transfer and quality accreditation, attracting skilled human resources, meeting the conglomerate's requirement for diversifying business activities in the future.
Located in Daegu city – an electronics industry hub in the Republic of Korea (RoK), the VKR is a subsidiary of VinTech Technology Development.,JSC, with the investment of US$11 million.
"Vingroup chose the RoK to open our first overseas office in the global VinTech Research Network as the RoK is among the leading countries with 'Creative index' topping the list and good experience in research and development. We expect that our investment and cooperation in the RoK would help build and develop resources for high technology research and development activities, aiming to make Vingroup a technology conglomerate with the ability to compete internationally," Vo Quang Hue, Deputy CEO of Vingroup, said at the opening ceremony held on March 4.
The VinTech Korea specializes in researching Industrial Robots, Monitoring and Control, LCD and Battery Technology. In the first phase, the VKR will research, develop and design electronic controller units for cars (VCU), battery control systems (BMS), and others. In the future, VKR looks to excel in manufacturing electrical-electronic car components, industrial robots, LCDs for automotive products, phones, and other household electronics.
Besides research and production functions, the VKR will check the quality of VinTech products through seven National Quality Control Centers in the RoK. Especially, it will also attract experienced engineers and employees for VinTech as well as for other branches of Vingroup.
To reach the goals, the VKR signed a cooperation agreement with AJINEXTEK (AXT) – a Korean company owning more than 100 chipset patents in the field of robot and automation.
The VinTech and AXT are committed to supporting and creating the best conditions to promote technology research and development.
At the opening ceremony, a Memorandum of Understanding (MoU) was signed between the VinTech Technology Development JSC, VinFast Production and Trading Co.,Ltd., Daegu Municipal Government, Daegu-Gyeongbuk Free Economic Zone Authority and AJINEXTEK.
Accordingly, the VinFast will cooperate with Daegu city and Daegu-Gyeongbuk Free Economic Zone Authority to provide information and support on logistical and administrative work. Meanwhile, VinTech will contribute to the establishment of the Asian Regional Research and Development Center with local partners in Daegu. The AXT will launch a line of robots to promote economic development and create jobs.
Another MoU was inked between the VinTech and Gyeongsangbuk province (where Deagu city is situated) on the basis of mutual trust to work towards regional economic development and business promotion.
Daegu and Daegu-Gyeongbuk Free Economic Zone Authority, Gyeongsangbuk province, will support VinFast and VinTech to deploy their plan as scheduled, reach the targets, and fulfill the promises.
It is expected that following the VKR, Vingroup will continue to expand VinTech Research Network in other countries which have advantages over technology and innovation, including the US, Japan, Israel, China, and Russia. These countries are home to many technology startups, experts, top research groups, and leading laboratories and testing centers.
With the global VinTech network, Vingroup will have access to the most advanced technologies, skilled human resources and the latest technology trends to meet the ever-growing development needs of Vingroup.
Previously, last July, VinFast Production and Trading Co. Ltd, a member of Vingroup, opened an office in Frankfurt, Germany while taking the final steps to open new offices in Shanghai (China) and Seoul (the RoK).
With the presence of the first overseas VinTech office, Vingroup has affirmed its global vision and ability to deploy in the 10-year journey to become a world-class competitor in technology, industry and service.
Source: Bizhub.vn