Vietnam Airlines teams with Vingroup to create aviation, tourism products
Tuesday, October 9,2018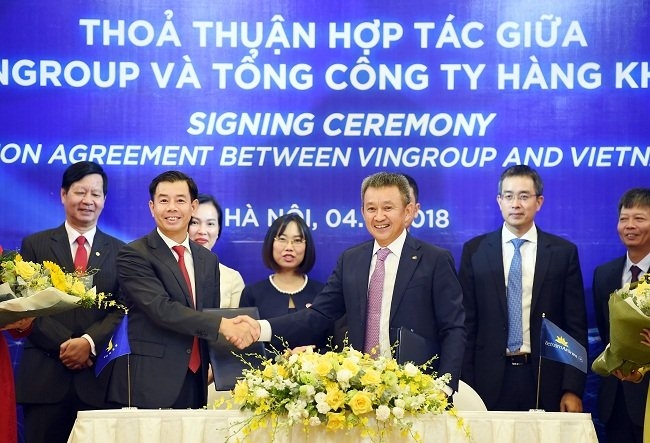 AsemconnectVietnam - National flag carrier Vietnam Airlines and Vietnam's largest property developer, Vingroup, clinched a cooperation agreement to develop combined aviation and tourism products across their entire network of flight routes and Vinpearl lodging facilities, at a meeting in the capital city of Hanoi this Thursday, October 4.
Vinpearl, which is a leading Vingroup developer and operator of hospitality and entertainment properties, operates five-star resorts and leisure hotels located in popular tourist destinations along the coast of Vietnam and in major cities.
The deal is primarily aimed at developing their own brands to raise the competitiveness of their products and services and to establish regular customer-oriented programs that bring optimal benefits to their customers.
The two companies will offer ordinary and chartered flights at home and abroad alongside the tourism and recreation facilities of Vinpearl.
The two-in-one products will help their mutual customers save costs and time in enjoying these high-quality, convenient services.
Duong Tri Thanh, general director of Vietnam Airlines, stated at the signing ceremony of their deal that the comprehensive cooperation agreement between the two major Vietnamese companies would create a supply chain linking Vietnamese brands.
He noted that this deal not only develops packages of aviation and tourism products and enhances the competitive capacity of the airline on the market but also brings practical benefits to their mutual customers.
Nguyen Viet Quang, vice president and general director of Vingroup, commented that the deal has opened up a promising business sector for Vingroup. Aiming to become the largest resort tourism brand in Vietnam and to keep pace with their world-class counterparts, the cooperative relationship will bring great benefits to both sides.
Vietnam Airlines, a member of the SkyTeam alliance, is the major carrier of the Mekong subregion, operating 90 routes to 20 domestic and 29 international destinations, with an average of 400 flights per day, connecting the world's major cities to destinations in Vietnam, Laos, Cambodia and Myanmar.
Vingroup is a Vietnamese conglomerate focused on real estate development. It is controlled by Pham Nhat Vuong, who is the wealthiest Vietnamese. The company operates a total of more than 1,000 retail stores across Vietnam and serves over four million visitors in its amusement parks on an annual basis.
Source: thesaigontimes.vn