Vietnam Airlines becomes main carrier for Hessen State
Monday, September 10,2018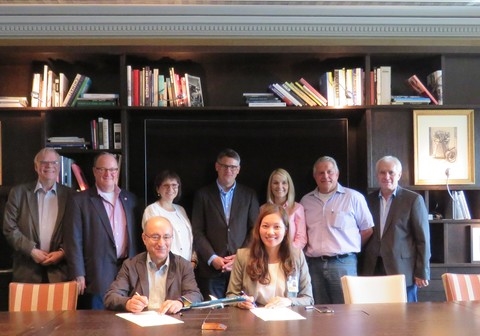 AsemconnectVietnam - National carrier Vietnam Airlines signed a co-operation agreement to become the main carrier for Germany's Hessen State and the World University Service (WUS) in Frankfurt on Friday.
The signing ceremony took place in the presence of the Hessen State Minister for Science and Art Boris Rhein and members of the state parliament.
Shortly after, Rhein and members of the state parliament flew to Viet Nam in a business class cabin from Frankfurt to HCM City to attend the 10th anniversary of the establishment of the Viet Nam–Germany University.
The minister expressed his satisfaction with the quality of service provided by Vietnam Airlines and appreciated the contribution of Vietnam Airlines had made to support co-operation between Hessen authorities and Viet Nam.
Nguyen Hong Linh, consul general of Viet Nam in Frankfurt, said it was important to maintain and strengthen the relationship with the State of Hessen, while acknowledging Vietnam Airlines' co-operation with the embassy and ​​Consulate General in maintaining and developing the relationship between Viet Nam and Germany.
Linh said Vietnam Airlines had confirmed the trust of international partners with its increasing quality of service as well as the prestige and position of Vietnam Airlines in Europe.
According to Nguyen Huu Trang, trade counsellor at the Vietnamese Embassy in Germany, as of July 2018, Germany had 304 projects in Viet Nam with a total registered capital of over US$1.8 billion, ranking 20th out of 129 countries that had invested in the country.
Source: Bizhub.vn