EVN to purchase electricity from Trung Nam Group
Wednesday, July 4,2018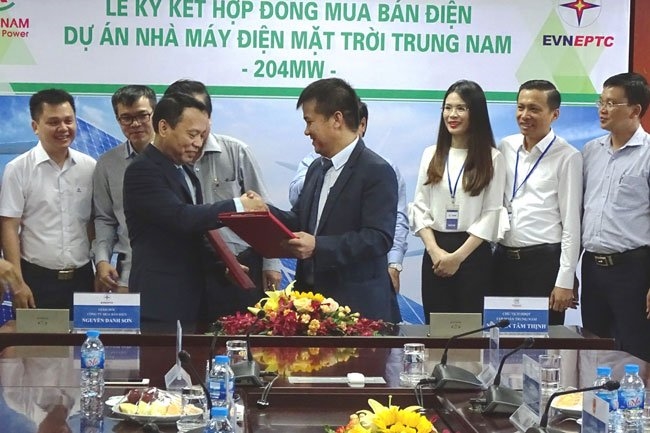 AsemconnectVietnam - Trung Nam Solar Power JSC, a member of Trung Nam Group, inked a power purchase agreement with Electric Power Trading Company (EPTC) under State utility firm Electricity Vietnam Group (EVN) in Hanoi City today, July 3, company officials said.
EPTC will purchase electricity from Trung Nam at a price of VND2,086 (US$9.35 cent) per kWh, according to the agreement.
A solar power plant owned by Trung Nam, with a total capacity of 204MW, will cover more than 264 hectares of the Trung Nam wind farm in the south-central coastal province of Ninh Thuan.
Work on the plant will start this Saturday, July 7, and is scheduled for completion in June 2019. It costs an estimated VND4,994 billion, or some US$216.5 million.
The plant is expected to produce between 401 and 450 million kWh of electricity per year. As such, the plant will supply more electricity for the national grid in Ninh Thuan Province, and the country as a whole.
In August 2016, Trung Nam Group started work on a 105.75MW solar power plant in the province.
Earlier, the group had developed a few energy projects including the 70MW Dong Nai 2 hydropower plant and the Krong No.2 and Krong No.3 hydropower plants, with a combined output of 48MW, in the Central Highlands province of Lam Dong. As of November 2017, all of its hydropower plants had generated more than 1 billion KWh.
Source: thesaigontimes.vn