Nippon Sheet Glass to restart idle thin glass float factory in Vietnam
Monday, May 14,2018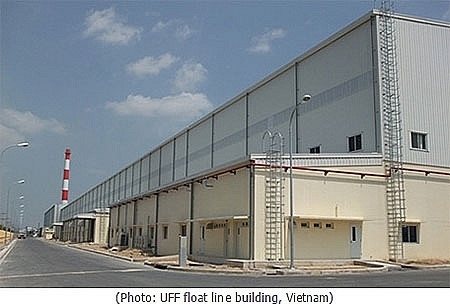 AsemconnectVietnam - Japanese glass producer Nippon Sheet Glass (NSG) will pump part of a US$365 million investment into upgrading and restarting a currently dormant thin glass float factory in Vietnam, according to the company website.
It is part of the expansion of its production capacity of online TCO (transparent conductive oxide) coated glass to support the growing solar market. Accordingly, the remainder of the US$365 million will be used to develop a new glass production facility in the US over the next three years.
According to newswire Nikkei Asian Review, the plant in Vietnam is scheduled to reopen as soon as mid-2019. Meanwhile, the operations at the new US factory will start in the second half of the 2020 fiscal year. A site has not yet been chosen, but is expected to be near major customer First Solar's new plant in the state of Ohio.
Plans call for raising capacity by about 30% for a special glass coated in a transparent conductive film that forms the topmost layer of thin-film solar panels. The glass can also be used for other purposes like construction.
In order to realise this target, Nippon Sheet Glass will sign a long-term supply agreement with First Solar, the world's leading provider of comprehensive photovoltaic (PV) solar systems with holding about 5% of the global solar panel market and rapidly rising output in the US and Asian countries like Malaysia. The completed panels are likely to be used for projects like massive solar power plants in the US and Asia.
Resuming the operations of Nippon Sheet Glass' plant in the southern province of Ba Ria-Vung Tau is considered a motivation for accelerating the construction of the unfinished segment of the First Solar project in Vietnam.
In January 2018, First Solar Vietnam held a career day at Binh Duong's Mira Hotel to support the recruitment of associates across the company's operations. The company will be developing local talent in roles that include manufacturing operators, quality engineers, supplier quality engineers, EHS engineers, shift managers, IT staff, and all manner of administrative and support roles—bringing First Solar's total number of associates to over 950 in the nation.
First Solar has re-affirmed its commitment to Vietnam by injecting an additional US$360 million into the construction of a second 1.2GW high-tech factory at South East Industrial Zone in Ho Chi Minh City, bringing the total investment to US$830 million.
"First Solar Vietnam is looking forward to gearing up and teaming up for 2018," said Chan See Chong, First Solar Vietnam's managing director.
Regarding the Nippon Sheet Glass plant, previously, in June 2014, the company took the US$123-million thin glass float factory into operation. The factory was operated by wholly-owned subsidiary NSG Vietnam Glass Industries Limited (VGI) in Ba Ria-Vung Tau's My Xuan A Industrial Park.
However, two years later, the firm had to suspend the factory. According to the release posted on the company's website, this was an exit from loss-making businesses, "thus minimising losses, aiming to swiftly eliminate obstacles to a further recovery in Nippon Sheet Glass' performance."
Source: Vov.vn