Belgian businesses seek cooperation opportunities in Viet Nam
Saturday, May 5,2018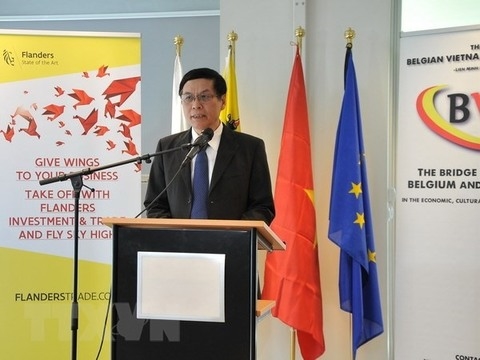 AsemconnectVietnam - Belgian Vietnamese Alliance and Flanders Investment and Trade held a meeting with a delegation of Belgian businesses on May 3.
The meeting comes ahead of the delegation's visit to Viet Nam from May 13-18 to explore cooperation opportunities with Vietnamese firms.
The delegation, which comprises nearly 90 entrepreneurs from 65 Belgian enterprises and is led by Minister-President of Flanders Geert Bourgeois, is scheduled to visit Viet Nam as part of the celebration of the 45th anniversary of the two countries' diplomatic ties.
Addressing the meeting, Vietnamese ambassador to Belgium Vu Anh Quang praised the Flanders Minister-President for his efforts to develop relations between Viet Nam and the Flanders region in recent years.
He hoped the upcoming visit of the delegation would help Vietnamese and Belgian businesses to understand more about each other's potential as well as open up trade and investment cooperation opportunities.
The diplomat said the two nations were working to elevate bilateral ties to strategic partnership in some specific fields.
According to him, the free trade agreement between the European Union and Viet Nam, once signed and ratified, will open up numerous opportunities for Vietnamese and Belgian enterprises to strengthen connectivity and collaboration.
This will also help increase Belgium's investment in Viet Nam, particularly in the fields of shipbuilding, agriculture, high technology and clean energy, contributing to promoting sustainable and green growth in the country, the ambassador added.
Bourgeois hailed Viet Nam's strong development over the past 30 years with a remarkable gross domestic product growth of six to seven per cent.
Viet Nam holds a lot of potential for economic development and, in fact, the country has been successful not only in seeking foreign investment but also in reforming trade and administrative procedures, he said.
The Flanders leader added he had high expectations from the Belgium-Viet Nam partnership. He hoped the two countries would work together to improve trade balance in future, citing that while the Flanders region exported 4.92 million euros (US$5.8 million) worth of goods to Viet Nam, it imported goods worth two billion euros from the Vietnamese market.
"The reality shows that goods produced in Belgium and Viet Nam, especially farm produce, are not competitive but supplementary, enabling the two countries to boost cooperation in trade and investment," he said.
During the five-day visit to Viet Nam, the delegation from the Flanders region will hold meetings and field trips to promote their products and study cooperation opportunities with Vietnamese partners.
Source: Bizhub.vn