FLC to purchase 24 aircrafts worth US$3bn
Friday, March 9,2018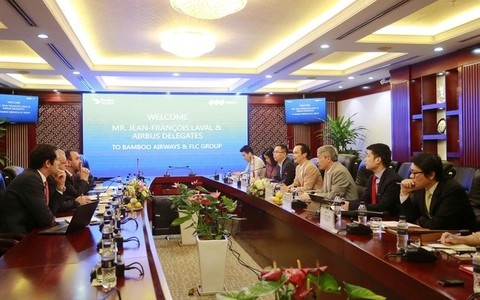 AsemconnectVietnam - Property developer FLC Group, which owns Viet Bamboo Airlines Company Limited (Bamboo Airways), will buy 24 A321NEO aircrafts worth US$3 billion from French manufacturer Airbus.
FLC and Airbus had a meeting on the aircraft deal in Ha Noi on Tuesday.
Airbus A321NEO is a new version, the biggest aircraft in the A320 model of Airbus. It measures 44.51min length with 220 seats, saving fuel and reducing emission and noise. It is a popular airplane that is being used by most airlines in the world, including Viet Nam.
It is considered ideal for a "hybrid" airline, which will blend low-cost traits with those of traditional or full-service carriers.
Jean-François Laval, an Airbus executive vice president, was quoted in a FLC statement as saying that Airbus would give priority to hand over the order to Bamboo Airways during 2022-25.
He said Airbus had submitted proposals to the Vietnamese and French governments as well as their ambassadors to accelerate the granting of licence to Bamboo Airways.
FLC chairman Trinh Van Quyet said the two firms would weigh the options to cooperate further after performance tests.
FLC expects to buy 24 additional Airbus A321 long-range planes after it obtains an airline licence from the government, taking the total number of aircrafts purchased to 48, he said.
In May last year, FLC Group announced the decision of its management board to establish the Viet Bamboo Airways Company with a charter capital of VND700 billion (US$31.4 million).
A spokesperson of Bamboo Airways said the airline would focus on direct services connecting international markets with emerging tourist destinations in Viet Nam instead of major urban areas where the aviation infrastructure was already overloaded.
He said priority would be given to localities where FLC had built major tourist complexes, including Quang Ninh and Hai Phong in the north, Thanh Hoa and Quy Nhon (Binh Dinh Province) in the central region and Nha Trang (Khanh Hoa Province) and Phu Quoc (Kien Giang Province) in the south.
Last June, FLC had a meeting with the US Boeing aircraft manufacturer about its plan to buy 15 Boeing aircrafts.
Source: Bizhub.vn