Local firms inject US$53 mln into ginseng projects
Wednesday, March 7,2018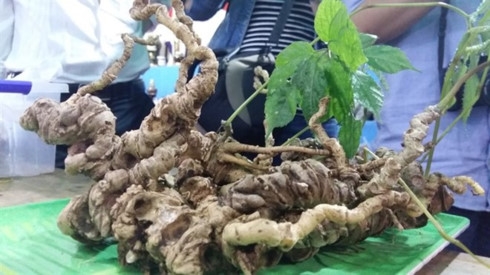 AsemconnectVietnam - VinGroup and TH True Milk have registered to invest VND1.2 trillion (US$53 million) in ginseng and herbs farm projects in mountainous Nam Tra My district of Quang Nam province.
Chairman of the district People's Committee Ho Quang Buu said that it's the two biggest investment projects since the district launched its master plan on the development of the Ngoc Linh ginseng, cinnamon and herbs in 2014.
Buu said the two investors have begun surveying mass production from Ngoc Linh ginseng and planning for material farms and support industries for herb production.
He said the district wants investment to develop 15,000ha of ginseng in the district by 2030.
According to Quang Nam province, the Government agreed to fund VND2 trillion (US$88.5 million) for infrastructure projects in the district.
Currently, 900 households farm 1,200ha of ginseng, cinnamon and herbs in the district, while businesses have 100ha.
The district also hosts regular ginseng fair to link farmers, investors and buyers and to draw tourists to the district.
According to the district, more than 2,300 tourists visited the ginseng fair, and 53kg of Ngoc Linh ginseng has been sold for VND4.7 billion (US$208,000) since 2017.
Each kilo of Ngoc Linh ginseng is priced from VND100 million (US$4,400) and VND200 million (US$8,800) in Vietnam.
Farmers in the district can earn US$3 million per ha after five years growing ginseng.
The Ngoc Linh ginseng has been preserved as a precious and endangered flora gene in the province, along with poor man's ginseng or condonopsis, pepper, cinnamon, large-size rattan and corn in Quang Nam province.
Source: Vov.vn