PM Phuc holds talks with leading investors from RoK
Friday, November 29,2019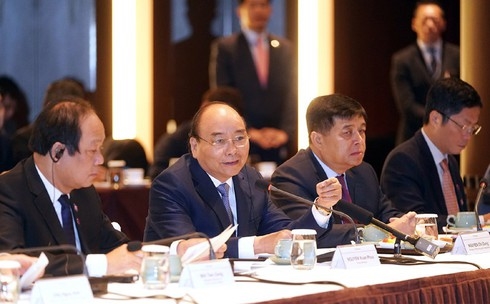 AsemconnectVietnam - Prime Minister Nguyen Xuan Phuc entered talks with over 20 leading business leaders and investors from the Republic of Korea (RoK) on the morning of November 28 as part of a host of activities during an official visit to the RoK.
In his speech, PM Phuc affirmed that Vietnam represents a popular destination for both RoK nationals and investors, whilst the Korean community within the country is both large and vibrant in comparison to the expat community in other Asian countries.
The Vietnamese government leader higlighted the recent success of a number of the RoK brands and groups in the country, adding that almost all Vietnamese families use at least one Korean branded product such as mobile phones, washing machines, air conditioners, cosmetics, or fashionable items.
He expressed hope that corporations from the RoK will make breakthroughs in co-operative activities in the country in the near future, stating that both sides aim to increase bilateral trade turnover to US$100 billion next year.
Phuc emphasised that Korean investors enjoy several advantages when living and doing business in Vietnam including shared cultural similarities and Vietnamese people's hospitality and love for Korean people.
He called on RoK investors to integrate themselves into and adapt to the local environment as a means of enjoying further success.
With regard to Vietnam's economic success in recent years, PM Phuc stated that the country is increasingly becoming a magnet for investment for many large Korean businesses, such as Samsung, LG, Hyundai, KIA, and Lotte.
During the talks, leaders from major RoK corporations stressed that there exists a high degree of openness between the two economies.
This can be seen best in the Vietnam-RoK Free Trade Agreement which came into force in 2015 and is likely to elevate the bilateral trade turnover to US$100 billion next year.
Investors also noted that several enterprises from the RoK are looking to expand their investment in the country in fields such as retail, automobile, supporting industries, and hi-tech agriculture, due to Vietnam being placed at the centre of the RoK's New Southern Policy.
PM Phuc concluded talks by expressing his desire for investors to inject more money into the tourism and health sectors, noting that there are currently more than 2,000 flights between the two countries each month.

Source: vov.vn