Australian PM's Vietnam trip to bolster all-around cooperation
Thursday, August 22,2019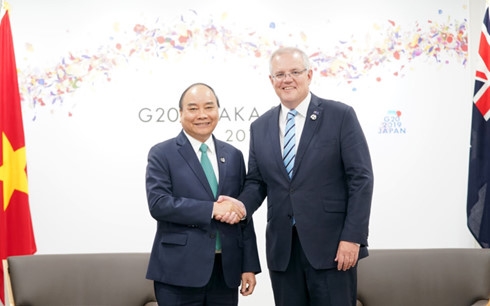 AsemconnectVietnam - The visit to Vietnam by Australian Prime Minister Scott Morrison and his wife from August 22-24 is expected to augment bilateral cooperation across a variety of fields as it is made amidst the flourishing bilateral ties and growing political trust through the exchange of high-ranking delegations and meetings.
Vietnam and Australia officially established diplomatic relations on February 26, 1973, and a comprehensive partnership in 2009. Their relationship was upgraded to the level of a strategic partnership in 2018 after the official visit to Australia of Prime Minister Nguyen Xuan Phuc from March 14-17.
The two countries have maintained bilateral cooperation mechanisms, including annual meetings at the ministerial level in such fields as diplomacy, national defence and economics, and policy dialogues in different aspects.
They have effectively carried out the action programme for 2016-2019 and are building another one for 2020-2022 to materialize the strategic partnership in the time ahead.

They have beefed up fruitful cooperation in national defence and security through delegation exchanges and agreements on cooperation in crime combat, exit-entry management, the fight against illegal migration, information and experience sharing, English language teaching, and visits of naval ships.
Both sides signed a memorandum of understanding on collaboration in training peace-keeping forces, and bomb and mine clearance in 2016. Australia assisted Vietnam in performing its tasks in the United Nations peace-keeping operations in South Sudan in 2018.
Australia is the only country that has opened a joint transnational crime centre in Vietnam, through which the two countries have exchanged information and cooperated in combating terrorism, drug crime and human trafficking.
Vietnam is currently the fourth largest trade partner of Australia in the ASEAN bloc, while the latter is the 7th largest of the Southeast Asian country. Their trade turnover surged 19.3% to upwards of US$7.7 trillion in 2018, with Vietnam's exports worth close to US$4 billion. During the first half of of 2019, total trade volume reached roughly US$3.84 billion, a year-on-year rise of 6.1%.
The two nations' leaders have repeatedly affirmed their common stance of maintaining peace and stability in the region, including the East Sea. They have also underscored the settlement of disputes by peaceful measures in accordance with international law, especially the 1982 United Nations Convention on the Law of the Sea (1982 UNCLOS).
They have enjoyed good collaboration at regional and international forums like the ASEAN, East Asia Summit (EAS), Asia-Pacific Economic Cooperation (APEC), and the United Nations (UN).
Vietnam and Australia have seen effective education and training cooperation with Australia offering many short-term and long-term fellowships for Vietnamese students and 18 education exchange programmes being carried out by universities and institutes.
On tourism, the number of Australian arrivals in Vietnam has grown year by year. Last year, Vietnam welcomed 386, 934 Australian tourists, a year on year rise of 4.1 percent.
There are about 300,000 Vietnamese people in Australia, creating the 5th largest community in the Oceania country.
Prime Minister Morrison's visit to Vietnam aims to step up bilateral cooperation in a multitude of realms, including science and technology, people-to-people exchange, energy security, climate change, navigation freedom and safety, and cyber security. The trip will represent a major landmark in bilateral ties between the two nations.

Source: vov.vn