Investment Opportunities for Thailand to Capture
Friday, March 8,2019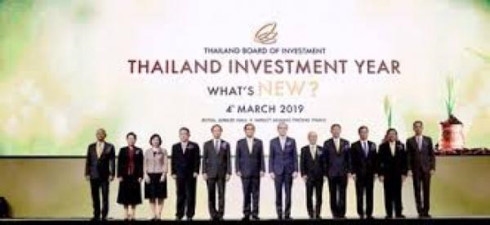 AsemconnectVietnam - Deputy Prime Minister Somkid Jatusripitak has emphasized Thailand's economic strength and ambition to extend economic cooperation across Asia, saying that there are four opportunities for the country to capture.
In his keynote speech on the topic "Thailand Investment Year: Turning Challenges into Opportunities," made at an investment seminar organized by the Board of Investment (BOI) on 4 March 2019, Mr. Somkid cited continuous economic growth over the past four years as the first opportunity for Thailand.
In 2018, the country recorded 4.1 percent GDP growth, low inflation of only 1 percent, a strong current account surplus of 7 percent to GDP, over $200 billion of international reserves, and low public debt of 45 percent below GDP. Thailand's financial sector, especially the capital market, is very strong and has outperformed others.
Thailand's engines of growth have also contributed to the continuous economic growth. The Eastern Economic Corridor (EEC) have been well received with strong interest from investors worldwide. EEC was designed to be a large modern economic hub, home to targeted industries under the Thailand 4.0 initiative. So far, foreign investment inflow in EEC has been increasing. In the past year alone, foreign investment in EEC grew by over 100 percent.
In terms of investment promotion, BOI announced 2019 as "Thailand Investment Year." Accordingly, special investment promotion measures have been introduced to support development in the industrial sector, the area of society and environment, and local development. These measures will be the key driver to attract more investment.
The second opportunity is the trade connection between CLMVT (Cambodia, Laos, Myanmar, Vietnam, and Thailand) and the Greater Bay Area (GBA), which covers Hong Kong, Macao, Guangdong, and Shenzhen, with ASEAN. Thailand is well positioned to connect the two sub-regions. In this respect, Hong Kong will be the gateway to GBA and Thailand will be the gateway to CLMVT and ASEAN.
The third opportunity is Thailand's chairmanship of ASEAN in 2019. The geopolitical development that has expanded to Asia, coupled with cooperation within Asia, including RCEP, Belt and Road Initiative, CPTPP, Indo Pacific, and CLMVT have opened new opportunities for Thailand to demonstrate its capability in the global arena.
Lastly, the coronation of His Majesty King Maha Vajiralongkorn in May is a significant event in Thai history. The ceremony represents a remarkable symbol of the country's unity and stability. Investors are aware of the importance of this royal ceremony, which will further boost foreign confidence in Thailand's long-term potential.
Deputy Prime Minister Somkid said this was the right time for investors to grab the business opportunities and use Thailand as the gateway to springboard into CLMVT and other regions.

Source: vov.vn