Vietnam-Korea Design Centre debuts in Hanoi
Monday, October 8,2018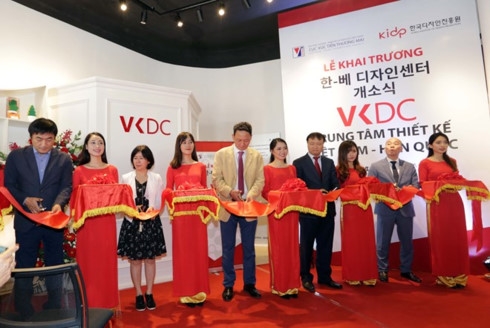 AsemconnectVietnam - On October 5, the Vietnam Trade Promotion Agency (Vietrade) in collaboration with the Korean Institute of Design Promotion (KIDP), the Ministry of Trade, Industry and Energy of Korea inaugurated the Vietnam-Korea Design Centre at 17 Yet Kieu street, Hai Ba Trung district, Hanoi.
The Centre is part of a project on improving the value chain of Vietnam's handicraft sector and the result of cooperation under the Asia Design Sharing Program co-organized by Vietrade and KIDP since 2010.
At the inauguration ceremony, Deputy Minister of Industry and Trade Do Thang Hai affirmed that creative design is of great significance for the economic development of a nation noting that the RoK is a forward thinking and ambitious nation in the region and the world in accelerating socio-economic growth in association with the design industry with state- of- the- art products belonging to world famous brands such as Samsung, LG and Hyundai.
Mr Hai said the centre signifies fruitful cooperation between the two nations in support of Vietnam's design industry and business community. The project should help to gradually renovate their designs and develop products to boost the export economy in order to meet the ever growing consumption demands of the worldwide market.
Vietrade Director Vu Ba Phu highlighted the centre as the avenue for Vietnamese and Korean designers to share experience, introduce new initiatives on design, exhibit products with leading designs and even cooperate with other schools to train the young and upcoming talented generation to meet the businesses' growing demands.
The Centre will focus on providing diversified services to assist businesses in developing their design and brands, improving the added value of products through conferences, seminars and design courses, launching activities connecting businesses to local and foreign designers. This may turnout to be a very important relationship made by the two countries in years to come.

Source: vov.vn