Vietnam Business Coalition for Women Empowerment launched
Monday, October 1,2018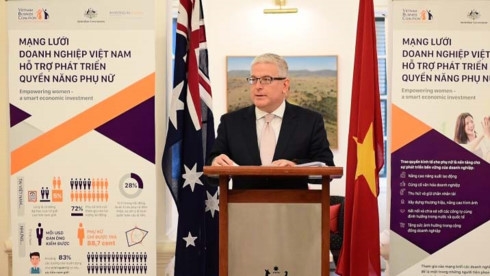 AsemconnectVietnam - Australian Ambassador to Vietnam Craig Chittick launched the Vietnam Business Coalition for Women Empowerment (VBCWE), a coalition of large employers committed to ensuring gender equality within their businesses and beyond.
The Coalition was formed with the support of Investing in Women, an initiative of the Australian government.
"The evidence is clear: when more women join the labour market and the working environment is conducive, when women stand equal chances to get appointed to the top jobs, and when businesses close the pay gap between men and women, our economies grow more strongly," Ambassador Chittick said as he congratulated the companies. "By promoting gender equality at work, these companies are gaining higher productivity and a better competitive advantage."
VBCWE will lead efforts to create workplaces where women and men have the same opportunities to contribute and advance in their chosen careers. The seven founding members of the VBCWE are Deloitte Vietnam, Maritime Bank, Electricity of Vietnam (EVN), SASCO, GARCO 10, Traphaco, and Unilever Vietnam. Together, they have an estimated 120,000 Vietnamese employees. The Coalition is chaired by Ha Thu Thanh, chair of Deloitte Vietnam, while the vice chair is Ton Nu Thi Ninh.
These companies have committed to closing the gender pay gap; progressing women into leadership and management positions; progressing female workforce participation; investing in family-friendly working conditions; having managers drive gender equality; and being strong advocates of gender equality among peers.
VBCWE is supporting coalition members to achieve EDGE Certification, a global standard to assess businesses' policies and practices against gender equality benchmarks and help companies take steps to create more equitable and profitable workplaces.
"By having gender equality in all employment opportunities, companies attract and retain talent. In return, the employees improve productivity and business efficiency. Gender equality policies will help improve image and brand, an important invisible asset of our companies," said Ha Thu Thanh. "The Vietnam Business Coalition for Women's Empowerment is using EDGE Certification as a tool to provide a rigorous approach within our companies."
Gender equality is a priority for both Australia and Vietnam. The Australian government is committed to promoting women's economic empowerment as a significant driver of economic growth and prosperity, especially in the Southeast Asian region.
As one of the Australian government's initiatives, Investing in Women aims to increase and improve women's participation in Southeast Asian economies, particularly in the Philippines, Indonesia, Vietnam, and Myanmar. It has been estimated that the Vietnamese economy could grow by an additional 10 per cent ($40 billion) by 2025 with improvements in gender equality.
In addition to working in partnership with businesses, Investing in Women works with impact investors to develop better access to financing for women's small- and medium-sized enterprises. The initiative also collaborates with governments to foster an environment where women have the same opportunities to succeed in the business world as men and works with advocacy partners to tackle harmful social norms, which limit women's ability to participate in the economy.

Source: vov.vn