Vietnam co-chairs ASEAN-GCC Ministerial Meeting
Friday, September 28,2018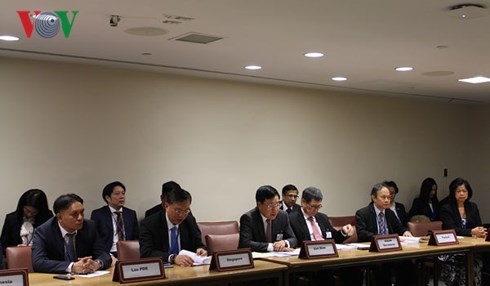 AsemconnectVietnam - Deputy Prime Minister cum Foreign Minister Pham Binh Minh and his Kuwaiti counterpart Sabah Al Khalid Al Sabah on September 27 co-chaired the Meeting of Foreign Ministers of ASEAN and the Gulf Cooperation Council (GCC) on the sidelines of the 73rd Session of the UN General Assembly in New York.
The meeting saw the attendance of ASEAN and GCC Foreign Ministers and representatives who met for the first time since 2014 in the aim of assessing their cooperation activities, outlining orientations for stronger partnership in the time to come, and comparing notes on regional and international issues of shared concern.
In his role as coordinator of the ASEAN-GCC relations in 2018, Deputy PM and FM Pham Binh Minh highlighted the certain achievements in the ASEAN-GCC cooperation since their official establishment of the mechanism in 2009 as well as huge potential for broader cooperation between the two regions, especially in economics, energy, investment, connectivity and infrastructure.
Based on the great potential and traditional friendship between the two regions' people and the decade-long relationship of the two organizations, the Vietnamese diplomat suggested that a score of specific steps should be taken to further deepen the ASEAN-GCC relationship in a more substantial fashion for mutual benefits.
Echoing Deputy PM Binh Minh's views, ASEAN and GCC Ministers agreed to step up continued extensive cooperation, including the building of a five-year cooperation framework as a guidance document for cooperation activities of mutual interest such as trade, investment, sustainable development, energy, tourism, infrastructure, education, and people-to-people exchange.
Both sides will also re-start political consultation mechanisms to augment cooperation between the two Secretariats, discuss specific initiatives as well as exploring new cooperation opportunities.
The GCC ministers affirmed their recognition of great importance to the relations with ASEAN, and pledged to actively assist the regional bloc in building its community and enhancing regional connectivity, towards bringing new vitality to ASEAN-GCC cooperation.
ASEAN and GCC foreign ministers shared their views on regional and international issues of common concern such as economic protection, terrorism, geopolitical conflicts, sustainable development, and climate change.
The ministers affirmed the importance of adherence to and respect for the rule of law, including the system of law-based international trade and the peaceful settlement of disputes on the basis of respect for international law.
They also underlined the role of inter-regional links and international efforts to deal with emerging common challenges for the sake peace and prosperity.

Source: vov.vn