Productivity Improvement takes centre stage at policy dialogue
Thursday, September 27,2018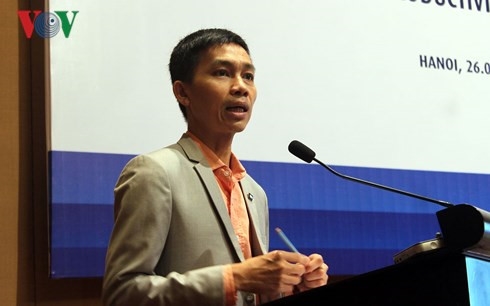 AsemconnectVietnam - A Policy Dialogue on Productivity Improvement for Vietnam was held in Hanoi on September 26 to discuss the new findings of labour productivity measurement in Vietnam and hear proposals for recommendations and policies to increase labour productivity on a sustainable basis.
The event was co-organized by the Vietnam Institute for Economic and Policy Research (VERP) and Konrad Adenauer Stiftung (KAS) in Vietnam.
In his remarks, Peter Girke, Country Representative of Konrad Adenauer Stiftung (KAS) in Vietnam, emphasized that Vietnam's economy has seen constant developments and recorded major achievements over recent years but the country's labour productivity has not been on a par with other regional nations.
According to experts, Vietnam's labour productivity growth remains below the level necessary to fulfill its fast and sustainable development goals. How to increase labour productivity is the way of escaping the middle-income trap, restructuring its industries and engaging in in the global value chain. Therefore, labour productivity has become an issue of great concern to the Government in recent years and next year is proposed as a year dedicated to Vietnam's labour productivity.
Assoc. Prof. Dr. Nguyen Duc Thanh, President of VERP attributed low labour productivity to the decline in GDP growth in Vietnam in the 2003-2013 period. In 2017, the Southeast Asian nation's labour productivity doubled the average labour productivity of low-income countries and was equal to more than 50% and 18.3 % of lower middle-income and upper middle-income countries, respectively, he said.
Dr. Le Van Hung from Vietnam Institute of Economics highlighted the FDI sector's important role in improving Vietnam's labour productivity, proposing that greater attention should be paid to the quality of FDI capital inflows, with strict supervision at central and grassroots levels in FDI capital attraction and further development of support industries.
At the dialogue, Assoc. Prof. Dr. Nguyen Dang Minh, Vice Dean of the School of Business Administration, University of Economics and Business under the Vietnam National University, Hanoi introduced participants to the Made In Vietnam Lean Management System, which is designed to increase labour productivity and stimulate sustainable development in the country's businesses and institutions.

Source: vov.vn