Heads of delegations to ASOSAI 14 hosted by Vietnamese President
Thursday, September 20,2018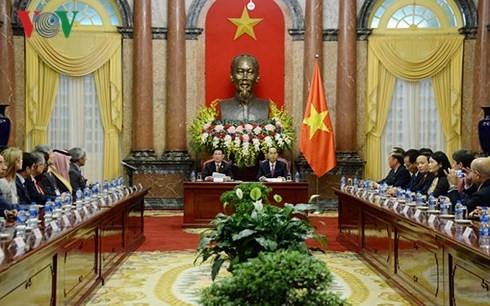 AsemconnectVietnam - President Tran Dai Quang affirmed high regard for the increasingly important role of the Supreme Audit Institutions (SAIs) in stimulating the sustainable development of regional nations while receiving heads of delegations to ASOSAI 14 in Hanoi on September 19.
Welcoming foreign delegations to Hanoi for the event which also coincides with the 40th anniversary of the ASOSAI Charter, the Vietnamese State leader extolled the 40-year path of development of the Asian Organisation of Supreme Audit Institutions (ASOSAI), saying the organization has developed from 11 initial members to 46 members, and become one of seven regional organisations of the International Organisation of Supreme Audit Institutions (INTOSAI).
ASOSAI has always taken the top spot in public audit and public governance, and significantly contributed to the development of supreme audit institutions (SAIs) in the region and the world, he said.
He also hailed the organisation's positive and effective assistance to Vietnam, saying that the role of SAIs in supervising the management and use of resources will help to ensure transparency and improve the effectiveness of budget and public asset use in member nations.
The President also thanked ASOSAI for entrusting to the State Audit of Vietnam (SAV) with a task of hosting of the 14th Assembly and the chairmanship of ASOSAI for the 2018-2021 term.
The SAV has made considerable contributions to the public finance examining and monitoring system. Its legal status is clearly stipulated in the 2013 Constitution and in accordance with the Lima Declaration of INTOSAI. The SAV has proved useful in helping the National Assembly to monitor the management and use of the budget and public asset.
President Quang used the occasion to urge INTOSAI, ASOSAI, and member agencies to advance cooperation in order to carry out initiatives and solutions towards stable and sustainable public finance, to step up efforts for the fulfillment of sustainable development goals, and to promote initiatives on environmental auditing.
He also asked them to intensify the sharing of information and experience, especially in training auditors, and to help the SAV to perform its role as ASOSAI Chair for 2018-2021.
President Quang wished ASOSAI 14 and the 7th symposium on environmental auditing for sustainable development a great success.
ASOSAI 14 is transpiring in Hanoi from September 19-22 under the theme "Environmental Audit for Sustainable Development", with 46 supreme audit agencies in Asia and 15 international organizations in attendance.

Source: vov.vn