Vietnam gearing up for World Economic Forum on ASEAN
Friday, August 10,2018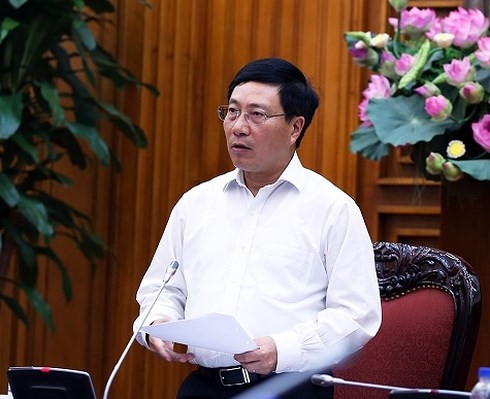 AsemconnectVietnam - Deputy Prime Minister and Foreign Minister Pham Binh Minh affirmed the Vietnamese Party and State's high regard for the World Economic Forum (WEF) on ASEAN (WEF ASEAN) at a meeting in Hanoi on August 9 with relevant ministries and agencies to review preparatory work for this important event.
At the meeting, organizers, relevant ministries and agencies double checked preparations for the WEF ASEAN, especially those in relation to contents, programs, reception, facilities, logistics, security and health care to ensure the successful hosting of the event in all aspects.
In his speech, Deputy PM Pham Binh Minh highlighted the WEF ASEAN as a major and regionally prestigious forum which will see the participation of senior leaders from regional countries, international organizations and leading global groups.
This is one of the important external activities in 2018, making positive contributions to raising the country's international profile and promoting national image, thereby providing opportunities for ministries, sectors and localities to expand cooperation with leading groups, to grasp new ideas and to keep abreast with development trends of the region and beyond, Minh said.
He also called for greater joint efforts to take full advantage of the forum in order to utilize advantages, and opportunities for business cooperation with the world's leading groups which hold huge potential for investment in market expansion, finance and high technology.
The WEF ASEAN set to take place on September 11-13 under the theme 'ASEAN 4.0: Entrepreneurship and the Fourth Industrial Revolution', is expected to attract a large number of regional leaders, government officials, representatives from leading global groups, and up to 1,000 participants.
The forum will touch upon issues on the region's geopolitical friction to entrepreneurship and employment in the Fourth Industrial Revolution, Asia's New Balance of Power, Factory Asia's Next Frontier, the Future of Jobs in ASEAN, Asia Economic Outlook, Accelerating the ASEAN Economic Community, ASEAN Pluralism and Designing Cities 4.0.
Topics of the Fourth Industrial Revolution, including emerging technologies like autonomous vehicles, blockchain, drones and fintech, will be raised for discussion. The meeting will also covers workplace sessions on topics such as Sexual Harassment at Work, and Workplace 4.0.

Source: vov.vn