Programme promotes Vietnam localities in Italy
Monday, July 2,2018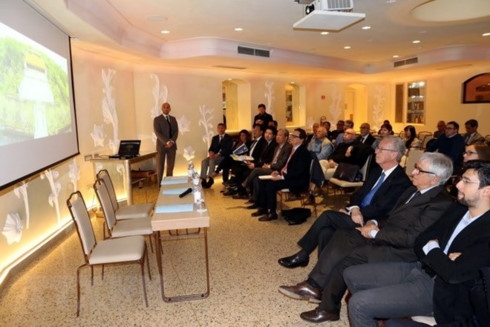 AsemconnectVietnam - The Ministry of Foreign Affairs and the Embassy of Vietnam in Italy have recently held a programme namely "Vietnam Provincial Roadshow in Italy" as part of activities to celebrate the 45th founding anniversary of the two countries' diplomatic ties and fifth anniversary of the bilateral strategic partnership.
The programme took place from June 28-29 in Milan, a metropolis in Italy's northern Lombardy region, with the participation of Chairman of the Hanoi People's Committee Nguyen Duc Chung, Chairman of the Can Tho People's Council Pham Van Hieu, Secretary of the Phu Yen Party Committee and Chairman of the Phu Yen People's Council Huynh Tan Viet, and Chairman of the Quang Ngai People's Committee Tran Ngoc Cang.

Vietnamese Ambassador to Italy Cao Chinh Thien along with representatives from the two sides' ministries, departments and businesses were engaged in the event.

The Vietnamese delegation also attended a seminar on economic opportunities between Lombardy region and localities from Vietnam, which drew over 50 Italian leading enterprises.

The guests later visited some industrial production facilities and innovative start-up centres in Lombardy as well as worked with representatives from Italy-Vietnam friendship associations from different regions and cities in Italy.

Nguyen Duc Chung, Chairman of the Hanoi People's Committee, and Enrico Letta, former Italian Prime Minister and President of the Italy-ASEAN Association, agreed with the proposal of hosting a high-level conference on cooperation between ASEAN and Italy in Hanoi in May 2019 with the participation of senior officials from the Italian government and around 300 leading businesses from the European country.

The department of external affairs under the Ministry of Foreign Affairs and the Italian Chamber of Commerce in Vietnam (ICHAM) signed a memorandum of understanding on cooperation to support Vietnamese and Italian localities and enterprises to enhance partnership and connectivity.

Lombardy is a big economic centre in Italy with gross domestic product (GDP) of US$450 billion, making up nearly 25% of the country's GDP. The region also accounts for over 20% of Italy's trade turnover and it is one of the leading economic regions in the European Union (EU).

The cooperation agreement between Lombardy and Vietnam signed in 2010 has created opportunities to promote bilateral trade, which topped US$1.7 billion in 2017.

The Italian region attaches great importance and prioritise to promoting trade exchange and investment cooperation with Vietnamese localities, especially in the fields of infrastructure, machinery, mechanical engineering, high technology, food, health care, pharmacy, fashion, environment, and technical consultancy.

Locality-to-locality cooperation and people-to-people exchange are one of the priorities in the Vietnam-Italy strategic partnership, significantly contributing to the reinforcement and enhancement of bilateral collaboration in all realms from politics, external affairs, and economy to culture, education, science, technology and sustainable development.

Particularly, as Vietnam and the EU are pushing ahead with the ratification and implementation of their free trade agreement, this is an excellent opportunity for Vietnamese and Italian localities and businesses to tighten cooperation and trade in the fields of their strengths.

Italy is currently the fourth biggest trade partner of Vietnam in the EU while Vietnam is the biggest trade partner of Italy in the Association of Southeast Asian Nations (ASEAN).

The two sides welcomed the effective cooperation between the pairs: Hanoi - Lazio region/Rome city, Ho Chi Minh City - Milan and Tornio cities, Hai Phong city - Liguria region/Genoa city; Vinh Phuc province - Tuscany region, Binh Duong and Emilia-Romagna region, Ba Ria – Vung Tau and Veneto region.

They are promoting the establishment of cooperative relations between Italian localities and Vietnam's Can Tho city, Quang Ngai and Phu Yen provinces, focusing on economy, agriculture, culture and tourism.

Source: vov.vn