US asked to facilitate Vietnam's farm produce and seafood exports
Friday, June 29,2018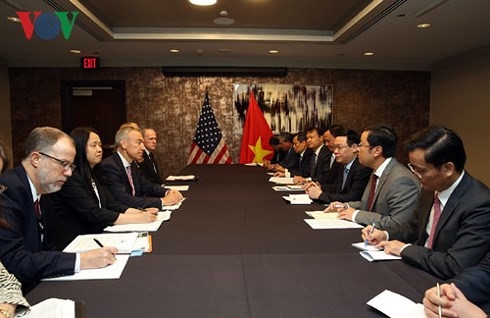 AsemconnectVietnam - Deputy Prime Minister Vuong Dinh Hue urged the US to facilitate the export of Vietnamese agricultural and seafood products to its market at a June 6 meeting with Deputy Secretary of Agriculture Stephen Censky during his visit to the US from June 25-27.
Mr Hue underscored Vietnam's view of the US as a leading trade partner, asking the US Department of Agriculture (USDA) to sign a cooperative framework agreement on agriculture with the Vietnamese Ministry of Agriculture and Rural Development (MARD).
He proposed that the US be flexible in the equivalent evaluation process, offer a favourable condition for uninterrupted exports of Vietnamese catfish to its market, and step up smart agriculture cooperation to cope with climate change. The Deputy PM suggested the US support research projects on the development of low-emission production models in agricultural production and climate change adaptation and mitigation models in highly vulnerable areas such as the Red River and Mekong Delta regions.
The US needs to step up the process of importing mangoes and consider the purchase of other fruits from Vietnam, initially pomelo, he told his host.
In reply, Censky said his nation will begin importing star-apples soon and is finalizing the final procedures for imports of Vietnamese mangoes. The USDA is actively examining the details in order to provide early recognition of Vietnam's law-regulated catfish management system as being equal to the US and will give feedback at the earliest possible time.
He revealed that the USDA will work with its Vietnamese counterpart to discuss measures for the implementation of the Deputy PM's proposals, especially importing pomelo in the coming time.
On the occasion, the US urged Vietnam to consider buying US fruits such as blueberries and various citrus fruits.

Source: vietnamplus.vn