Joint efforts needed to reduce illegal workers in RoK
Monday, May 7,2018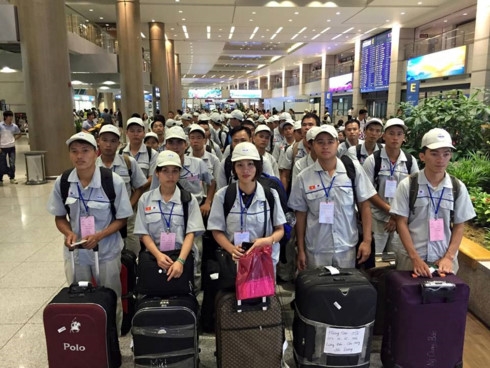 AsemconnectVietnam - Reducing the number of illegal workers in the market of the Republic of Korea (RoK) will require the greater combined effort of all relevant parties as this highly lucrative market has been considered a key factor behind Vietnam's growing labour exports over recent years.
According to the Ministry of Labour, Invalids and Social Affairs (MoLISA), the management of Vietnamese workers will be intensified based on closer coordination with the Korean Ministry of Employment and Labour (KMEL), other concerned agencies, the Human Resource Development Service, and employers.
Vietnam began sending its guest workers to the RoK under the Employment Permit System (EPS) programme in 2004 under a Memorandum of Understanding (MoU) between the MoLISA and KMEL. Since then, around 90,000 Vietnamese workers have been employed in the country, where they can earn an average monthly income of US$800-1,500. Korean employers are known to highly value the industriousness and creativeness of Vietnamese employees.
Solutions for controlling unauthorized workers


The high number of Vietnamese workers who illegally remain in the RoK has had a negative impact on labour cooperation between the two countries over the past year. The MoU on sending and receiving Vietnamese guest workers according to the EPS programme expired in August 2012 and was not re-signed until May 17, 2016.
From August 2012 to before May 17 2016, the two countries agreed upon a special one-year MoU for workers who passed Korean language exams and those who were qualified for re-entry.
In recent years, a score of policies and solutions for reducing the number of illegal workers have been drastically carried out, such as requiring that workers pay a refundable deposit, establishing the Vietnamese guest worker management office in the RoK, encouraging them to abide by their labour contract terms and return home on schedule, and supporting them in their reintegration and finding new jobs after returning home. Furthermore, financial penalties for administrative violations applied to all undocumented workers has been increased to VND80-100 million.
Together with the RoK Government's amnesty policy for foreigners who illegally remain in the country and voluntarily return home, the Vietnamese Government has issued a policy which exempts those illegal workers who voluntarily return home from such administrative punishments.
Joint effort required


These policies and solutions have yielded certain results with the number of workers staying beyond the expiry of their work permits dropped from 47% in late 2013 to 35.86% in late 2015, while the number of illegal workers fell from 18,000 in late 2013 to just over 15,000 in early 2016.
Acknowledging Vietnam's efforts, the KMEL re-signed the MoU on May 17, 2016 during the KMEL Minister's visit to Vietnam.
This document is an important sign of normalised labour cooperation between the two countries and serves as a legal framework which stipulates the basic principles for sending and receiving Vietnamese workers to the RoK under the EPS programme. It includes regulations on sending and receiving agencies and covers the related processes and sending fees.
A new point in the MoU is that quotas on receiving Vietnamese workers will be allocated by the RoK based on reduced number of unauthorized workers in the sending country.
The process of repatriating thousands of illegal residents to their home country remain a thorny problem that requires the concerted efforts of all concerned parties to implement comprehensive solutions.
Many RoK businesses operating in Vietnam have attracted Vietnamese guest workers with offers of high salaries, providing an excellent opportunity if they return from the RoK. Provinces and cities should coordinate with the Labour, Invalid and Social Affairs sector and businesses to help them understand that illegal residence affects the common benefits of the community.

Source: vov.vn