Jan-Feb diplomatic highlights
Friday, March 17,2017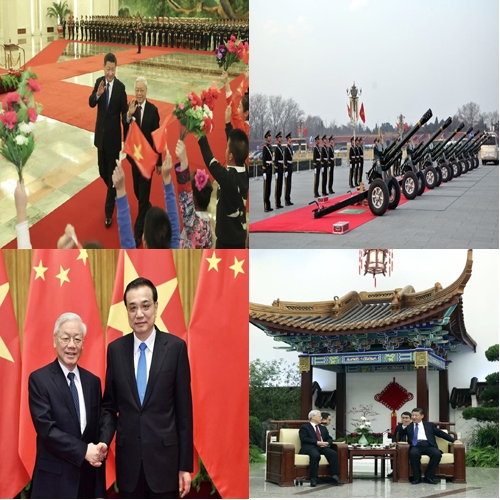 AsemconnectVietnam - VGP – Eventful diplomatic activities took place in the first two months of 2017 with a series of overseas trips of top leaders, reception of foreign heads of state, launching of APEC Year.
Spring welcoming tour
Party General Secretary Nguyen Phu Trong and a high-ranking delegation of Viet Nam left Ha Noi for an official tour to China from January 12-15 at the invitation of Party General Secretary and President of China Xi Jinping.
This was an important visit as the Vietnamese Party chief was the first senior leader who was received by Chinese Party and State in early 2017 and coincided with the 67th anniversary of diplomatic ties on the threshold of the Lunar New Year.
In addition, the visit was regarded as Spring welcoming tour and symbolized the good prospects in the comprehensive strategic partnership between Viet Nam and China.
The two sides agreed to release a 10-point Joint Communiqué which highlights the need to increase high-level meetings, cooperation and exchanges between the two Parties, promote strategic connectivity, foster trade-investment ties, expand national defence-security cooperation, enhance people-to-people exchanges, and strengthen social foundations.
During the visit, 15 important documents were signed between agencies of the two Parties and nations in order to intensify cooperation in different areas, besides other economic deals inked between businesses.
Sending international integration message to WEF
PM Nguyen Xuan Phuc and a high-level Vietnamese delegation arrived in Switzerland late on January 17 to participate in the World Economic Forum (WEF) Annual Meeting 2017 from January 17-21.
Meeting the foreign media on the sidelines of the annual meeting of the World Economic Forum (WEF) 2017 in Davos, Switzerland on January 18 (local time), the PM spoke on the Vietnamese government's determination to build a transparent and constructive cabinet in service of the people and businesses.
The PM reiterated that Vietnam always endeavours to develop an open and transparent business environment, making it easier for foreign enterprises to do business in the country, adding that Viet Nam attaches importance to social welfare in tandem with economic growth, social progress and justice and environment protection.
Viet Nam welcomed Japanese PM Shinzo Abe and his spouse on January 16-17 at the invitation of PM Nguyen Xuan Phuc and the Japanese Emperor and Empress on their first overseas trip from February 28 to March 5.
Viet Nam-Japan bilateral relations enter best historic history
In the first two months, Viet Nam welcomed Japanese PM Shinzo Abe and his spouse on January 16-17 at the invitation of PM Nguyen Xuan Phuc and the Japanese Emperor and Empress on their first overseas trip from February 28 to March 5.
PM Phuc assessed that the first visit of the Japanese royal family to Viet Nam would open up a new chapter in the strategic partnership amidst the best history period.
According to PM Shinzo Abe, Viet Nam was his first destination after taking office in January, 2013. This year, he also selected Viet Nam as the last leg of his first trip abroad in 2017. The PM hoped to shake hands with a dynamic Viet Nam to generate more growth outcomes on the basis of free trade foundation.
During meetings, the two sides reached consensus on major orientations and specific measures to further develop the bilateral strategic partnership in a comprehensive, substantive and effective manner in the time ahead.
Japan pledged to continue to assist Vietnam's socio-economic development through the provision of ODA, with a commitment of an additional JPY 123 billion (US$1.05 billion) in ODA loans in the 2016 fiscal year.
Boosting VN's hosting of APEC 2017
Since January 1, Viet Nam officially assumed the post as the chair of APEC in 2017. This was the second time Viet Nam was honored to takeover the responsibility which was expected to beef up relations with partners and national status.
The first Asia-Pacific Economic Cooperation (APEC) Senior Officials' Meeting (SOM-1) and related meeting took place from February 18 to March 3 in Nha Trang city, the central province of Khanh Hoa after two weeks of sitting – a good start for the APEC Year 2017 in Viet Nam.
The event attracted more than 1,900 delegates from 21 member economies, representatives from the Pacific Economic Cooperation Council, the APEC Business Advisory Council, regional and global organizations.
It was the first plenary meeting of APEC in 2017 with nearly 60 sessions, seminars and dialogues of 38 APEC committees and working groups./.
By Kim Loan
Source: Chinhphu.vn