Vietnamese, Brazilian firms asked to work together to raise trade to 10 billion USD
Monday, September 25,2023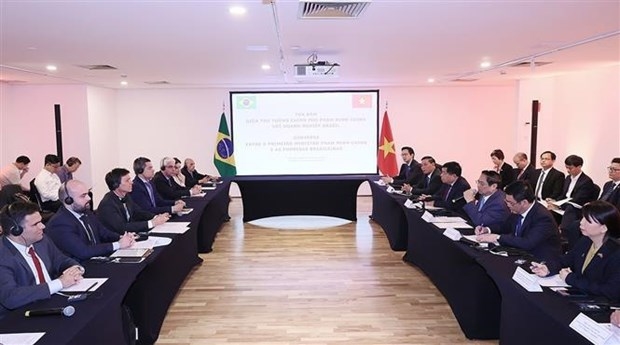 AsemconnectVietnam - Prime Minister Pham Minh Chinh on September 24 asked Vietnamese and Brazilian businesses to concretise cooperation mechanisms with specific programmes and projects, with an aim to bring two-way trade turnover to 10 billion USD by 2025, and 15-20 billion USD by 2030 in a more balanced direction.
PM Chinh, who is in an official visit to the South American country, stressed that after nearly 35 years of the establishment of diplomatic ties, the bilateral relations have developed positively in all fields.
Vietnam and Brazil are currently each other's largest trading partner in Southeast Asia and South America, with their trade turnover reaching a record level of about 6.78 billion USD in 2022, up 6.6% year-on-year, and by threefold in the past decade.
However, investment cooperation remains very modest, as Brazil currently has six valid projects totalling 3.83 million USD in Vietnam, and the Southeast Asian nation has only one worth 300,000 USD in the South American nation.
The PM said Brazil can become a bridge to help Vietnam access the markets of Latin American countries, as well as the Southern Common Market (MERCOSUR), and at the same time, Vietnam can help Brazil access the large ASEAN market with more than 650 million people and a larger market of 800 million people under the Comprehensive and Progressive Agreement for Trans-Pacific Partnership (CPTPP) of which Vietnam is a member.
He suggested the two sides promote extensive information exchange on their respective investment-related policies and priority areas of cooperation, coordinate in implementing coordination programmes in investment and trade promotion activities to create conditions for businesses from both sides to better understand each other's investment environment and opportunities.
The two governments need to encourage and promote two-way trade and investment flows on the basis of mutual benefit, increase the exchange of business delegations to survey investment opportunities and business connections to enhance trade - investment relations commensurate with the potential and advantages of the two countries.
Vietnam hopes Brazilian businesses will invest in Vietnam in manufacturing, high technology, infrastructure development, agriculture - forestry - fishery, renewable energy, information technology, pharmaceuticals, biology, construction and services, stated Chinh.
The PM also shared that Vietnam prioritises attracting investment projects of enterprises operating in high technology, innovation, and research and development which commit to promoting the digital economy and actively contributing to the country's sustainable socio-economic development.
At the meeting, local groups and major businesses showed their interest in cooperating with Vietnam in various fields, especially agriculture, food processing, renewable energy, and aerospace; and expressed their desire to learn more about Vietnam's legal regulations in the above fields, particularly food safety standards and import and export procedures.
Embraer S.A. said it hopes to receive support from the Vietnamese Government to build an aviation equipment maintenance centre and provide aircraft components and maintenance services in Vietnam, while the Brazilian Chamber of Commerce and Industry wants to establish an office in the Southeast Asian nation to promote trade and industrial cooperation between the two countries.
Affirming that Vietnam fully supports the opening of the Brazilian Chamber of Commerce and Industry in Vietnam, PM Chinh requested Brazilian and Vietnamese businesses to further promote the transfer of science and technology, strengthen connections to develop together.
On the same day, the Vietnamese Government leader visited Sport Club Corinthians Paulista in Sao Paulo during which he expressed his hope that the renowned club will cooperate and support the development of a Vietnamese football club./.
Source:
en.vietnamplus.vn/vietnamese-brazilian-firms-asked-to-work-together-to-raise-trade-to-10-billion-usd/268505.vnp