Int'l conference discusses Vietnam-Laos-Cambodia cooperation in digital economy
Thursday, September 21,2023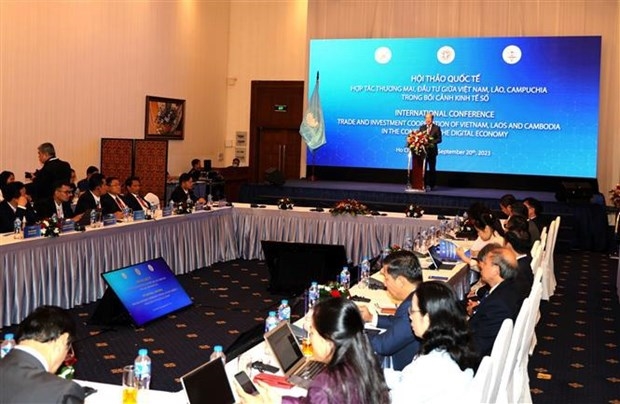 AsemconnectVietnam - More than 100 Vietnamese, Lao, and Cambodian experts, managers, and diplomats joined an international conference on the three countries' trade and investment cooperation given the digital economy, which took place in Ho Chi Minh City on September 20.
The event was co-organised by the Vietnam Academy of Social Sciences (VASS), Lao Academy of Social and Economic Sciences (LASES), and Royal Academy of Cambodia (RAC).
Addressing the conference, VASS President Dr Phan Chi Hieu said the promotion of the digital economy is considered one of the key tasks to accelerate the restructuring of an economy, associated with innovation in the growth model and the improvement of growth quality, aiming to help a nation escape the middle-income trap and move towards the goal of becoming a developed industrialised country.
The trend comes with opportunities and challenges for nations involved, including Vietnam, Laos, and Cambodia, in their development and expansion of investment and commercial collaboration, he noted.
LASES President Dr Sonethanou Thammavong said the conference boasts an important theme, reflecting the countries' readiness to build their digital-transformation-oriented socio-economic infrastructure.
Laos' digital transformation, which encompasses various sectors including commerce and investment, is currently at a basic and initial stage. Therefore, Laos hopes to exchange and share experiences with experts from Vietnam and Cambodia and to learn from their experiences, he said.
Emphasising the longstanding relationship between the three countries, RAC Dr Sok Touch assessed that concerning digital transformation efforts, Vietnam has been progressing faster than Cambodia and Laos, especially in the fields of tourism, commerce, and investment. The nations' teamwork, particularly in the digital economy sector, plays a significant role in promoting the development of each.
The conference focused on clarifying such key topics as digital economic development trends and their application in boosting the countries' trade and investment, digital-transformation-induced opportunities and challenges for the growth of the trilateral ties, and ways to promote their joint works in the digital age.
Participating experts said that potential for trade and investment cooperation between Vietnam, Laos, and Cambodia is substantial and that recent results achieved have yet to be on par with the potential and advantages of each country.
They suggested the sides establish and improve institutional and legal environments meeting requirements of the international integration era in the context of the digital economy. The nations should also invest in the digital transformation infrastructure and national digital economy./.
Source:
en.vietnamplus.vn/intl-conference-discusses-vietnamlaoscambodia-cooperation-in-digital-economy/268290.vnp