Agricultural exports to EU require use of electronic certificates
Thursday, March 26,2020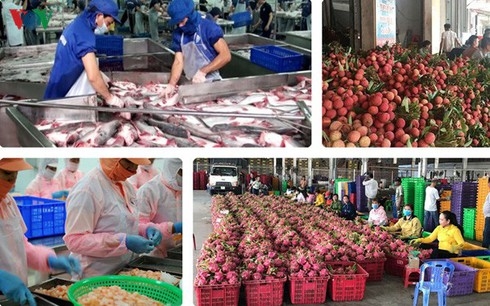 AsemconnectVietnam - The European Union (EU) has requested that all farm produce and aquatic businesses utilise phytosanitary and veterinary electronic certificates when exporting their goods to the European market amid the growing impact of the novel coronavirus (COVID-19) epidemic.
According to the Vietnamese trade office in Belgium and the EU, the European Commission Directorate-General for Health and Food Safety (DG SANTE) has recently posted an urgent notice regarding export certificates to the EU following a number of EU member states choosing to seal their borders for fears surrounding the COVID-19.
In a bid to ensure smooth export activities, DGSANTE recommends that firms use the Trade Control and Expert System (TRACES) platform through https://webgate.ec.europa.eu/tracesnt/ecas-login in order to obtain the necessary phytosanitary and veterinary certificates used when exporting products to the EU.
TRACES serves as the online multilingual management tool created by the European Commission for use in the notification, certification, and monitoring of trade in animals, products of animal origin, animal feed, and food of non-animal origin. This is in addition to plants, seeds, and propagating material which has been imported from outside of the EU, or alternatively goods which are simply passing through EU member states.
Based on the system, which has been in use since 2003, competent authorities of countries whose firms are seeking to export to the EU will issue electronic certificates outlining the food safety for animals and products of animal origin, including seafood.
For nations that do not use the TRACES platform, enterprises will be required to ensure that they provide the original certificate alongside their shipment.
In the event that the original certificate is unable to be accompanied by the shipment, DGSANTE will propose that EU border checkpoints accept copies of the original certificate, and relevant documents sent by email to the mailbox of the EU border checkpoints.
In the scenario that any problem arises, EU inspection agencies are to contact the Vietnamese trade office in Belgium so as to gain confirmation.
Local firms who face any challenges in dealing with phytosanitary and veterinary certificates are able to contact the Vietnamese trade office in Belgium and the EU at be@moit.gov.vn in order to receive support when exporting their products to the EU.
Source:
english.vov.vn/economy/agricultural-exports-to-eu-require-use-of-electronic-certificates-411762.vov