WTO DG Azevêdo stresses central role of cotton in developing countries at World Cotton Day launch
Tuesday, October 22,2019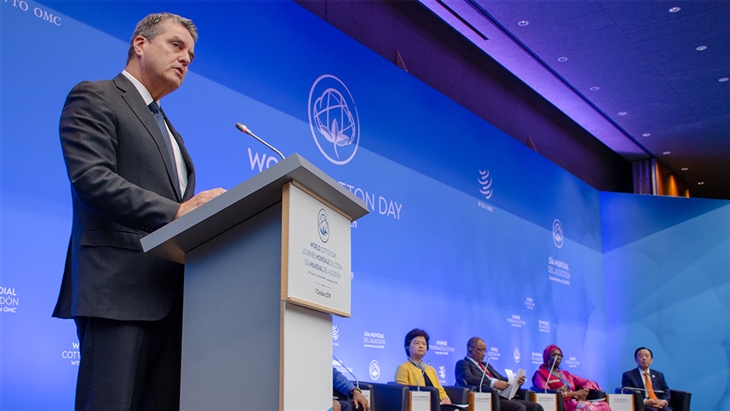 AsemconnectVietnam - In opening World Cotton Day at the WTO on 20 October, Director-General Roberto Azevêdo underlined the importance of cotton to many developing countries and said he hoped that the event would "bring together the cotton, trade and development communities to foster greater value addition and value capture in developing countries".
DG Azevêdo was joined at the opening plenary session by WTO General Council Chair Sunanta Kangvalkulkij, Benin's Trade Minister Shadiya Alimatou Assouman, Burkina Faso's Trade Minister Harouna Kabore, Chad's Trade Minister Achta Djibrine and Mali's Minister of Agriculture Moulaye Ahmed Boubacar.
Ministers highlighted the strategic role of cotton for cotton-producing countries such as Benin, Burkina Faso, Chad and Mali, known as the Cotton-Four (C-4), and other developing and least developed countries. The C-4 countries, which have requested formal recognition of a World Cotton Day by the United Nations General Assembly, called on the global cotton community to join the celebration of cotton.
Lauding cotton's central role in livelihoods, job creation and economic stability in several least-developed countries, DG Azevêdo asked participants to heed the challenges faced by cotton farmers, including market access barriers, subsidies provided by some countries and supply-side challenges at home which limit the competitiveness of export-oriented processing.
He stressed the importance of shedding light on the linkages between trade, cotton and development. Recalling the many steps taken by WTO members to support the cotton sector, DG Azevedo said: "They have eliminated agricultural export subsidies, a major source of price distortions. They have worked to enable developing countries to benefit more from every step of the cotton value chain." He also admitted: "There is still much work to be done to level the playing field for cotton producers, especially in LDCs. And that's what today is about."
Minister Shadiya Alimatou Assouman from Benin underlined cotton's substantial contribution to poverty reduction, education, health care needs, economic growth and peace, dignity and prosperity. She also highlighted the huge social impact that cotton could generate along the value chain and beyond. "Due to the stable development of cotton production and processing activity, young people and members of rural communities in the cotton growing areas are not tempted by the risky adventure of migration at sea and other makeshift means and routes of transport… It is often said that 'when cotton is fine, everything is fine in the C-4 countries''," she added.
Minster Harouna Kabore from Burkina Faso said that although cotton remains Burkina Faso's main agricultural export and contributes more than 10% of GDP, almost all production is exported without any processing. He described measures his country is taking to boost the processing and local consumption of cotton products. He also described efforts to fight counterfeiting through a national labelling strategy for traditional locally-made products.
Minister Moulaye Ahmed Boubacar from Mali drew participants' attention to the longstanding issue of domestic support in cotton trade. "African cotton is less than 10% of world production. Despite its qualities, our fibre faces stiff competition, particularly from the estimated $5.9 billion in domestic support in 2017/2018 some countries provided to their producers, resulting in the precariousness of our producers," he said. He urged WTO members to continue working on addressing this issue, bearing in mind the decision made by the WTO's General Council in 2004 which confirmed the need to address cotton "ambitiously, expeditiously and specifically within the agriculture negotiations".
Minister Achta Djibrine from Chad reaffirmed the C-4's commitment to the multilateral trading system and its continued efforts in pursuing outcomes on cotton at the WTO. She said: "We are committed to multilateral negotiations to find fair, balanced and sustainable solutions to this thorny issue of distorting subsidies. We urge WTO members to find solutions to the realities of millions of Africans unjustly deprived of the fruits of their labour… Chad favours a combination of a fair-trade approach and coordinated development assistance, which will ensure the sustainability of cotton sectors and will undoubtedly contribute to the sustainable development of African countries."
Statement on the WTO cotton negotiations
At the end of a special session entitled "The Road Ahead for the Cotton Negotiations" organized by the WTO, ministers and high-level representatives from the Cotton Four, Côte d'Ivoire, Brazil, China, the European Union, India and the United States issued a joint statement on the state of play in the WTO's cotton negotiations.
"Recognizing the importance of cotton production and trade for farmers, we will intensify our discussions on factors negatively impacting cotton trade and markets. We will continue our efforts aimed at enhancing transparency and monitoring of cotton-related trade measures affecting the global cotton market.
"We invite all WTO Members to work with us in the Committee on Agriculture in Special Session so as to make progress on this issue."
Ambassador John Deep Ford, the Chair of the Committee on Agriculture in Special Session, presided over the meeting. He hailed the statement as a small but an important step on the path to an outcome at the next Ministerial Conference to be held in June 2020 in Nur-Sultan, Kazakhstan. " I am convinced that this outcome statement is a shared view not only by members being mentioned above but by all the members in the WTO, I hope this step today will be followed by many more steps that can lead us to an outcome at MC12," he said.
Background
World Cotton Day was established to celebrate all aspects of cotton, from its qualities as a natural fibre to the benefits people obtain from its production, transformation, trade and consumption. The event is intended to shed light on the challenges faced by the cotton sector around the world, and particularly in least-developed countries (LDCs).
The WTO Secretariat is hosting the event in coordination with the secretariats of the United Nations Food and Agriculture Organization (FAO), the United Nations Conference on Trade and Development (UNCTAD), the International Trade Centre (ITC) and the International Cotton Advisory Committee (ICAC). Other international organizations, non-governmental organizations, research and academic institutions and the private sector also participated in the launch event.

Source: Vitic/ wto.org