More investments from RoK coming to Vietnam
Friday, September 29,2023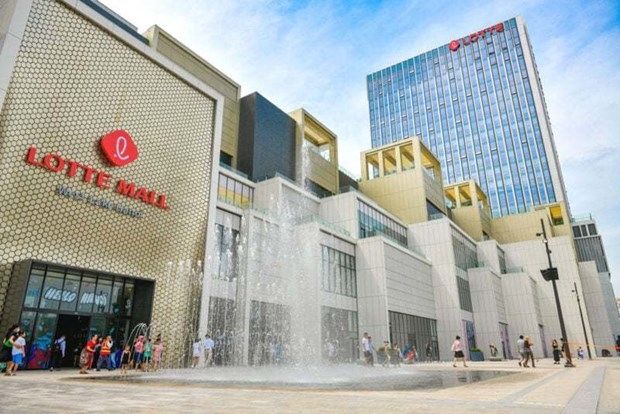 AsemconnectVietnam - A number of large enterprises from the Republic of Korea (RoK) are continuing to pour investment into Vietnam, turning the Southeast Asian country into their leading manufacturing hub in the world.
On September 22, Lotte Group Chairman Shin Dong-bin came to Vietnam to attend the opening ceremony of Lotte Mall West Lake Hanoi. With an invetment of 643 million USD, this mall is currently the biggest project of Lotte that has become operational in Vietnam.
Entering Vietnam in 1996, the group has opened shopping centres and supermarkets and then expanded operations to other fields such as hotels and cinemas. Lotte now has 19 member companies in Vietnam, Shin said as cited by Dau tu (Vietnam Investment Review).
Lotte has reportedly channelled about 5 billion USD into Vietnam, and the figure is expected to keep rising. When he attended the launch of work on Lotte Eco Smart City Thu Thiem, worth 900 million USD, in September last year, Shin said this project marked the start of a series of more Lotte investments in the country in the time ahead.
Also on September 22, SK Group, another giant from the RoK, was granted an investment registration certificate to pour more capital into Vietnam. Via its affiliate SKC, the group will invest 500 million USD in a hi-tech biodegradable material factory in Hai Phong city. Construction of this plant is set to kick off in later this year and be completed in the third quarter of 2024.
CEO of SKC Park Won-cheol noted the firm has invested in the country for five years, with about 3 billion USD in total, adding that he will call for more Korean enterprises to invest in Vietnam in general and Hai Phong in particular.
A few days before that, Hana Micron, a major business in the RoK's semiconductor industry, inaugurated its second factory in Bac Giang province, in the Van Trung Industrial Park. With this project, Hana Micron's total investment in Vietnam now stands at 600 million USD.
The first factory, put into operation last year, specialises in producing integrated circuit (IC) boards used in mobile phones and other smart electronic devices.
Attending the inauguration of the second factory, Hana Micron Chairman Choi Chang-ho said the group plans to raise its investment to over 1 billion USD by 2025. At that time, the factory is set to gain 800 million USD in revenue and create over 4,000 jobs.
During the first eight months of 2023, the RoK ranked fourth among foreign investors in Vietnam, following Singapore, China, and Japan. However, it remains the biggest investor in terms of accumulated capital.
Meanwhile, this Northeast Asian country still topped the list in terms of additional capital (accounting for 27.6%) and spending on contributing capital to or buying shares of Vietnamese companies (28.7%) during the eight months, according to the Foreign Investment Agency under the Ministry of Industry and Trade.
Director of the agency Do Nhat Hoang told the Vietnam - RoK business forum, held during RoK President Yoon Suk Yeo's State visit to Vietnam in late June, that he had a list of tens of pending projects, some of which are worth millions of USD while some up to 1 billion USD.
Major enterprises are still eyeing Vietnam and considering it their No 1 investment destination, he noted./.
Source:
en.vietnamplus.vn/more-investments-from-rok-coming-to-vietnam/268717.vnp