Master plan on building border gate economic zone of Cao Bang province till 2040
Monday, March 16,2020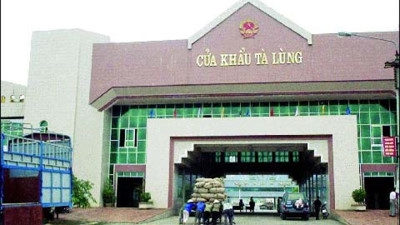 AsemconnectVietnam - Building the border gate economic zone in Cao Bang province into a dynamic, efficient, international-level economic development zone, an important growth pole - the economic development center of the border economic belt. In the north, it becomes a strong driving force of the Northeast
Master plan on
building border gate economic zone of Cao Bang province till 2040
1. Scope, boundaries and scale of research
According to Decision No. 20/2014 / QD-TTg dated March 11, 2014 of the Prime Minister, Cao Bang Border Gate Economic Zone has an area of ​​about 30,130 ha, the boundary range includes 37 communes and 03 towns. (partly or entirely) border communes from Duc Long commune, Thach An district, to Can Nong commune of Thong Nong district.
2. Planning period
- Short-term period to 2030;
- Long-term period until 2040.
3. Goals
- Concretize the Prime Minister's Decision No. 20/2014 / QD-TTg of March 11, 2014, on the establishment of border gate economic zone in Cao Bang province;
- Building the border gate economic zone in Cao Bang province into a dynamic, efficient, international-level economic development zone, an important growth pole - the economic development center of the border economic belt. In the north, it becomes a strong driving force of the Northeast.
- Socio-economic development in association with ensuring national security, maintaining regional security and border, overcoming problems of border management cooperation, developing Vietnam-China border and contributing part of promoting cooperation, economic, cultural and social relations and ensuring border areas of peace, friendship and mutual development.
- Organizing architectural space and land use planning with synchronous technical infrastructure and social infrastructure in order to serve the operational efficiency of the border gate economic zone of Cao Bang province.
- As a legal basis for land use management, formulation of general planning projects, zoning, detailed planning, implementation of development programs and investment projects.
4. Nature
- Being one of the trading centers of Vietnam and the ASEAN region with the Southwest - China region.
- It is a multi-sectoral and multi-field border economic zone, an economic breakthrough of Cao Bang province and the northern midland and mountainous provinces.
- Being one of the economic centers of trade, service, tourism and industry of the northern provinces and able to connect with other localities to create a trade-service route. Motivation calendar of the whole Northern midland and mountainous region.
- The area has an important position on national security and defense.
5. Viewpoint
Development of the border gate economic zone in Cao Bang province is associated with the development and development of Vietnam's friendly, stable and sustainable political relations with China. Strengthening international cooperation, attracting domestic and foreign investment through border economic zones.
6. Forecast of population size and land
- Forecast of population size: By 2030: About 110,000 people - 115,000 people, of which urban population is about 30,000 - 35,000 people. By 2040: About 125,000 people - 130,000 people, of which urban population is about 50,000 - 55,000 people.
- Forecasting land size: Land of border gate areas of 1,500-2,500 ha; expensive construction of urban development areas about 2,000 - 3,000 ha; land for construction of industrial parks and industrial clusters 1,000 - 1,500 ha; land for service and tourist areas is around 2,000-3,000 ha; land for rural population development is about 2,000-3,000 ha.
(Forecast results of scale may change during the study of planning arguments).
7. Requirements for planning contents
a) Analyze and evaluate the status quo
- Evaluation of natural conditions, current status of socio-economic development; social and economic infrastructure; population, labor, living conditions of border people, practical development needs leading to the need to establish general planning; current status of land use. Assessing the current status of technical and environmental infrastructure systems.
- Evaluate the current investment situation, implementation of approved planning projects and related investment projects. Evaluate the appropriateness of planned and planned investment projects.
- General assessment of the current situation and development trend of the Chinese side that shares common borders with economic zones, especially in the areas of trade, tourism, infrastructure, urban development and agriculture. village
- Comprehensive evaluation of current issues, proposing issues to be addressed and strengths to be exploited as a basis for fast and sustainable development objectives.
b) Analysis of position and context of regional development
Analyzing the position in the role of traffic hub, inter-regional goods exchange of Cao Bang border-gate economic zone for the economic border of Vietnam-China border, with China mainly through two corridors (Kunming - Lao Cai - Hanoi - Hai Phong - Quang Ninh; Nam Ninh - Lang Son - Hanoi - Hai Phong - Quang Ninh) and the expected economic corridor: Trung Khanh - Quy Chau - Bach Sac - Cao Bang - Hanoi - Hai Phong - Quang Ninh. Analyzing the mutual relationship between Cao Bang Border Gate Economic Zone and adjacent areas, studying foreign relations with major economic centers of Guangxi Province - China.
c) Forecast for development and technical and economic indicators
Forecast of socio-economic development, population, driving force, forecasting the change of natural environment due to the impact of urbanization and socio-economic development, forecasting demand land use, scale of functional areas of border-gate economic zones in each period, forecasting economic norms applicable to the region. Identify the main potentials and motivations for developing border-gate economic zones.
d) Space development orientation
- Determine the vision of Cao Bang border-gate economic zone till 2050.
- Identify technical and economic indicators related to construction and land use in each area.
- Orientation of space development for landscape architecture and urban design up to 2040:
+ Researching, reviewing and appropriately inheriting the construction plannings and branch plannings related to the approved Cao Bang border-gate economic zone.
+ Proposing development structure, orientation of developing landscape architecture space, key spaces (Ta Lung border gate area, Tra Linh border gate area, Soc Giang border gate area, waterfall tourist area). Ban Gioc ...) and areas with support and reserve function for future expansion. Effectively exploit natural factors, topography, natural conditions and spatial organization of Cao Bang Border Gate Economic Zone.
+ Organization of functional areas: New construction and development areas such as industrial parks, industrial clusters, Logictis area, service-tourism complexes, processing and processing zones, non-tariff zones, system of border gates and resettlement areas. Studying solutions to improve the existing residential areas, functional areas in the buffer zone to support development, urban and rural areas to ensure economic development, stabilize the people's life associated with protection national security.
d) Land use planning
- Proposing land use planning for functional areas according to the selected structure and subdivision. Determining suitable land fund for functions of border gate, industry, tourism, supporting urban - rural development, services, resettlement, accommodation of workers and experts, greenery system, protective isolation corridors for infrastructure routes and technical infrastructure key works. Zoning for protection of historical-cultural relics, scenic spots, intangible cultural heritages (Ban Gioc waterfall area, Pac Bo historical relic area ...).
- Identify the economic and technical costs related to construction and land use in each area to serve the management and development control.
- Land use planning in each period.
e) Orientation for development of socio-economic infrastructure system
- Planning orientations for development of the system of socio-economic infrastructure works include industry, services, tourism, working offices, houses, health, education, culture and sports , ... to meet the needs of socio-economic development of the economic zone and development stages. Organizing the central network including the system of operating centers, managing all border-gate economic zones, trade centers, international financial centers, public centers, parks and greenery, specialized centers. other.
- Orienting the planning of areas for production, transit and warehousing services, commercial, medical and educational services to meet the general use needs of the economic zone. Arranging functions of tourism and financial support services to support the development of tourism services.
- Planning to develop the system of socio-economic infrastructure in a synchronous direction, ensuring convenient access of people, tourists and laborers in the economic zone, suitable to the characteristics of border mountainous areas of the border gate economic zone.
g) Orientation for planning technical infrastructure system
- Traffic:
+ Identification of external traffic systems, roads, inter-regional connections; important traffic hubs; commercial infrastructure; study and assess and propose adjustments if necessary to upgrade projects of national highway 4A, national highway 3, Tra Linh highway - Lang Son, Ho Chi Minh road, border belt road.
+ Proposing solutions to planning the internal traffic network of the border gate economic zone, including clarifying the planning of the traffic network of the new urban area of ​​Phuc Hoa and urban areas in Tra Linh and Soc Giang border gate areas. and other functional areas of the border gate economic zone.
+ Determining the scale and number of traffic works such as main and auxiliary car parks, road culverts, design solutions according to current regulations and in accordance with the development orientation, at the same time, determine the transportation network to ensure convenient internal and external traffic.
+ Analyzing the model of transport network development, organizing and classifying traffic routes, ensuring connection with internal and external traffic routes to meet the socio-economic development needs of the area.
- Technical preparation: Proposing solutions to exploit construction land fund, solutions to divide basins, flood drainage ... suitable to high mountainous areas.
- Water supply: Forecast of demand for water for domestic use and production. Determining water supply and clean water supply solutions for each area.
- Electricity supply: Forecasting the demand for electricity for daily life and production. Determine the power supply. Proposing electricity transmission and distribution network ...
- Waste water drainage, solid waste management and cemeteries: Determining basins, waste water drainage systems, waste water treatment solutions ....; propose cemetery building solutions; propose solutions to organizing solid waste collection and management.
- Communication system: Ensuring synchronization, modernity and meeting standards.
h) Strategic environmental assessment
Identify and forecast environmental impacts caused by socio-economic development activities. To delineate areas of natural protection, areas of landscape, areas banned from construction, conservation areas ... areas for protection of clean water sources, solid waste disposal, waste dumps, areas of dust and dust affect, toxic gas, noise ... Propose environmental protection solutions.
i) Prepare regulations on management of construction of resorts according to planning: Proposing regulations to control tourism development, suitable planning projects, complying with relevant legal regulations and real requirements sacrifice.
k) Determining investment priority programs and projects to ensure compliance with the resources for implementation.
8. Product profile requirements
The composition of the dossier and the contents of the project shall comply with the Government's Decree No. 44/2015 / ND-CP on management of construction plannings and relevant law provisions.
9. Organization of implementation
- Approval level: Prime Minister.
- Appraisal agency: Ministry of Construction.
- Organizing agencies set up and submit for approval: People's Committee of Cao Bang province.
- Time for completion: Not exceeding 12 months from the date of approved planning tasks.

Long Giang
Source: Vitic / thuvienphapluat.vn