Vinh Phuc province
Monday, December 3,2018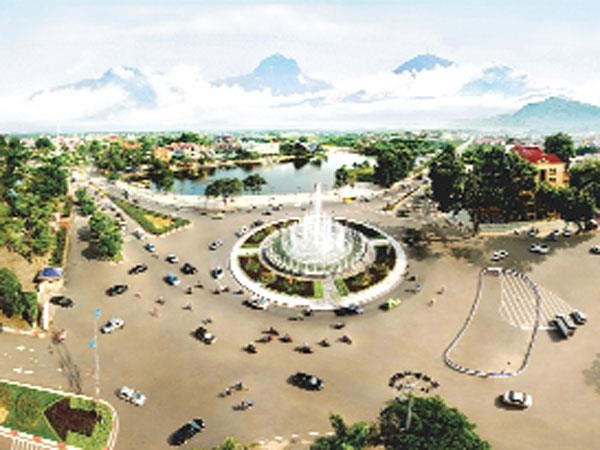 AsemconnectVietnam - To develop comprehensively, take rapid, efficiency and sustainability development (including economic efficiency, social efficiency and environmental efficiency while ensuring short-term and long-term efficiency) as a basis to work towards improving the people's living standard

OVERALL PLAN OF SOCIO-ECONOMIC DEVELOPMENT OF VINH PHUC PROVINCE UNTIL 2020, VISION TO 2030

I. Development viewpoints, objectives and plan until 2020 and next years
1. Development viewpoint
- Develop comprehensively, take rapid, efficiency and sustainability development (including economic efficiency, social efficiency and environmental efficiency while ensuring short-term and long-term efficiency) as a basis to work towards improving the people's living standard.
- Socio-economic development of Vinh Phuc province locates in relation to overall plans of socio-economic development of the wholly country, northern region and capital of Hanoi.
- Develop economic of Vinh Phuc province with logical step towards promoting industrialization in a period to 2020, and gradually develop service sector towards an economy having efficient and sustainability structure in 2020s. Industrialization associates with urbanization in a controllable, orderly and sustainable manner.
- Promote development towards international opening and integration focusing on exploiting domestic market, raising internal capacities, competitiveness of the economy on international market as well as on domestic market.
- Economic development closely links to social development, build a democratic and civilization society. Pay attention on development of rural areas, less developed areas, minimize living standards gap between residential areas, ensuring that all people have easy access to social services.
- Combine economic development with strengthening national defense and political protection, maintaining order and security of society.
- Economic development associates with environmental protection and sustainable development of territory of the province but also in areas of related provinces or cities, towards forming a green city, clean environment in late 2020s, early 2030s.
2. Socio-economic development objectives until 2020
2.1. Overall objective
By 2015, construction of Vinh Phuc province become an industrial province with full basic elements. To 2020, Vinh Phuc province become an industrial province, is one of centers of industry, services, tourism of region and wholly country; significantly improving the people's living standard; protecting sustainably environment; ensuring solidity of defense and security; towards becoming Vinh Phuc city in 2020s.
2.2. Specific development objectives
2.2.1. Economic objectives
- Growth rate of GDP per year in a period of 2011-2020 at 14-15 % / year, of which :
+ 2011-2015 : 14 - 15 %.
+ 2016-2020: 14 - 14.5 %.
- Create a stronger shift in economic structure towards promoting rapid development of industrial and service sectors; develop industries having high- quality goods, modern technology and high labor productivity. Economic structure in a period of 2011 - 2020 increases sharply proportion of services to create a sustainable economic structure in accordance with the province's potentials.
- Economic structure at current prices to 2015 is forecasted as follows: construction and industry account for 61-62 % of GDP, services: 31-32 % and agriculture, forestry, fisheries: 6.5-7.0 %. By 2020, industry and construction of 58-60 %, agriculture, forestry and fisheries 3-4 %, services over 38 %.
- GDP per capita (current prices) to 2015 reaches USD 3,500 – 4,000, to 2020 approximately USD 6,500 -7,000.
- Develop strongly external economy, boost exports, strive to hit average export growth rate in a period of 2011-2020 at 30 %, by 2020 export turnover posts USD 13.5 billion.
- Total amount of social investment and development capital in a period of 2011 - 2015 is about VND 140,000-145,000 billion; in a period of 2016-2020 approximately VND 280,000-300,000 billion.
2.2.2. Social objectives
- Develop a healthy and stability society, of which, human is the leading object of interest and ensuring development. Create a substantial and comprehensive change in education and training; focusing on vocational training consistent with needs of socio- economic development of the province; increase percentage of trained workers to about 66 % of labor force in 2015 and about 75 % in 2020.
- 100 % wards and communes hit national standards for health care ;
- Reduce proportion of malnourished children under 5 years old to less than 5 %, reducing annual birth rate of about 0.15 ‰ ; rate of natural population increase of less than 1 % / year.
- By 2020, having no poor households under current national standards;
2.2.3. Objectives of environmental protection
- Water environment quality:
+ Resolve completely water pollution hot spots: Vac lake, Dieu lake, Phan river valley...
+ Waste water treatment in industrial parks hit environmental standards;
+ Improve clean water supply system for urban areas.
- Quality of atmospheric environment: resolve completely air pollution situations in factories, enterprises, especially for steel, cement, fish processing factories.
- Quality of soil environment: Handle land environment pollution spots; Collect and treat absolutely household garbage and hazardous waste; implement waste classification.
- Increase forest coverage rate to 26.7 %.
- Percentage of urban population supplied clean water is 82.5 % in 2015 and 95 % in 2020.
- Percentage of rural population used safe water reaches 100 % in 2015.
2.2.4. Objective of building national defense.
Ensure social security and defense, minimize social evils and ensure firmly security in urban and rural areas as a basis for stability and socio-economic development.
3. Development plans
3.1. Basis of building development plans
- Resilience of world economy and national economy as well as the province a period of post-crisis of global economy.
- Resilience and development of Vinh Phuc economic in a period to 2020.
- Exploit effectively endogenous potentials (natural resources, labor, capital, material and technical basis ...) of the province but ensure sustainable development.
- Put development of Vinh Phuc on comprehensive cooperation relationship with the wholly country ( especially in key economic areas in the north, north - west of the north mountainous midland) and cooperation of Kunming corridor region (China - Ha Noi - Hai Phong). Trying to mobilize resources, external factors on socio-economic development of the province.
- All plans will take development of industry, development of industrial parks, processing industry along with strong growth of service sector, tourism services as a centre. Other sectors are developed towards ensuring sustainable development around above-mentioned centre sectors in conjunction with other specific terms of those sectors.
- Rural urbanization and development is key factors in socio-economic development plans of the provinces.
- Relations with Hanoi are one of important factors to socio-economic development of Vinh Phuc province.
- International economic cooperation relationship is analyzed and considered carefully when calculating growth plans. Especially, competitiveness of Vinh Phuc in attracting foreign investment as well as competitiveness of industrial, agricultural and services products of Vinh Phuc when implementing international commitments (WTO, AFTA ...).
- Problem of labor and employment is considered as an important factor in determining socio-economic development of Vinh Phuc.
3.2. Expectation plans
In long -term prospect, with environment fluctuations, socio-economic development of the wholly country, areas as well as localities will happen in many different situations. Differences of the situations are an early escape from recession (due to impact of global economic crisis), level of mobilizing, arranging and exploiting different resources. Plans (three plans below) as a foundation for forming policies and management are built on basis of considering different situations those may occur for Vinh Phuc province.
3.2.1. Maximizing resources, early growth recovery, focusing on building foundation of industrialization and modernization
This plan are reasoned on a basis of early termination of economic downturn, most efficient exploitation of available potentials for development, especially human and land potentials. Attraction of development investment capital of this plan is very strong, processing industries as well as service sector reaches high levels of development, external relationship as well as among sectors within the province be effectively exploited, capital resources (foreign and home) are mobilized favorably, local and private economic sectors develops rapidly. Many businesses are established and operate effectively. Economy of the province is managed and operates well. Many new products are manufactured with high quality and diversifications.
Socio-economic infrastructure is constructed rapidly. By 2020, infrastructure network is completed basically and create favorable conditions for attracting investment in powerful development in next phases, accelerating sustainable urbanization towards developing Vinh Phuc becoming a city in 2020s.
3.2.2. Maintain normal growth rate
This plan still see processing industry growing at a normal level. The biggest difference is slow economic recovery of the country (recovery rate similar to post-crisis of crisis in 1997). Service sectors, especially tourism and trade services have development levels similar to above-mentioned plan. Agricultural sector maintains advanced development level. Attraction of foreign and home capital resources is lower due to competition from other provinces and influence of general situation of economic activity of the wholly country. Scale of labor using is low; unemployment rate is high and duration of labor still low.
Economic infrastructure is in poor improvement, especially in rural and remote areas.
3.2.3. Taking sustainable development objective, establish basic foundation of industrialization and modernization
This plan pertains to early economic recovery, good development of processing industry sector, forming industrial parks, attracting effective investment. Service sector develops stably to meet requirements of economic development and contribute to growth at a high level.
Labor and employment issues are basically solved.
Network of primarily infrastructures are paid attention to invest, create favorable conditions to attract investment and meet needs of development of areas in the province.
Rate of urbanization is at a high level with a strong development of rural areas towards urbanization towards forming city of Vinh Phuc in early 2030s.
II. Development directions and solutions of sectors
1. Development direction and solution of industry – small scale industry
1.1. Development viewpoint
- Industry of Vinh Phuc province needs to be developed faster, stronger in the spirit of the Central Resolution VII of industrialization and modernization towards becoming a major industrial center of the northern key economic region.
- Restructure industry by diversifying products, especially high-tech products; intensify call for foreign investment; participate in ASEAN Industry Cooperation (AICO) and the world; participate actively in development cooperation of economic corridors of Kunming - Lao Cai - Hanoi - Hai Phong. Give priority to attract high-tech, environment-friendly industries such as electronics - telecommunications, engineering, construction materials (interior), food processing ... ,to ensure common sustainable development of wholly economy of Vinh Phuc province and neighboring provinces especially capital of Hanoi.
- Get support industry as a breakthrough for development of key industries of Vinh Phuc province in a process of modernization and industrialization; produce goods replacing import, actively producing consumer goods and exports. Group of support industries are oriented under development-priority sectors: engineering, manufacturing, auto, computer electronics, textiles, footwear...
- Encourage increasing intensive investment, innovating equipment and technology to raise productivity, reduce production costs in order to stand firmly and expand market, especially when Vietnam implements WTO commitments.
- Give priority to attract investment projects having advance production technology, high economic efficiency, less environmental pollution in urban areas.
- Industry development and distribution must be based on rational use of natural resources, labor and ensure environmental requirements. Incorporate closely types and scale of production. Prioritize development of industrial parks and arrange industrial projects into industrial parks, minimizing development of industrial projects outside industrial parks.
- Develop industry in parallel with development of human resources, raise employee skills, and meet requirements of businesses and industrial establishments.
1.2. Development objectives
- In a period of 2011-2020, average growth rate of industry is 15-16 %.
- By 2020, complete synchronization techniques infrastructure system in all industrial parks and complexes in the province;
- Proportion of industry production value per total GDP of the province will rises from 50-52 % in 2010 to approximately 52 -55 % in 2020.
1.3. Development orientation of many key industrial products of the province
- High-tech industry:
+ Develop production of electronic items, such as all kinds of consumer electronics products (phones, air conditioners, television, refrigerator, washing machines, ... ), office-electronic products.
+ Develop information technology, primarily focuses on manufacturing and assembling computer equipment, software production.
+ Exploit geographical advantages, gradually forming a high-tech park in order to help Vinh Phuc becoming a center of high-tech development (electronics, information technology, software) of the region.
- Mechanical industry, especially auto, motorcycles...
+ Continue to promote development of production and assembly of auto and motorcycle and group of support industry of producing of spare parts, auto and motorcycle parts; develop auto and motorcycle production become a key industry.
+ Produce and manufacture (finished products, details, components, spare parts) machinery and equipment for agriculture, processing industry of agricultural products, tools, equipment, precision mechanical equipment, equipment for construction industry, metal structures and non-standard equipment, special equipment for handicraft industries , home appliances products...
+ Develop Vinh Phuc province become a center of mechanical industry of key economic region of the North.
- Processing industry of agricultural and forestry products:
+ Construct an industrial park specializing in beverage agricultural and forest products processing, food and consumer goods production to meet domestic demand and export;
+ Develop beer, wine, kinds of high-quality soft drinks and pure fruit juice, beverage;
+ Processing feed ingredients from local sources to meet local demand;
+ Develop carpentry products from new materials (artificial boards), items of export-oriented rattan, wooden and handicrafts.
- Mining industry and develop production of construction materials:
+ Focus on investment and development of local advantage products such as kinds of ceramic;
+ Produce kinds of building materials having abundance raw materials resource (such as bricks, sand), types of roofing materials, refractory materials, concrete and precast concrete components;
+ Production of bricks, tile in tunnel kiln, try to eliminate handmade brick oven to limit environmental pollution. Invest in development of production of brick from hill-land raw materials.
+ Develop production of new products.
1.4. Development of industrial parks in the province
- Objective:
Form suitable a system of industrial parks in the province, ensure sustainable development and truly become a driving force for development of the wholly province, develop equally sub-regions and localities in the province, promote economic and residential restructuring, agricultural and rural areas modernization. Create favorable environment to attract investment for industrial development, increase contribution rate of industry (especially industrial parks) in socio-economic development of the province.
+ Continue to improve technique infrastructure and attract investments in 20 industrial parks which have been established and approved investment policy by the Prime Minister with scale of area of 6,038 ha.
+ Attract investment in development of industrial production in industrial parks in a direction of -select-ing branches which are high technological level, less waste, environment-friendly; forming mechanical and electronics industry complexes ... which have large scale and significant throughout the country.
+ Research to prepares reserve land, develop infrastructure to further expand industrial parks (outside defined industry parks) at suitable time, it is expected that scale of industrial parks in the province will be stable at around 8,500 - 9,000 ha.
- Development direction:
To achieve objective of industrial parks development towards implementation of development goals: Vinh Phuc become an industrial province in 2020s, base on analysis of current conditions of land and other resources and expected future infrastructure, urban development, it is expected to place industrial parks system in the province of Vinh Phuc as follows:
( 1 ) . Industrial Axis along national highway No. 2:
This industrial axis is expected to be developed early in a period before and after 2010. However, the axis passes through the province's urban centers such as Phuc Yen town, Vinh Yen City, should be limited in scale of land and easy to overload infrastructure but having advantages of human resource and other social infrastructure services.
It is expected to layout development of industrial parks with moderate scale, attracting industries having high-tech content, environment- friendly, such as mechanical engineering, auto, and motorcycles.
(2). North – south industrial axis along road No. 302B:
This corridor has favorable conditions of land for development of industrial parks. This area has developed infrastructure and has been invested under a plan to ensure convenient connections to major economic centers (near Hanoi, Noi Bai international airport, the provincial urban centers...).
This industrial axis is eligible for early development in a period to 2010 and following years to 2015.
Due to proximity to urban centers, present and future tourism centers, these industrial parks are paid special attention to attract industries of high-tech, environment-friendly, using less raw inputs, intensive-capital investment such as industries of electronics, mechanics...
(3). North-south industrial axis along highway 2C:
This is a north-south corridor in the west of city of Vinh Yen connecting Vinh Phuc with Tuyen Quang province, Son Tay, intersects with highway 2 and trans-Asia road. In addition to a number of industrial parks which are expected to develop in association with national highway No. 2, which is forecasted in long-term prospect, when trans-Asia road and highway No.2C to Tuyen Quang invested, will form a number of industrial parks to create driving forces to grow slow-developing area in the province and exploit resources of neighboring provinces of Tuyen Quang, Ha Noi (Son Tay), ensuring harmonious development of areas of the province.
In addition to continue to attract industries such as electronics industry, attract high quality agricultural products processing industry on basis of exploiting raw material in the province and other provinces in northern and west-north and west-south regions of the province.
(4). Industrial axis associated with trans-Asia highway:
This industrial axis has development conditions in long-term future, associating with cooperation program of international economic corridor of Kunming - Lao Cai - Ha Noi - Hai Phong ( of course, development cooperation process of this corridor will facilitate to all other areas). Arrangement of industrial development along trans-Asia highway has much favorable conditions with high feasibility in long -term future.
1.5. Solutions, policies for industry and small-scale industry development of the province until 2020
Strengthen planning and construction of infrastructure: Planning newly many industrial parks and complexes in districts of Tam Duong, Tam Dao, Binh Xuyen, Phuc Yen, Yen Lac, Vinh Tuong, Lap Thach and Song Lo; detailed plan of trade-village and small scale industry complexes under overall plan which has been approved, paying attention on those areas where there is no industry to move industry to rural areas in order to address employment and restructure local labor. Focus on building essential infrastructure for industrial development, primarily, transportation, electricity, water supply ... Give priority to established industrial parks and complexes, further building important roads which can meet both traffic requirements and development of industrial parks and complexes.
Research to develop 1-2 high-tech parks with functions of training of human resources, research and test to provide service of improving technology capacity for businesses, technology products for industrial activities.
Continue to improve investment climate, improve preferential policies and mechanisms on investment attraction in accordance with laws, create clear investment legal framework; Pay attention on both investment attraction and adjustment, overcome situation of too concentrated investment in a area leading to infrastructure overload, causing social and environmental pressing matters; at the same time, create driving force of development in each region, promote restructuring of rural economic and labor.
Mobilize maximum domestic investment capital from businesses and residents in locality and other provinces. Create favorable conditions for enterprises to expand production, find markets, and expand operations of credit, preferential capital loans to help businesses operating effectively. Attach importance to attract foreign investment capital.
Step up trade promotion and demand stimulus measures in many channels; Strengthen joint venture, cooperation to produce, enhance research, search, survey and market development. Enlist up foreign markets from FDI enterprises.
Modernize each section, each stage in production line of each existing business while encouraging businesses to research to apply advanced techniques and technological innovation. Enlist up advanced technologies from foreign -invested enterprises, encourage use of high intelligence and clean technologies.
Plan to construct raw material regions associating with establishing processing facilities. Research to implement insurance mode ​​with raw material suppliers. Support supply of production inputs, new technology transfer. Organize training, improve production management and professional skills.
Develop strategy of human resource development basing on industrial development plan to meet short-term and long- term demands of industrial development, contribute to create jobs for local laborers. Construct high technical training center to provide human resources for the region and the country; well organize network of labor supply, job placement services.
Strengthen environmental management, strict implement environmental protection laws; observe strictly regulations and environmental standards in production and application of methods of advanced waste treatment, minimize polluted waste.
2. Directions and solutions of trade and service development
2.1. Development viewpoint
- Development of trade-service sectors in the area must conform to a trend of rapid industrial development in the area and requirements of the provincial economy in terms of international economic integration;
- Develop the sectors on basis of maximizing potential of natural, human and local historical and cultural traditions; Vinh Phuc mainly develop cultural tourism and ecotourism;
- Develop the sectors in linkages with neighboring provinces in the region, with cities, largest economic centers of the country, especially capital of Hanoi;
- Sectors development must be linked to environmental protection, ensure security, defense and social order and safety
2.2. Development objectives
- Strive to hit trade- services growth rate of 14-16 % / year. Proportion of service sector in the province's economic structure is 37-39 % in 2020.
- Strive to post export growth rate during a period of 2011 - 2015 of 47.6 % /year, a period of 2016-2020 of 31 % / year. Total export revenue in 2020 reaches $ 13.5 billion, exports mostly textiles, laptops, mobile phones, motorcycles and motorcycle parts, dried tea, peanuts, ...
2.3. Trade – service development orientation to 2020
2.3.1. Tourism services , hotels , restaurants
Vinh Phuc province's basic orientation on tourism service development to 2020 as follows:
- Develop tourism centers at national and international level, tourism places, travels ... in the area in inter-provincial, inter- regional and international cooperation.
- Exploit fully advantages of proximity to Hanoi, encourage development of new tourism products: ( i ) large-scale, modern entertainment and recreation services...;( ii ) modernize centers of eco-tourism, develop typical tourism products, resorts, cultural and historical tourism, spiritual tourism ...
- Develop a system of accommodation projects and tourism service, recreation projects.
- Develop and embellish cultural and historical monuments and develop festivals, traditional village for tourism.
- Invest in development of eco-tourism, community tourism.
- Pay attention on improving quality of human resources. Invest in infrastructure development for tourism.
- Set up some key tourism routes: (i) Tam Duong - Tam Dao route ;( ii) Vinh Tuong - Yen Lac route ;( iii) Lo river - Lap Thach route; (iv) Phuc Yen - Binh Xuyen route.
2.3.2. Development of trade
- Prioritize investment in promoting development of sectors of trade and services in the area to match fast-growing trends of industry and economy of the province.
- Develop kinds of services for production and lives. Create favorable circulation of goods, service of transport, postal, financial, banking, personal and public services... have contributed significantly to economic growth.
- Develop market, strengthen marketing, and boost exports to meet demands of industrialization and modernization of the country and Vinh Phuc province. Through well organizing market and goods circulation, making trade of Vinh Phuc province as a real leverage to boost production, contributing to economic restructuring and social labor allocation.
(1). Export:
Strive to hit total export revenue of $ 13.5 billion in 2020, exports mostly textiles, laptops, mobile phones, motorcycles and motorcycle parts, dried tea, peanuts, ...
(2). Imports :
In a period from now to 2020, import products of Vinh Phuc are still mostly groups of materials, equipment and components serving local production such as components of cars, motorcycles, apparel fabrics and accessories... and other materials and equipment.
Import markets of the province in the period are still mainly ASEAN countries, Asian countries, especially China, Japan, and Korea.
It is expected that import revenue of the province to 2010 is USD 1,300 million, USD 9,500 million in 2015 and USD 16,800 million in 2020. Import - export deficit tends to be narrow in the planning period.
2.3.3. Banking and finance services
(1). Development orientation
- Finance sector:
+ Increase the State budget collection on basis of developing production and business to exploit, expand a collection source, at the same time, actively fight against tax losses and trade fraud.
+ Continue to exploit source of capital from land and house in line with policies and mechanisms of the State. Collect enough land using tax or fee.
+ Manage to collect exactly and enough value of mineral resources in the area.
+ Implement saving of the State budget spending on basis of applying norms of competent authorities, reducing pressure on the State budget.
+ Perform financial inspection system through the State audit, strict implementation of document accounting system in the State agencies.
- Credit and banking:
+ Develop network of bank, people's credit funds in the area to create a diverse banking system on diversified modes of ownership, plentiful types of operation to implement well supply of credit and banking services for organizations and individuals in a healthy competitive environment, complying with laws.
+ Implement business strategy in line with socio-economic environment characteristics of the province in order to exploit and use effectively credit in the area. Pay special attention on improving proportion of medium and long -term capital, enlist maximum foreign and domestic mandate capital.
+ Improve quality of credit activities, invest equipment to modernize information technology in banking system to perform banking services safe, convenient, efficient; perform a fast, exact payment.
+ Promote capital mobilization in various ways such as issuing bond, bill of exchange, gradually perfect currency market in the province.
+ Develop credit activities associating with economic restructuring and implementation of objectives of socio-economic development of the province. In agriculture, pay attention on providing timely credit for farmers to develop production, restructure crops and livestock in sector of ​​cultivation, husbandry and aquaculture under the province's plan. In industry, focus on medium-term and long-term credit for processing factories to upgrade equipment to improve product quality, reduce costs in order to raise competitiveness and create new, efficient products in markets. At the same time, pay attention on handicraft households in rural areas to support short -term and medium –term credit.
(2). Development objectives
- Develop a healthy finance system to ensure sufficient budget balance for regular expenditures and development investment, addressing social issues in the area.
- Construct a system of bank, people's credit funds strong enough capital, technology infrastructure, and financial capacity, management capacity ... to compete with other countries in the region and around the world.
- Implement construction of electronic bank with advanced, fast, safe and effective transactions to meet needs of economy, customers in integration process. There are plans and programs on promoting non-cash payments among economic entities, localities and in the people.
- Continue to improve and enhance efficiency of existing traditional services (services of funding mobilization, loans, payment services, foreign exchange services ... ) in order to provide the best, most convenient service of banking, improve competitiveness of credit institutions in the area.
- Along with trend of economic development of the province as well as of the country to integrate into economies of the region and the world, banking services should be developed faster in order to better meet general growing demand.
- Follow closely behind strategic objectives of the central bank and socio-economic development objectives of the province, especially resolutions of the provincial party congresses.
- Main and long-term objective of banking operations in province of Vinh Phuc is to serve well for economic growth, stabilizing cash flow, exploiting medium-term and long-term funding to meet capital demand for operation of local economy.
- Strive to 2015 and 2020, forming a network of modern banking, connecting conveniently with other provinces in the region and the country, implementing computerization to ensure dissemination of payment via credit card and convenient banking transactions.
2.4. Solutions, policies on trade, service development
2.4.1. Export development encouragement
- Organize to implement plans, programs and projects of developing concentrated export production areas, trade villages, key export commodities with high yield and high quality, from which, having satisfactory investment orientation for the sectors.
- Renovate credit policies for supporting export to back better business and meet fully integration requirements.
- Develop export promotion programs to provide information for business of producing and trading export goods and services.
- Build enterprise information systems, expand a system of collecting and processing information about domestic and international market to provide businesses in the province, helping businesses expand international cooperation, access to modern and advanced technologies and penetrate international market.
2.4.2. Encourage development of modern and traditional modes of trade
- Reform to strengthen operation capacity of trade enterprises: reform a system of ownership of trade enterprises and equitize of state-owned trade enterprises ...
- Develop modern modes of circulation, raise level of modernization of trade enterprises.
- Support development of small and medium-sized enterprises, remove restrictions of market entry, create an environment of fair, transparency competition, research to propose policies and measures consistent with principles of the world trade Organization, benefit small and medium-sized enterprises and on the other hand, contribute to order of market activities.
- Improve finance management mechanism of trade enterprises.
2.4.3. Mobilize and attract all investment source for trade, service development
- Set up institutions to organize, develop long –term, short-term capital markets, perfect credit mechanism to create favorable conditions for enterprises of all economic sectors to be able to access credit sources for production, trading and services.
- Implement Law on Investment and preferential investment policies of the province to attract investment and efficient use of investment capital.
- Enlist ODA, aid fund to invest in developing key trade infrastructure of the province.
- Actively organize investment promotion along with appropriate incentives policies to attract FDI into trade, service sectors in the area.
2.4.4. Train, develop human resource for organizing, managing trade and service
- Train management team of trade, services: having policies to support funding for organizing classroom to enhance knowledge and management skills, program of business consultant, brand development for small and medium –sized businesses.
- Combine training and re-training, training in schools and training in business, enlist help of regional and international organizations, encourage foreign distributors to transfer experience and management technology for businesses in the province.
- Provide knowledge of law, widespread the State regulations on trade and services.
3. Directions and solutions on development of agriculture, forestry and fisheries
3.1 Development objective
3.1.2. Growth rate:
- Strive an average growth rate of added value in a period of 2011 - 2020 hitting 3.0 % / year.
3.1.3. Restructure of sectors:
Promote agricultural and rural economic restructure on basis of giving priorities to invest in types of plants and animals having high economic efficiency; continue to increase proportion of animal husbandry and fishery in structure of agriculture, forestry and fisheries.
3.2. Development orientation of key sectors, products
3.2.1. Agriculture
Continue to promote agricultural restructure to ensure balance between food and foodstuff demand as following directions:
- Contruct and develop clean and safety agriculture to meet consumer demand in a direction of industrialization and modernization associating with processing industry and market;
- Continue to implement and complete early a program of defragmenting land; plan concentrated production areas; put scientific and technical progress in agricultural production, step by step introduce mechanics into agriculture.
- Plan to increase area of industrial crops and food crops, annual crops with high economic value, reduce proportion of paddy land but ensure food security.
- Cultivation: pay attention on development of crops with high economic value to serve growing demand of market. Increase area of ​​short-term and long-term industrial crops such as peanuts, soybeans, flowers, plants ... Stabilize grain yields about 36-38,000 tons/year.
- Fruit trees: improve miscellaneous gardens to orchards, develop farm economy, hill garden, partial conversion of forest land to fruit area, stabilize fruit tree area of about 10,000 -11,000 ha, out of which, newly planted area of approximately 2000-​​3,000 ha.
- Animal husbandry: comprehensively develop livestock, including cattle , pigs and poultry which are mostly commodity products; Improve pig breeds, put into production of kinds of dairy-specializing cattle and meat-specializing cow with high productivity; encourage development of livestock under an industry-farming model.
3.2.2. Fishery
Increase investment in intensive, accelerate aquaculture towards improving paddy inefficient lowland rice; apply technical advances in aquaculture breeding, move from extensive farming to semi-intensive and intensive farming. Strive to bring aquaculture area of 6,500-7,000 ha in 2015 and stabilize this area in next stage; aquaculture fish production is expected to reach 14-15,000 tons in 2015 and continue intensive farming, apply new farming methods to increase productivity , increase output.
3.2.3. Forestry
- Ensure to afforest all land forest. Actively localize, protect and take care of existing forests; minimize forest fires, forest law violations.
- Build variety center, tree quality inspection center to implement agricultural programs for sustainable development.
3.3 Organizing production of agriculture, forestry and fisheries under territory
It is expected to distribute plants and animals in three sub-regions as follows:
- Urban areas, alongside industrial parks: a center of developing agricultural service, supplying and delivering agricultural technical advances and biotechnology into agricultural production; a hub to link agricultural production with market demand and consumers.
- River deltas : specialize production of high yields food crops, vegetables, flowers, ornamental plants, soybeans , fruit, pig, beef, seafood, poultry, berries, silk.
- Midlands - northern mountains: specialize livestock such as pigs, cows, and poultry under farm size, fruit trees, crops, afforestation and forest protection.
3.4 Solutions, policies on agricultural development to 2020
- Enhance direct investment in agriculture, rural areas and promote introduction of mechanization in agricultural production; develop agro-processing industries to consume products for farmers.
- Continue investment in irrigation works, canals solidification, works for flood prevention and infrastructure of agricultural and rural economics.
- Prioritize investment from the provincial budget for application and transfer of agricultural technology, biotechnology, form high-tech agricultural production zones, support farmers to find markets, adequately invest in training, retraining and raise advanced knowledge and skills for farmers, increase investment in providing information for farmers.
- Strengthen the State management on plant varieties and animal, ensure disease safety for livestock and poultry.
- Encourage farmers defragmenting land, land consolidation or transfer of land use rights under land law to form concentrated production areas; strengthen cooperative system.
- Attract domestic and foreign individuals bidding for land use rights. Put new mechanisms, policies in agriculture for farmers to create development opportunities such as farmers are allowed to contribute land use right in investment projects. Have mechanisms and innovate support, loans mechanisms for farmers to get capital for production development.
4. Orientation and solution on development of infrastructure system
4.1 Transport system
4.1.1. General Orientation
System of transport infrastructure plays a particular important role for socio-economic development as well as a powerful impact to process of urbanization in the province. To meet objectives of socio-economic development, transport infrastructure should be paid attention on investing and developing toward the following:
- Basically formulate transport infrastructure in a period to 2020, including external transport system and transport system of connecting localities in the province with external transport system, on a basis of ensuring good management of external transport corridor in orientation of placing unity socio-economic space in the province.
- Step by step modernize inner-provincial transport network to ensure transportation capacity, increase traffic speed, and ensure traffic safety throughout the system.
- Manage and well organize, upgrade urban transport in cities and towns.
- Expand and upgrade rural roads network at the end of 2020 and the following years towards convenient, safe rural transportation network ... to accelerate process of urbanization in rural areas.
- Develop a program of synchronizing traffic by territory, in short-term, focusing on concentrated industrial development area, urban areas ...
4.1.2. Development orientation of basic transportation routes
Transportation of Vinh Phuc province is expected to be developed under main routes as follows:
- National road No. 2A from Hanoi - Vinh Yen – Viet Tri;
- National road No. 2B from Vinh Yen - Tam Dao - Thai Nguyen;
- National road No. 2C from Vinh Thinh - Quang Son ( Lap Thach );
- Road connecting with Me Linh urban zone ( Ha noi);
- Road No.310 from Dai Lai to Dao Tu;
- Road south Dam Vac - Quat Luu - Hop Thinh;
- Road Huong Canh town - Son Loi;
- Road No.301 Phuc Yen - Xuan Hoa;
- Road Phuc Yen - Binh Xuyen - Vinh Yen (Nguyen Tat Thanh road);
- Road Dai Lai - Tay Thien;
- Road connecting Noi Bai international airport and concentrated tourism zone - Dai Lai- Phuc Yen;
- Road connecting national road No.2B with national road No.2C ( Hop Chau – Dong Tinh );
- Road Nam Binh Xuyen - Yen Lac - Vinh Tuong;
- Road Yen Lac - Vinh Yen;
- Embankment road Yen Lac - Vinh Tuong – Lo river;
- Trans-Asian road: Noi Bai - Lao Cai.
- Ring road No.4.5 of Hanoi: build Trung Ha bridge linking Vinh Yen (psychic axis) to Vinaline road to Phuc Yen through Nhe mountain pass to Thai Nguyen.
- Ring road No.5 of Hanoi: from Vinh Thinh bridge along national road No.2C, Hop Thinh Dao Tu road- national road No.2C through Tam Dao tunnel to Thai Nguyen.
4.1.3. National road
(1) New construction
To meet demand of link of economic of Vinh Phuc with Hanoi and other provinces in the region, improve face of urban civilization especially Vinh Yen town, it is expected to:
- Continue to build new trans-Asian road from Hanoi to Lao Cai, section running through Vinh Phuc province of 41km.
- Complete bypass national road No.2C through south of Vinh Yen to Quat Luu - Dong Van.
- Implement Vinh Thinh bridge construction on national road No.2C across Red river connecting to Hanoi.
- Construct Tam Dao mountain tunnel on national road No.2B connecting to Thai Nguyen.
( 2 ) Improve and upgrade
- Upgrade national road No.2 to hit standard of delta level III in section from km 38 +600 - km 51 bordering Phu Tho, reach urban level in section from km 13 - km 31, in a period to 2015, expand to a width of 57m.
- Upgrade national road No.2 connecting from national road No.2 to Tam Dao in a section of km0 - km13 to reach standard of main street with a width of 36.5 m and in section from km13 - km25 to hit standard of level IV.
- Improve and upgrade national road No.2C through territory of Vinh Phuc province with a length of 47.75 km, out of which: from Km21 +450 to km23 and km28 to km31 having a width of 16.5 m and the rest reaches delta road of level III.
4.1.4. Provincial roads
Improve and upgrade provincial roads No.301, 302, 302B, 302C, 303, 304, 305, 305B, 305C, 306, 307, 307B, 307C, 308, 309, 310, 310B.
- Build roads connecting from provincial roads to industrial parks.
4.1.5. Main road system of industrial parks, tourist areas and ring road of Vinh Yen city
- Expand Nguyen Tat Thanh road ( ring road No.1 of Vinh Yen city) including three sections with a width of 24 - 45m.
- Ring roads of industrial parks of Tam Duong district (Hop Thinh - Dao Tu) with a length of 8.2 km, a width of 36.5 m.
- Road of Hop Chau – Dong Tinh (national road No.2B – national road No.2C) with a length of 10.9 km and a width of 36.5 m.
- Road runs along bottom of Tam Dao mountain with a length of 33.4 km and a width of 26 - 26.5 m.
- Road of Vinh Yen - Van Hoi.
- Newly construct road of Nam Binh Xuyen - Yen Lac - Vinh Tuong with a length of 14.9 km and a width of 50m.
- Upgrade, complete all inner-city roads of Vinh Yen, Phuc Yen, Tam Dao, Xuan Hoa to hit urban road standards and asphalt, system of traffic of transport controlling signal light in cities of Vinh Yen, Phuc Yen and important intersection in other municipalities.
4.1.6. Rural roads
- Strive to harden rural road surface with an annual average growth rate of 7.15 %, to 2015, 80 % of rural road are hardened and to 2020, 100 % of rural roads are hardened.
- Plan, manage and protect inner-commune, inner-village road corridors, upgrade to facilitate easy and convenience connectivity between residential areas in 2020s.
4.1.7. Bus station system
- Upgrade existing 10 bus stations including bus stations of Vinh Yen, Dai Dinh, Lap Thach, Lap Thach 1, Vinh Tuong 1, Vinh Tuong 2, Yen Lac, Tien Chau, Hoa Hop and Hop Thinh. Perfect parking stations, parking spots in centers of districts, especially in two city of Vinh Yen and Phuc Yen to gradually take transport activities into order, minimize traffic accidents and enable for the people to travel;
- Construct bus routes of Hanoi - Vinh Yen - Vinh Tuong- Tam Dao – Tho Tang and Hanoi - Dai Lai. In short-term, build a bus route of Hop Thinh-Hanoi-Tho Tang (Vinh Tuong) - Ha Noi.
4.1.8. Railway
Improve quality of existing railway to meet standard of class I railway with a speed of 120km/h, transfer Huong Canh station to a new location in conjunction with ICD build. Beside that build a new highway of Lao Cai - Hanoi - Hai Phong through Vinh Phuc province with a width of 1435mm gauge, a design speed of 200km/h. Construct passenger terminals at Vinh Yen and Phuc Yen; cargo terminals at Huong Lai, Huong Canh and Bach Hac.
4.1.9. Waterways
- Construct ports of Vinh Thinh, Nhu Thuy, Hai Luu or Duc Bac become major ports with a capacity of 500,000 tons/year.
- Construct inland waterways ports managed by the province: Ha Trung, Cao Dai, Cao Phong, Hai Luu, Hong Chau, Vinh Ninh ...
Upgrade river route of Hanoi – Viet Tri to level II, improve roads to ports associating with upgrading dikes ( ensure dike safety and efficiency of transport operation on the dikes).
4.2 Power supply system
Electric development objective in next time is to ensure safe and uninterrupted electric supply for industrial additional charges (especially industrial parks) to expand and improve quality of electric for daily living of the people, strive to have standby electric source (capacity) of about 10-20 %.
4.2.1. To 2010
In addition to transformer stations and lines as well as ongoing projects, it is expected to build additional stations having been planned:
- Station of compal I: 110/22KV - 63MVA;
- Station of compal II : 110/22KV - 40MVA;
- Station of Ba Thien: 110/22KV - 63MVA;
- Yen Lac Station: 110/35kV - 63MVA;
- Tam Duong Station: 110/35kV - 63MVA;
- 02 stations 220kV : station of 220/110/22kV Vinh Yen ( 125 +250 MVA ); and station of 220/110/22kV Ba Thien 250MVA.
4.2.2. To 2015
- To enhance capacity 09 stations of 110 kV station: station Phuc Yen 110/35/22KV - 2x63MVA; station Thien Ke 110/22KV - 2x 63MVA; station compal I 110/22KV - 2x63MVA; station compal II 110/22KV - 2x63MVA; station Yen Lac 110/110/35/22kV - 2x40MVA; station Tam Duong 110/35/22KV - 2x63MVA; station Vinh Tuong 110/35/22KV - 2x63MVA.
- To construct newly 08 stations 110 k: station Vinh Yen II 110/22KV- 63MVA; station Yen Binh industrial park 110/22KV - 63 MVA; station compal III 110/22KV - 50MVA; station Son Lai 110/22KV - 63 MVA; station Tam Dao 110/22KV - 40 MVA; station Vinh Tuong industrial park 110/22KV- 63 MVA .
- To upgrade 220kV stations: station Vinh Yen (125 +250) to 2x250MVA MVA; station Ba Thien 250MVA to 2x 250MVA and build a new station of Vinh Tuong 250MVA.
With a total capacity of station 220kV (total supply) of about 1,250MVA, ensure enough electricity capacity for development stages to 2020 in industrial and urban areas.
4.2.3. To 2020
To continue to invest, prepare capacity and transmission network for new development areas, new urban areas and modern rural areas in a next period.
4.3. Water supply and drainage system
4.3.1. General orientation
To meet clean water demand for production, services and livings of the people, in a next period; continue to build and expand existing water supply and construction of many water supply projects, to 2015, ensure water supply capacity reaching 100.000-300.000 m3 / day and night; to 2020 hitting 1,000,000 m3 /day and night.
Pay attention on management, protection of water resources to ensure sustainable, stable and long-term development. Vinh Phuc has great potential of water resource. Natural and abundant surface water, groundwater resource are enough to provide for operation of industrial production, agriculture and irrigation in the area. However, if do not plan to exploit and protect water resource (on a basis of cooperation among localities in the province, other provinces in valley of water resources) at risk of contamination, it will reduce availability and impact to overall development of the province and other neighboring provinces and cities.
4.3.2. Specific orientations and solutions
(1) Water supply
- To meet water demand of the province to 2013 of 60,000 m3/day-night, it is expected to upgrade Vinh Yen water factory to 32,000 m3/day-night and Phuc Yen water factory to 20,000 m3/day-night, firstly, ensure water supply for city of Vinh Yen and Phuc Yen town, industrial parks and district centers.
- Continue to implement and call for investment in many big water supply projects taking water from Lo river: JIBIC project, expected capacity 100.000 m3/day-night with total investment capital of 120 million USD;
- Continue to call for investment (Netherlands ) to build a clean water supply factory with a capacity of 500.000 m3/day-night. By 2015, construct a clean water supply factory in Lien Son bridge area with a capacity of 20.000m3/day - night and gradually increase capacity of the factory to ensure 80.000 m3/day-night in 2020. Raise water supply capacity of the wholly province by 2020 to 740,000 m3/day-night.
(2) Drainage:
- Paying attention to ensure that living and industrial wastewater and are treated 100 % before being discharged into rivers and streams. In urban areas and industrial parks, build separately rain-water drainage system and wastewater drainage system. Early invest and complete drainage projects in Vinh Yen and Phuc Yen in each stage.
- Plan to protect water resources, construct of master plans on drainage and water resources protection in the province.
4.4. Information and communication system
4.4.1. Postal service
- Complete universalization of service; construct service points in remote areas; expand service supplying activities towards broad application in all fields.
- Application of modern technology, implementing automation in exploitation, acceptance and computerization of postage steps. By 2015, complete application of provincial automation technology. Route of application of computerization in post offices, service points implements to 2015.
- Develop business of new services, hybrid services, and financial services relying on electronic post system.
- Increase proportion of revenue of new services. Revenue of traditional services will account for less than 20 % of total postal revenues.
4.4.2. Telecommunication
- Develop services towards providing widely applications in all sectors: e-government, business, finance, education, health, agriculture ...
- Develop optic fiber access networks in the wholly province under model of multi-service NGN network. Customers will be provided broadband services and multi-protocol access. Upgrade storage for optic fiber lines to meet demand for new broadband services basing on NGN. Optic fiber access network has advantage of reducing cost of building infrastructure, high-speed access and quality improvement. Optic fiber access network to communes will be developed strongly in a period of 2011-2015.
- Construct infrastructure towards cooperate to invest and share infrastructure, allowing many businesses to provide infrastructure leasing services. Core network will be common national infrastructure, constructed by many businesses. Access network will be built and managed by businesses. Providing customer service through access networks will be completed by many businesses on basis of local network lease.
- Data, applications services will account for majority of telecom revenues, in this period, customers use on-demand entertainment, internet protocol television and access easily services.
- Maintain and expand supply of public services:
+ Fire information.
+ Information of rescue, medical emergency.
+ Urgent information of security, social order.
+ Information of medical emergency assistance on the spot.
+ Disaster information.
+ Information of living and production consultancy.
+ Market information.
+ Support business to invest in infrastructure, providing services to disadvantaged areas.
Objectives to 2020:
- Fixed telecommunication services: universalize all households.
- Mobile telecommunication services (access through radio network): 80 % of total amount of subscribers.
- 100 % of subscribers are broadband.
- Over 80 % of population use Internet.
- TV cable, internet protocol television (IPTV): supply in the wholly province to grassroots level.
4.4.3. Journalism, publishing, radio, television
- Maintain and develop existing Vinh Phuc newspapers, magazines;
- Build Vinh Phuc newspaper on Internet;
- 100% of districts have FM radio station;
- 100 % of communes have radiobroadcast station;
- Improve quality and quantity of broadcast of provincial television station.
4.5. Development of science and technology and environmental protection
4.5.1. Science and technology
- Develop science and technology towards:
+ Promote applications of biotechnology-science, especially in fields of agriculture, new material technology, information technology and processing technology.
+ Strengthen scientific and technological potential in survey, assessment and rational use of natural resources.
+ Apply advanced management systems in government agencies and businesses, actively support activities of technology transfers and sales in development process...
+ Construct areas of commodity production under high-tech model associating with sustainable development...
- Objectives:
+ Take application research, technology import as a right direction, creating significant progress on technological level of key production areas, gradually building research – application institutes, fostering science, technology human resources; initially develop high technology research-application and high-tech manufacturing bases.
+ Strive to facilitate, accelerate technological innovation at 15-20 % / year, increasing value of technology applications in production structure of industry.
+ Coordinate with big domestic and international science and technology centers to generate enough resources, solve basically science and technology problems.
4.5.2. Environmental protection for sustainable development
- Directions :
+ -select- clean technology, concretize provisions on technology, equipment imports according to standards of coefficient of energy consumption, coefficient of waste, research to issue waste standards of the province under sectors.
+ Develop financial policies, encourage tax exemptions or capital loans to import equipment and waste treatment technologies.
+ For industry, tourism development plans, it needs to explain specific projects on technology and waste treatment processes to ensure environmental standards of the province.
+ Encourage and have mechanisms to build concentrated waste treatment bases from many capital resources, especially sources of official development assistance (ODA), develop service bases of treating waste, and strengthen personnel training in environmental technologies to be able to undertake design and construction, operation of waste treatment bases.
+ Strengthen protection and management of natural resources and environment. Use rationally resources, ensure resources especially land resources become sources for socio-economic development. Besides funding from the State budget, mobilize other sources of investment towards socialization to protect environment and improve sense of responsibility of economic entities, community on protection of environment.
+ Apply pollution fees and other administrative measures for factories using resource and eliminate environment large amounts of fumes, waste water.
- Objectives:
By 2020: natural forest coverage reaches over 26.7 % of total natural area; ratio of rural households accessing to clean hygienic water reaches 100 %; maintain rate of wastewater treatment in inner city, town and township of 100 % ...
5. Orientations on development of education and training
5.1.

D

evelopment objectives
(1) Pre-school education:
Ensure all schools and classes for preschool grade, to 2020, rate of 3-5 years old children attending preschool is over 95%.
To 2010, ensure 100 % of communes, wards have a centre preschool, solid schools, classrooms and learning, entertainment equipment for children: solid classroom ratio of over 70 % in 2015 and 100 % by 2020. Universalize preschool of 5 years old.
Strive to achieve school rate of national standards by 2015 over 80 % and 100 % by 2020.
(2) Primary education
- Mobilize enough children of 6 years and most children disabled go to schools and integrate into community.
- By 2020, rate of solid classrooms is 100 %, have enough classrooms to ensure that 100 % of pupils learning and operating all day at school.
(3) Secondary education
- 100% of pupils graduated primary school go to 6th form;
- 95 % of young people of 15 - 18 years old have secondary diploma;
- Rate of national standard is 100 % in 2015.
(4). High school education:
- Achieve standard of high education school universalization in 2015;
- By 2015, ensure 100% of high schools having full of function rooms, teaching equipment and 100% of high school reach national standard.
(5) Training
- Key orientation:
Universities and colleges in the province will be strengthened, upgraded, expanded and modernized gradually, their operations associates with socio-economic development requirements of the province. There are multi-disciplinary university with modern equipment and a team of highly qualified teachers.
5.2. Development orientations and solutions
- Invest in upgrading and building new classrooms, ensuring that each school must have a full set of equipment and aids of teaching and learning, ensuring the national standards for material facilities and equipments.
- All levels of education step by step approach to modern education in accordance with development conditions of each area in province of Vinh Phuc.
- Develop strongly national standard school system, high quality schools at all levels.
- Build at least three major schools of high quality. Pay attention on training skilled workers to meet rapid growing demand in modern trend of industrial parks in the province. Give priority to train groups of sectors for industrial development of the province such as mechanic, electric, electronics, information technology, advanced building materials, chemicals, food processing, food, training human resources for development of tourism and high-quality services ( finance, banking, insurance, health ...)
- Train traditional small scale industry, new industries and strengthen programs of agriculture promotion, forestry and fisheries promotion to improve labor skills, helping farmers for economic structure change, forming and developing high-tech agriculture economic.
- Encourage local businesses, especially foreign invested enterprises to take part in development of vocational training in form of establishment of vocational schools in enterprises or in industrial parks.
- Promote strongly socialization measures in construction of material facilities for school network. Encourage domestic and foreign enterprises operating in the province contributing funds to build education and training material facilities.
- Improve comprehensively quality of teacher staffs at all levels: implement to synchronize structure of teacher staffs to meet requirements of comprehensive education and training. Have policies and mechanisms of encouraging training compensation to supplement teachers of genres of informatics, foreign languages​​, physical education ...
- Review, adjust, supplement mechanisms and policies related to development of education and training system in the wholly province: policies and mechanism to attract, recruit good teachers, proficient experts; policies and mechanisms of education and training for poor districts and communes; mechanisms and policies for training farmers in localities conceding land for development of industrial parks, new urban areas; mechanisms and policies for cadres, civil servants and office-holders going to train and retrain.
- Make sure area of ​​ land for construction of education and training institutions: give priorities to reserve fund of land for construction, expand and development of education and training institutions to 2020 under education and training development plan of Vinh Phuc province. Have policies and mechanisms of supporting land for semi-public and private classes/schools.
- Promote strongly education and training socialization: promote strongly and make well activities of propagandizing and mobilizing to raise awareness "Education and the first national policy" of all levels of authority, all levels of society. Strengthen and encourage development of non-public education, training models, especially in urban areas. The State gives priorities to invest in development of levels of basic education, for difficult mountainous areas and poor populations
- Renew the State management on education and training: to promote decentralization, increase autonomy and self-responsibility for education and training institutions. The State management focuses on constructing plans on education and training development. Strengthen coordination among all levels of the State authorities in implementation of legal documents to fulfill well Law on Education, Law on Vocational Training, in collaboration with its partners to build and implement education development policies and mechanisms in consistent with development of Vinh Phuc province.
6. Orientations on human resource training and development
- Give priority to formal education and training system for future generations including pre-school education, primary school, secondary education and vocational training associating with human resource training and development programs in the province and the wholly country.
- Have priority policies and mechanisms on domesic and foreign training for leaders, managers and consultant cadres under many channels: send to training courses organised by central ministries and agencies, request the State to support international cooperation funds to send abroad for training ...
- Enhance training skilled technical workers in sectors of industrial production and services - tourism, agriculture ... in consistent with domestic and international trend of science - technology development to meet short-term labor demands of modern industrial enterprises in the province. To fulfil this requirement, Vinh Phuc province should enlists advantage potential of central-run enterprises and FDI enterprises in the province, urging them to support training of human resources for the province.
- Promote training of highly qualified cadres in many fields such as information technology, biotechnology ...
7. Orientation to ensure defense, security, social order
Take assurance of national defense, social security as well as critical solution and mission to ensure environment of sustainable development in the area. As a result:
- Continue and frequently organize to implement comprehensively guideline of the Party and State on national security.
- Build defense sector achieving good results and associating with ensure space for socio-economic development.
- Organize and implement maneuvers of flood prevention-rescue, defense zone achieving good results to ensure always ready to deal with bad situations.
- Step up fight against corruption, smuggling and trade fraud. Settlement of complaints and denunciations has ​​progress.
- Organize well fight against crime and social evils with inter-agency coordination to minimize crime and social evils.
- Strengthen advocacy, education, raise awareness of protecting national defense, security and social order and safety in community.
8. Orientation of organizing economic under territory
8.1. Orientation of urban system development and redisposition of population
8.1.1. Orientation of expanding centre urban area (Vinh Yen City now)
Chain of centre urban area includes Vinh Yen city, Phuc Yen town, new urban areas of Bo Sao, Tan Tien, Chan Hung, Huong Canh town.
8.1.2. Development orientation of satellite urban areas overall city of Vinh Phuc in future
Northern midland and mountainous urban areas comprise Tam Dao town, Hop Chau town (Tam Dao district), Hop Hoa town (Tam Duong district), Xuan Hoa town (Lap Thach district), Nhu Thuy river port town (Lap Thach) . Beside six key urban areas, there are 28 urban zones - development centers in Lap Thach, Tam Duong, and Binh Xuyen.
Southern urban areas include Vinh Tuong town, Yen Lac town, and river port town of Vinh Thinh in Vinh Tuong district. This chain urban area will comprise urban zones in Vinh Tuong and Yen Lac districts.
Urban system is expected to be developed in accordance with the following conditions:
- Vinh Yen city continue to play a key role and become centre urban of city of Vinh Phuc.
- Phuc Yen town will become third grade city, Binh Xuyen become new urban zone. Huong Canh becomes fourth grade town and 11 grade V towns will be formed in 2020 in overall city of Vinh Phuc.
-Planned industrial parks and industrial complexes, traffic routes must be developed under expectation to become key components of urban areas.
8.1.3. Redisposition of population
In order to create a harmonious and sustainable development, on basis of improving standard of living of all residents in the province, process of urbanization must associates with redisposition of the population as the following direction:
- Promote development of key urban areas associating with industrial development and industrial parks, services, create new jobs in urban areas, creating conditions to attract workers from rural areas, reducing pressure on rural areas.
- Promote training, vocational guidance for workers in rural areas in order to well prepare workforce to meet labor demand of industry and services in urban areas.
- Enable to centralize means, labor, farming in the agricultural sector and rural areas in order to improve labor productivity and income of agricultural laborers and rural areas.
- Promote community activities, have measures to control labor markets and social order to facilitate redisposition of population in a self- controlled way.
8.2. Development orientations and solutions in rural areas
Strive to an objective of becoming city of Vinh Phuc in 2025 and 2030, development of rural and urban areas in Vinh Phuc province are two separated sides. In addition to investment and development in rural areas towards reaching new rural criteria attached to decision No.491/QD-TTg April 16, 2009, Vinh Phuc rural areas have specific, higher development level in following direction:
- Size of rural population is 490,000-500,000 people (representing about 40 %) in 2020.
- Increase agricultural productivity and rural workers to increase income of rural residents through: (i) Facilitate to centralize production and business means (such as land) for employees (ii) Converse industry structure by expanding service activities in rural areas (iii) Converse agricultural product structure towards development of new crops: high quality food, flower, decorative plant to supply to capital of Hanoi and other areas in the province.
- Continue to invest in upgrading infrastructure systems in rural areas: (i) Ensure to have auto ways connecting residential community, facilitate to promote mechanization business activities in rural areas, ( ii ) Expand socialization to ensure good supply of basic social services, ( iii ) create conditions to promote development of information infrastructure, telecommunications to ensure households having internet access ... , ( iv ) Develop electricity supply networks to meet requirements with high quality for business and living in rural areas, ( v ) Make sure use of clean water in direction of a combination of developing centralized and distracted water supply networks (vi ) well handle environmental problems in rural areas.
- Find and develop model of rural society organizations towards strengthening role of community.
- Promote value of traditional architecture, -select-ively acquire new value through actively consulting operation of the government in order to create new comfortable, traditional, modern architecture, exploit well culture values ​​associating with tourism development, and expand industries in rural areas.
8.3. Economic development orientation in sub-regions
Formation of economic sub-regions of the province as follows:
8.3.1. Sub-region 1: northern midlands - mountains sub-region, including districts of Lap Thach, Song Lo, Tam Duong, Tam Dao and northern part of Binh Xuyen district.
This is midlands, interspersed mountainous areas with great availability of land for industrial development, tourism, entertainment and multi-cropping agriculture development; a bridge region with Tuyen Quang, Phu Tho and Thai Nguyen.
Take advantage of land condition of the sub-region to develop household, farm economy basing on hill gardens, forest garden economy associating with a program of implementation of planting 5 million hectares of forest. Develop livestock, especially cattle and poultry, including dairy. Increase fruit growing area along with development of processing industry. Can layout to construct industrial complexes, industrial parks, tourist resorts in the sub-region to promote potentials and avoid overloading centralization of industrial parks in the central sub-region. Take center of Tam Dao mountain as a base to develop modern ecology tourism.
8.3.2. Sub-region 2: centre sub-region alongside national road No.2A, national road No.23 and railroad Hanoi - Viet Tri, including Vinh Yen city, centers of Binh Xuyen, Phuc Yen districts.
Take advantage of the sub-region: a political and economic center of the province, near capital of Hanoi, a driving force and key economic sub-region impacts many aspects to socio-economic development of the province; development orientation in the future is: development of industry - service, culture, sports, recreation, entertainment, training center... strong development of high quality commodity agriculture to supply to capital of Hanoi.
Pay attention on industrial development to form urban administrative units: cities and towns in future.
8.3.2. Sub-region 3: Delta sub-region: mainly including districts of Vinh Tuong, Yen Lac and southern Binh Xuyen.
Development orientation: development centralized crop - accounting for major proportion to ensure food security - food crops, industrial crops, poultry-livestock development; development of traditional villages - handicraft industry, suitable industrial parks.
9. Key investment programs, projects to 2020
Make transition towards socialist orientation market economy, role of the State in managing socio-economic development has been clearly stipulated by the Party and State towards reducing direct intervention of the State in economic activity. In which, the State is increasingly perfected toward provide public commodities and services, creating a favorable environment for all economic sectors to taking part in development investment; implement development investments in fields those private sector has no conditions, or " do not want " to invest.
To implement objective of building Vinh Phuc became an industrial province in 2020 towards becoming city of Vinh Phuc in 2020 – 2030 with modern and synchronization socio-economic infrastructure systems associating with development of infrastructure in urban areas of capital of Hanoi and overall northern key economic area; improve potential and competitiveness of the whole economy, successful integration, seize favorable opportunities due to international economic integration in order to develop rapidly socio-economic, improving living of the people in the province, should clearly identify key investment fields in next period and define clearly role of the State in those investment activities.
It is expected that in a period from now to 2020, investment solutions (including direct investment from the State budget and off-budget) are oriented as follows:
9.1. Building infrastructure system of an industrial province having the leading development level in the country, on par with the region:
- Continue to invest in upgrading existing road system according to international standards;
- Invest in upgrade system of infrastructure in urban areas under standards of a civilized and modern urban;
- Complete basically rural transport network by forming modern and civilized resident areas;
- Invest in developing post and telecommunication system with modern technology and regional level .
9.2. Calling and promotion of huge investment projects in industry sector:
- Continue investment to complete infrastructure of industrial parks which have been established; calling for investment to develop many new industrial parks and stabilize network of industrial parks in a period to 2020;
- Call for and promote investment in industrial development projects with modern technology, huge investment capacity, clean industry, processing industry of local raw materials ( natural resources and raw materials from agriculture, forestry) in industrial parks which have been identified.
- Call investors to produce new industrial products basing on exploitation of local human resources and external market thanks to favorable trade conditions.
- Call for investment in development of industries of electronics, telecommunications , information technology including both hardware and software industry... combine integrated planning of training park and eco-tourism zone in Dai Lai lake neighborhood with high tech software development.
9.3. Call for investment promotion and development of many key projects in service sector, especially trade and tourism
- Invest in forming centers of trade and financial services, credit, apply modern technology in service operations.
- Form projects of international and national key tourism investment and development on basis of combining eco-tourism development, resort and preservation of historic revolution, development of high quality entertainment service...
9.4. Investment in agricultural development
- Develop new technology and technical applications in agriculture cultivation toward development of products for capital of Hanoi and export.
- Upgrade and stabilize system of irrigation infrastructure.
9.5. Formation of investment program on developing technical infrastructure and key projects in an area of social development
- Develop and implement investment program to modernize educational, training institutions; scientific and technology research;
- Develop and implement investment program to modernize social and cultural institutions;
- Develop and implement investment program to modernize health, health care facilities;
9.6. Formation of investment programs to improve technology and science potential.
9.7. Develop programs for environmental protection and sustainable development, especially in protecting water resources, water environment related to Lo river, Red river, Ca Lo river...
9.8. Develop programs of socio-economic development cooperation between Vinh Phuc provinces and other provinces in a corridor Kunming - Lao Cai - Vinh Phuc - Ha Noi - Hai Phong.
III. Vision to 2030
Vision 2030 launches a number of criteria and forecast norms, those criteria are important bases for identifying major directions of socio economic development of Vinh Phuc province in a planning period to 2020.
Vision 2030 is based on guidance thought of the provincial Party congress Resolution 14th, Resolution of the 14th Council of People of Vinh Phuc province in session VI and bases on a brief overview on overall domestic and international development context and fundamental impacts to socio-economic development of Vinh Phuc as well as ability of socio-economic development of Vinh Phuc province in long-term outlook to 2030.
Background (future) to 2030 includes many uncertainties; unpredictable matters... so vision to 2030 were identified on basis of a number of certain assumptions which cannot encompass all development conditions, factors in future.
1. Thought directing and determining vision to 2030
On April 14, 2006, at the 6th session, 14th the People's Council of Vinh Phuc province has issued Resolution No. 01/2006/NQ-HDND on " socio-economic development plan 5 years 2006 - 2010" which defines overall objectives of socio-economic development of the provinces as follows:
" Maintain high economic growth towards stability, sustainable; exploit effectively resources of investment for development. Improve quality of growth on a basis of special attention to development of agriculture and rural economy; take industrial development as a foundation; promote development and raise quality of service, out of which, tourism development as a key sector; promote urban development and new rural construction. Improve quality and efficiency of education - training, culture, education and science - technology, human resource development and improve the people's health care; promote job creation, well handing social issues. Constantly improve and enhance physical and spiritual life of the people. Building all level of authorities in clean, strong, effective operations, efficient. Perform well fight against corruption, saving implementation and waste combat. Strengthen national defense - security, maintain firmly political stability, and ensure social order and safety, creating a favorable environment for socio-economic development. Strive to meet basic elements of industrial province in 2015, become city of Vinh Phuc on 2020s".
Objectives "Strive to have enough basic elements of industrial province in 2015, become city of Vinh Phuc on 2020s " can be considered a basic orientation to study of setting up of socio-economic development plans and solutions to ensure implementation, including development of industry and industrial parks.
2. Vision to 2030
Overall objective setting out in socio-economic development of Vinh Phuc province for a period to 2030 is to construct Vinh Phuc province become a civilized and modern city of industry and services, clean environment, higher living standards, a one of industrial, service, tourism centers in the area and the wholly country, significantly improve the people's living standards, ensuring solid on defense and security.
Build infrastructure, lay foundation towards becoming economic center having great influence to north - northwest northern with strong development of service sector in economic structure of service - industry - agriculture in 2020-2030.
With vision and long term goals in 2025 and 2030 to become city of Vinh Phuc, it can generalize a number of criteria (mainly qualitative) to reach as following.
1) Group of criteria as stipulated in Decree No. 72/2001/ND-CP October 5, 2001 of the Government on the classification and management of urban areas, adjusted by Decree No. 42/2008/ND-CP:
- Vinh Phuc become a city with functions as a center of politics, economy, culture, science and technology, tourism, services, transportation hubs, domestic exchanges… having a role in promoting socio-economic development of inter-provincial territory: including provinces alongside an economic cooperation corridor of Kunming - Hanoi - Hai Phong between Vietnam and China and other northern provinces of Tuyen Quang, Ha Giang in close relations with capital of Hanoi and other provinces in the north.
- Population size of 1.4 - 1.5 million person.
- Average population density in inner city of 12,000 person/km2.
- Rate of non-agricultural workers in total employment from 75 % or more.
- Infrastructure of urban centers ( city of Vinh Yen, Phuc Yen town ) are built completely and synchronously; ensure sanitation standards; 100 % of manufacturing bases which are newly constructed must apply clean technologies or devices and equipment minimizing environmental pollution.
- Suburban areas: infrastructure of the area will be invested and developed synchronously and basically complete; limit development projects causing environmental pollution; infrastructure network in rural residential zones must be invested and constructed synchronously; protect land areas which are favorable for agricultural development, green areas serving urban area and ecology landscapes.
- Architecture, urban landscape: implement construction and development of urban under management regulations of urban architecture. New urban zones must reach standard of model urban and over 50 % of urban key streets hit standard of urban civilization streets. There are public spaces to serve spiritual life of the people and have national typical architectural complexes or architectural projects.
2) In addition to the above mentioned criteria, city of Vinh Phuc has its own characteristics with indicative criteria as following:
- Vinh Phuc urban has a developed service sector, especially tourism, basic social services (on a basis of cooperation and reducing overload for capital of Hanoi), manufacturing sector have a high level of gray matter (promoting knowledge), technology -intensive, high added value.
- Vinh Phuc is symbiosis urban with natural green environment.
- System of infrastructure are invested completely and modern, especially infrastructure connecting with capital of Hanoi and other provinces in north- west northern region.
- Rural areas has developed infrastructure, ensuring urban civilization with development of basic social services at high level, high quality...
3) Some basic indicators to 2030:
- GDP per capita: $ 13,000-15,000 (under actual price).
- Population in rural areas: 400,000-450,000 people; urban population ratio of about 70-75 %.
- Basic social service access: All resident's access to educational services; implementation of universal health insurance;
- Information access: 96-100 % of residents get internet access.
Long Giang
Source: www.mpi.gov.vn