Vietnam, RoK cooperate in sustainable sesame production
Tuesday, October 13,2020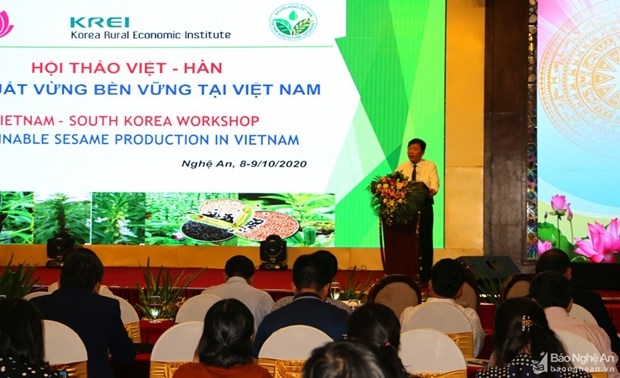 AsemconnectVietnam - Research results on sesame production, processing, and trading from experts in Vietnam and the Republic of Korea (RoK) were the topic of discussion at a workshop held in the north-central province of Nghe An on October 8 and 9.
Vietnam's National Agricultural Extension Centre and the Korea Rural Economic Institute (KREI) have joined hands since 2019 in a project on sustainable sesame production in Vietnam.
Sesame is a good source of energy due to their high fat content, containing healthy fats like polyunsaturated fatty acids and Omega-6. They also contain fibre, iron, calcium, magnesium, and phosphorus, which help boost energy levels, scientists have shown.
The sesame growing area in Vietnam has contracted sharply in recent times, from 54,840 ha in 2015 to 31,180 ha last year, with average productivity of just 0.8 tonne per ha. Nghe An province has the largest area of sesame in the north-central region, with 3,500 ha.
The Department of Crop Production at the Ministry of Agriculture and Rural Development blamed the decline on inadequate attention from farmers and the impact of climate change.
According to the Vietnam Academy of Agricultural Sciences, sesame must compete with other crops with higher economic value. Policies for production have also remained limited.
The department, therefore, suggested suitable policies be introduced in support of sesame production and more attention be paid to research studies on sesame varieties as well as technical measures.
The production chain, with the involvement of State management agencies, researchers, farmers, and businesses, must be effective, it said./.
Source:
en.vietnamplus.vn/vietnam-rok-cooperate-in-sustainable-sesame-production/188345.vnp