Garment sector poised to grasp EVFTA opportunities for higher exports
Friday, September 4,2020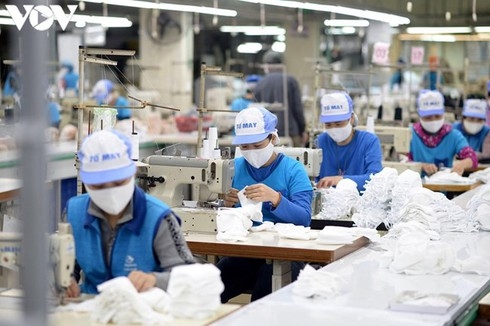 AsemconnectVietnam - As a means of compensating for a drop in export orders due to the impact of the COVID-19 epidemic, several local textile and garment businesses are striving to seize upon opportunities brought about by the EU-Vietnam Free Trade Agreement (EVFTA).
Vietnam raked in US$19.2 billion from exporting garments and textiles during the opening eight months of the year, representing a year-on-year decline of 11.6%, according to the Vietnam Textile and Apparel Association.
According to the HCM City Association of Garment Textile Embroidery and Knitting, the number of export orders in the southern city witnessed a sharp fall of approximately 25% in April, and over 30% in May, with figures predicted to continue falling during the second half of the year.
At present, the entire sector's inventory rate remains high at up to 118.7%, with roughly 20% of textile enterprises being forced to suspend their operations, while the remaining businesses have to lay off a large number of workers and restructure their production activities.
Furthermore, the complicated nature of the COVID-19 epidemic has exerted a range of negative impacts on the sector's export markets, with global purchasing power in general plummeting, while a series of well-known fashion brands such as Brook Brother, New York & Co, and JCPenny have declared bankruptcy.
Currently, local textile and apparel firms must reach a total of US$7 billion in export orders in order to achieve the export turnover target of last year, with the EVFTA being considered the best opportunity in which local firms can fulfill their goals.
To take full advantage of the trade pact, local businesses have to take into consideration key factors such as prices, fast delivery, and tax incentives presented by the EVFTA in order to compete with strong rivals from Bangladesh and Turkey.
With regard to rapid delivery requirements, aside from improving logistic capacity, there should be improvements in simplifying administrative procedures and reducing the clearance time faced by export businesses.
Moreover, the domestic textile and garment sector must be proactive to use import materials from countries that have signed FTAs with the nation and the EU, therefore making use of preferential tariffs due to flexible rules of origin stated within the EVFTA.
The industry has therefore been advised to shift to supply high-tech garment and textile products, including protective clothing, sports, and medical equipment.
The Import-Export Department under the Ministry of Industry and Trade said that between August 1 and August 31, authorised organisations have granted over 7,200 sets of C/O form EUR.1 with a total turnover reaching US$277 million to 28 EU member states.
Major items granted C/O form EUR.1 consist of footwear, seafood, plastics, coffee, textiles, bags, suitcases, vegetables, rattan, and bamboo products while the import markets mainly serve as the EU's transit hubs, including Belgium, Germany, the Netherlands, and France.
Most notably, many shipments have arrived in the EU market and received customs clearance while simultaneously enjoying preferential tariffs.
Source:
english.vov.vn/economy/garment-sector-poised-to-grasp-evfta-opportunities-for-higher-exports-418162.vov