Vietnam contributes to ASEAN's success in 2020: expert
Saturday, December 5,2020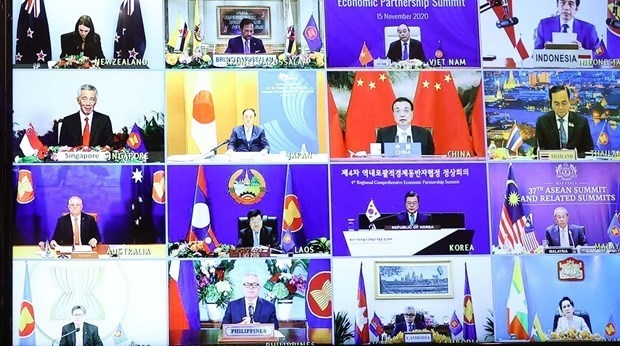 AsemconnectVietnam - Vietnam's chairmanship has ensured ASEAN has retained its ability to effectively channel regional cooperation, according to a senior analyst from the Australian Strategic Policy Institute (ASPI)'s defence and strategy programme.
In her article recently published at asialink.unimelb.edu.au, Dr. Le Thu Huong said that against all odds, Vietnam has concluded its chairmanship of ASEAN with the signing of the world's largest trade agreement - the Regional Comprehensive Economic Partnership (RCEP), contributing to reasserting ASEAN's centrality in the economic architecture of East Asia.
A great deal of ASEAN's success this year can be attributed to Vietnam's ability to keep the focus on critical bread and butter issues.
The article highlighted Vietnam's contributions to ASEAN in various fields, from traditional security and maritime-related issues to the economic domain, as well as COVID-19 recovery plans, and innovation for a post-pandemic world.
Vietnam has been among the strongest supporters of FTA networks, expanding the number of its own bilateral agreements, but also promoting connections to two of its top investors – the Republic of Korea and Japan.
Vietnam's successful battle with COVID-19 within its borders has been critical for its leadership of ASEAN this year, the article said, adding that the country has asserted strong leadership in a challenging geopolitical environment.
While Vietnam's chairmanship has been instrumental in steering ASEAN through challenging times for the region's economic and health security, it is the developmental agenda that can truly unite this diverse group, it noted.
According to the article, Vietnam also hosted the ASEAN-United Nations dialogue, which acquired special prominence given the setbacks COVID has caused to efforts to meet the UN Sustainable Development Goals.
With most economies in the region expected to contract, any conversation about a post-COVID recovery needs to be a collective one.
ASEAN's continuous efforts to sustain the cooperation framework in spite of the geopolitical climate, are both pragmatic and useful, it said./.
Source:
en.vietnamplus.vn/vietnam-contributes-to-aseans-success-in-2020-expert/191510.vnp